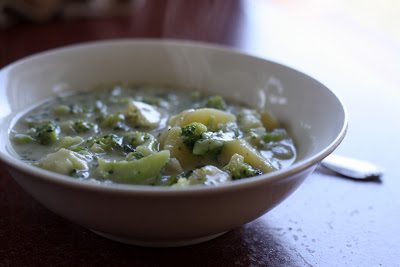 I have not a single broccoli recipe in my recipe index. This is criminal, atrocious, and completely unacceptable because:
a) broccoli is delicious.
b) we love broccoli.
c) we eat broccoli fairly frequently.
d) we eat broccoli not frequently enough.
e) there are countless ways to prepare the vegetable.
f) broccoli rocks.
On Saturday, I bought two bushels of gorgeous broccoli from a local farmer because I have learned that it is easier to buy gorgeous, wormless broccoli from a professional than it is to plant it, weed it, cut it, and then pick each and every worm out of it myself. Unless someone can convince me otherwise, I don't think I'll ever grow my own broccoli again.
But first, Saturday. Saturday was a weird day. Let me tell you about it.
1. I woke up to a thick blanket of snow covering my potted plants and tomato cages. The sprinkling of yellow, red, and orange leaves on top of the snow made the early snowfall that much more wronger. And then I got grumpy.
2. Of course, I hadn't yet gone through the kids' winter duds BECAUSE IT WAS STILL FREAKING OCTOBER, so my husband climbed up into the attic and handed down all the garbage bags which promptly exploded, spewing boots and woolens and snowpants in all directions.
3. So I went to town for a meeting and left them to sort things out.
4. On my way to my meeting, I stopped at the farmers' market for my bushels of snow-covered broccoli. I dumped them into two wash baskets I had brought along for the express purpose of broccoli carting.
5. When I got home (after a second meeting, grocery shopping, and errand running), the family (plus two kids who were staying the night) was all at my brother's house and the power was out. So much for my afternoon plans of blanching and freezing two wash basket loads of broccoli.
6. The kids came home and threw six sets of soaking wet snow clothes hither and yon.
7. We ate stale crackers, peanut butter, apples, and cheese for supper. The kids said they were still hungry. I said tough.
8. The boys did a power dance around the kitchen, but the lights stayed off.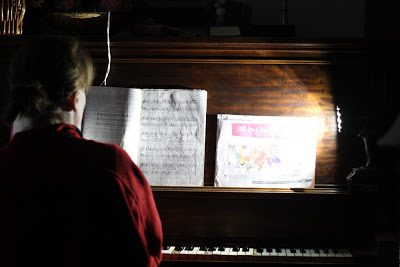 9. I played piano by the light of the flashlight.
10. The boys drug the outdoor cookstove from the barn to the porch and popped popcorn.
11. We sat around by the fire and talked about the sort of things 12-year-old boys like to talk about. (The girls were hiding in their lair.) My husband and I drank Root Beer in mugs without the kids knowing, one of the pluses of life in the dark. (Hm, I wonder what else we could get away with in the dark, on a lark?)
12. The power came on and we screamed and yelled and jumped up and down and then wildly ran around flushing toilets, washing dishes, getting baths, and vacuuming the floors.
So. All that to say, it wasn't until Sunday afternoon that I got around to blanching and freezing the broccoli.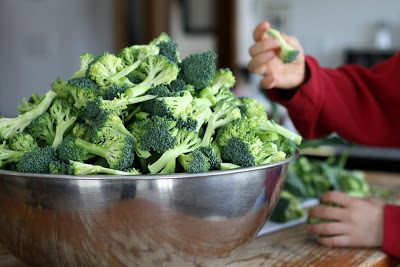 We froze all of it except for what we ate, plus a large container that I stashed in the fridge to combat the upcoming candy overload. Some of it I tossed into a stir fry and the rest went into a broccoli potato soup.
I love broccoli soup, but I often have problems with it curdling. This is probably because I don't really follow a recipe, instead just throwing in the ingredients every which way. This time, however, I took care to follow a process—one that I made up in my head—and the soup turned out deliciously creamy and smooth.
My kids aren't thrilled by it (but they eat it anyway, and with minimal complaining). They declare my friend's broccoli soup to be the best ever (hers is basically broccoli in a cheese sauce, yum), but I like to add other stuff to my soup, stuff like potatoes and onions. Plus, I use a light hand when it comes to the cheese.
This soup is plenty creamy and rich even without tons of cheese and cream, and it has a hefty dose of nutrition, thanks to the vegetables and several cups of homemade chicken broth. I just had a bowl of it for lunch and it made me very happy.
How do you like your broccoli soup? Do you puree your soup into a creamy green smoothness, or do you keep it chunky? Do you drown it in cheese? Do you add other vegetables or fancy spices?
Cheesy Broccoli Potato Soup
Proportions are flexible: it's the method that's key.
3 cups chicken broth
4-6 cups chopped, peeled potatoes
4-6 cups chopped, blanched broccoli
1 large onion, chopped
1 bay leaf
5 tablespoons butter, divided
½ scant cup flour
2 cups milk
1 cup freshly grated Parmesan cheese
1-2 cups good melting cheese (I used Provolone)
2 teaspoons salt, plus more to taste
Saute the onion in 1 tablespoon butter till translucent. Add the potatoes, broth, and bay leaf and simmer until fork tender. Add the broccoli and heat through. (If you want the broccoli to be super-soft, add it sooner to the potato-broth mixture sooner so it can cook along with the potatoes.) Remove the bay leaf and stir in the salt.
Melt the remaining 4 tablespoons butter in a separate saucepan. Whisk in the flour and then beat in the milk. Heat till hot and bubbly. Remove from heat and stir in the cheeses. Stir several scoops of the broccoli-potato mixture into the cheese sauce to thin it out before adding the cheese sauce to the pot of vegetables. Stir well (do not let boil), taste to correct seasonings, and serve.
This same time, years previous: sweet and sour lentils, lemon squares, blessing hearts