So my cousin-in-law posted a recipe for a butternut pesto cheesecake and seeing as I had a bunch of butternuts in the back hall (thanks, Mom and Dad!) and oodles of pesto in the freezer (thanks, Me), I had no other choice but to make it.
When it comes to cheesecake, I'm ferociously fatalistic.
The original recipe was supposed to be some sort of healthy dip (all cottage cheese), but I tossed that idea out the window faster than you can say "reduced fat is gross." People, it's cheesecake! It's dip! It's CHEESECAKE DIP!
So I doubled the recipe and used half cottage cheese and half cream cheese. Because while I'm a huge fan of cottage cheese (for the record, cottage cheese is not a reduced fat food) (unless you get the reduced fat version) (which I don't), I wanted the finished dip to have more of a … of a … well, creamy, cheesecake texture. The resulting texture was spot-on (though it'd probably be even better with 100% cream cheese) (if you're that sort of person). (I'm not suggesting my cousin-in-law's low calorie version wasn't spot-on, because it probably was, but I just don't know for sure because the only version I tasted was mine.) (Whew. That was exhausting.)
Confession: I did not like the crust.
Confession's Confession: It was all my fault. Because I just tore up stale bread, tossed it with some melted butter and stuck it in the pan. It tasted exactly like what it was: wet, greasy, stale bread stuck in the bottom of a pan. Next time I'll toast the bread crumbs, or maybe pulse up some Wheat Thins or something—like a graham cracker crust, but savory.
We ate the dip fresh, and semi-warm, for our Sunday night supper. It was good, but a little bland. Then it sat in the fridge for a couple days until I pulled it out to round out Tuesday's lunch and it was fabulous: rich, flavorful, creamy, elegant. The kids dug into it like nobody's business. And that's when I decided the recipe was a keeper.
It'd be the perfect thing to contribute to a potluck or Christmas party or family reunion. Because:
a. it can be made well in advance (I bet you could slice and freeze it, just like the infamous pesto torte),
b. it's easy to transport (cover the pan with plastic and set it on top of a couple ice packs in a box), and
c. the flavors are gentle and comforting.
In other words, it's sure to be a crowd pleaser.
Then again, you could make it just for yourself, just because. That's really all the reason you need.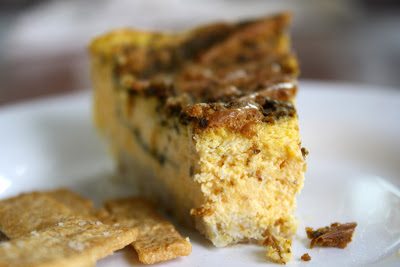 Butternut Squash Pesto Cheesecake
Adapted from Kate over at Motley Mama
1 cup cottage cheese
1 8-ounce block of cream cheese
2/3 cup grated fresh Parmesan
2 eggs
½ cup roasted butternut squash puree
½ teaspoon salt
1/4 teaspoon black pepper
1/4 cup pesto, thinned with olive oil (if necessary), and divided
1 cup toasted bread crumbs or savory cracker crumbs
2 tablespoons butter, melted
For the crust:
Toss the crumbs with the butter and press into the bottom of a greased, 8-inch springform pan. Pat crumbs firmly to make a bottom crust (no need to worry about the sides), and set aside.
For the cheesecake:
Put the cottage cheese into the bowl of your food processor and pulse until creamy smooth. Add the cream cheese, Parmesan, eggs, squash, and salt and pepper and pulse until silky. Taste to check seasonings (I added about another 1/4 teaspoon salt).
Pour half of the cream cheese batter into the crumb-lined pan. Drizzle half of the pesto over the batter. Carefully pour the remaining batter into the pan and drizzle with the remaining pesto. Using a table knife, gently (and artfully!) swirl the pesto into the batter.
Bake the cheesecake at 350 degrees for 50-60 minutes. The cake should be puffy, but the middle should still be a little jiggly (just like your tummy will be after you eat it). Turn the oven off and prop open the door by wedging it with the handle of a wooden spoon—let the cake sit in the oven for one hour more.
Cool the cake to room temperature before covering tightly with plastic and transferring to the refrigerator to cure. After a day or two, serve with crackers.
This same time, years previous: all a-flutter, apple chutney