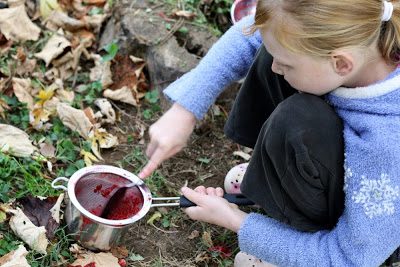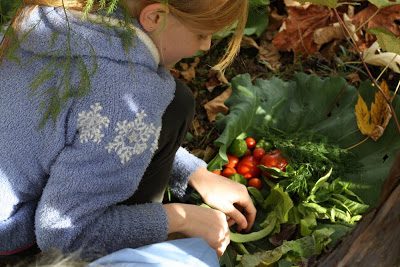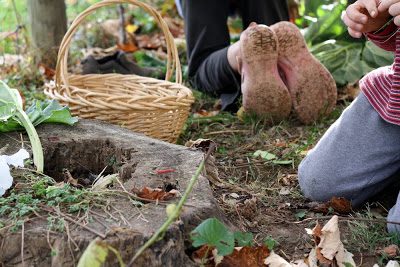 Whenever I send my kids outside to play, I have this secret hope they'll play deeply imaginative games of the sort I played when I was a kid—games like driving matchbox cars around the roots of trees, building little houses out of sticks, hosting acorn-cup tea parties for their stuffed animals, etc. My kids tend to play bigger, wilder, louder, but a mama can always wish, right?
On Wednesday, my wish came true. The oldest two had friends over for the (night and) day and as soon as they finished their plates of cheesy scrambled eggs and toast, all six kids headed outdoors where they stayed for the entire morning and part of the afternoon. I was in the throws of a brutal cold and gladly seized the opportunity to rest on my bed of snot and sneezes…except for all the times I got up to run outside and snap more photos. It was bliss.
They raked all the leaves from the floor of their new home under the grape arbor, rigged up a pipe for "communication," wrapped bare feet with old rags to make moccasins, and gleaned food from the garden. Rhubarb leaves cradled their stash of tomatoes, green beans, basil, peppers, and asparagus fronds—another rhubarb leaf on top, and they had a "refrigerator"—and red raspberries got pressed into juice. They even set up bowls of soapy water for their "kitchen sink."
I had planned to make pizzas for lunch but by 11 o'clock my senses got the better of me, as in, Why, pray tell, would I make more work for myself? I handed the guest girlfriend a piece of paper and pencil and told her to write down everyone's sandwich orders. There were apples, too (and later on some leftover birthday ice cream cake, and even later, some sweet potato pie and whipped cream). The kids carried the basket of sandwiches out to the arbor where they had a shivery feast. It was so nice and quiet in the house!
It's been two days since the friends left, and my kids have yet to return to their grape arbor house. A cold wind blew in last night and rain is in the forecast. Soon there won't be any grape leaves to shelter a game of make-believe and we'll spend our days huddling around the wood stove, reading and bickering and dreaming of grape arbor houses and involved games of pretend.
At least, that's what I'll be dreaming about.
This same time, years previous: applesauce cake, garden inventory 2009, pizza with curried pumpkin sauce, sausage, and apples,