That donut party thing we do (almost) every fall? It happened again, oh yes, it did!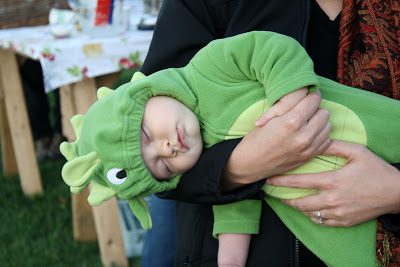 I fried donuts for three-and-a-half hours straight, only leaving my post twice—once to run to the bathroom and once to back up a few paces to take a picture.

We had the yard cleaned up, the dishes washed and put away, and the kitchen floor scrubbed before nine o'clock that night. I got my shower, made myself a peanut butter apple, and then laid down, flat on my back, on the sofa.
And then I shut my eyes. The sensation was intoxicating. I was spinning and levitating at the same time.
So I sat up and ate my apple. And drank a couple glasses of water. And then I stumbled up the stairs to bed and dreamed hard (about autumn and Aspergers, no joke) for eight hours. After which I woke up with a headache and lots of laundry to do.

But I didn't mind. The sun was shining and there were potted plants on my porch and I had nothing else to do. Plus, there was a happy we-made-hundreds-of-donuts-and-fed-them-all-to-our-friends feeling pirouetting through my veins.
This same time, years previous: pepperoni rolls, how to have a donut party: part one, part two, part three, sweet onion corn bake, pumpkin cake with cream cheese frosting