It's Monday and I've brought you cake. A chocolate yogurt cake, to be precise.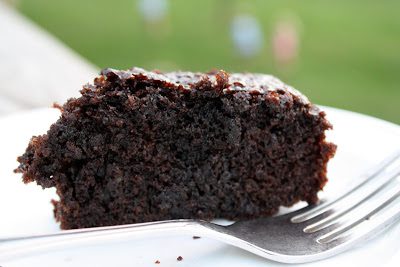 Actually, this cake is No More. It was No More on Sunday, and it was No More on Saturday. (Yes, I use chocolate cake to mark the passing of time.) The last we saw it in these here parts was on Friday when it made a grand appearance at dessert time, mini-mounds of cream cheese-spiked whipped cream dotting its glossy top. All in all, it was a too-short visit—six eager forks were no match for its tender crumb. I remember The Cake That Is No More with great fondness and a touch of giddy because it was so darn good!
The time between the recipe discovery and the day of reckoning stretched pretty long, especially considering how I could hardly wait to make it. Since it's a chocolate yogurt cake and we had just finished up the last of the homemade yogurt, I had to get to the store for plain yogurt to use as starter. That took a little while. Then I had to make the yogurt and that took another little while. The days whiled away. While, while, while, la-la-la. I got antsy.


I made the cake on a Thursday, the same evening I made a nectarine cobbler, drank a glass of red, and listened to NPR in the glow of the setting sun. It was Most Pleasant Indeed. But by the time the cake had finished baking (and resting for the prescribed 30 minutes—I set the timer), and I finally got to the cutting and tasting (mouth fireworks!), the sun had dropped out of our sky and I had to crank up the ISO speed on the camera to get a decent picture.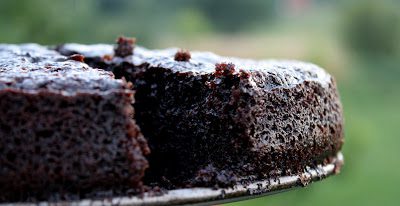 So that's the story on the cake. Rather uneventful, I suppose. So let's talk about the actual cake, shall we?
Like I said, it's a yogurt cake. (I bet you could turn it into a sour cream cake, if so inclined.) It's meant to be eaten un-iced, kind of like a sweet bread, like lemon or zucchini bread. The cake itself is a no-brainer to mix up—just the basics like flour, cocoa, eggs, and oil, no heavy machinery involved.
The special part comes after the cake has baked, when you pour a hot chocolate syrup over the cake, oh sweet heavens! The velvety dark liquid seeps into the cake, turning it even darker, shinier, and moister. It's magic.


My non-chocolate lover of a husband scoffed at my feverish excitement, at all my oohing and aahing and prancing about. Oh-so-resignedly, he sat down at the table to eat the piece of cake I'd served him. He took one bite and a sheepish, oh-crap-now-I-have-to-eat-crow look flashed across his face.
"Whaddaya think, whaddaya think, whaddaya think," I chanted.
"It's … not bitter," he said in his standard I'm-saying-something-positive-while-still-managing-to-be-negative manner.
"Yeah? You like it?" I egged him on.
"It's … moist." (Bless his heart, the man knows how to eat crow gracefully. He's had a lot of practice.)
"I know! Isn't it awesome?"
"Jennifer, it's a cake. Calm down."


The recipe hails from the blog Ideas in Food where they cook with centrifuges and dry ice and chemicals that I don't know how to pronounce. But every now and then they put up a normal recipe, like chocolate cake. The only non-normal thing about this recipe was that it called for chocolate extract. I don't think I've ever seen chocolate extract, let alone used it. (Have you?) So I did what any decent cook would do and added a large glug of coffee liquor. Because, you know, just because.


Chocolate Yogurt Cake

Adapted from Ideas in Food
You could make all sorts of variations, like spike the chocolate syrup, or add some instant coffee granules to the cake batter. However, I think the cake's beauty comes from its unadorned simplicity, so embellish with caution.
By day two the cake was so moist it was almost wet. Which was not exactly a bad thing… no, no, not at all. But I think this cake is at its glorious peak while still slightly warm.
for the cake:

1 cup flour

½ cup cocoa

1 teaspoon baking powder

½ teaspoon baking soda

3/4 teaspoon salt

1 cup plain yogurt

3 eggs, beaten

1 cup sugar

1 teaspoon vanilla

1 tablespoon coffee liquor, optional

½ cup canola oil
for the chocolate syrup:

½ cup sugar

½ cup water

1 tablespoon cocoa
Whisk together the first five ingredients (flour through salt) in a large bowl. Add the yogurt, eggs, sugar, vanilla, and optional liquor and whisk gently to combine. Add the oil and stir until incorporated.
Pour the batter into a greased, 9-inch springform pan. Thunk the pan firmly on the counter to remove air bubbles. Bake the cake at 350 degrees for 40-45 minutes.
While the cake is baking, combine the ingredients for the chocolate syrup in a small saucepan and bring to a boil over medium-high heat. Simmer for a couple minutes, stirring occasionally, until the sugar and cocoa are fully dissolved.
Stab the freshly-baked cake with a toothpick—about 30 good pokes—and spoon the hot syrup over the cake. Allow the cake to rest for 30 minutes before serving.
This same time, years previous: roasted tomato sauce, pasta with sauteed peppers and onions