Last night I went on a little garden tour with my husband. I wanted him to see the freshly weeded asparagus and strawberries so he could give me some congratulatory back-patting. Plus, a walk around the garden usually leads to him attacking some weeds himself, and goodness knows, there are quite a lot of weeds to tackle.
Sure enough, after we pondered the pathetic green beans (two failed plantings in one season—what's up with that?) and picked a few cherry tomatoes out of Miss Beccaboo's garden, Mr. Handsome started pulling the weeds out by their hair (I know my man!) and I headed over to the red raspberry patch in hopes of filling the little bowl I brought out with me.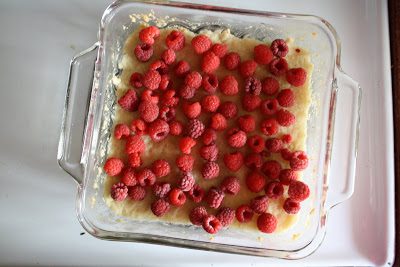 The first round of raspberry picking is always pretty skimpy (and some years I ignore it all together), but this year there are enough to warrant a go-over every couple days. In another month, though, we'll be swimming in the berries, and I can hardly wait.
When we came back in, Mr. Handsome headed upstairs to shower and I decided to whip up a pan of red raspberry lemon bars while the kids finished cleaning up the yard before coming inside for bedtime stories.
I got the idea for these bars from Julie, though she uses rhubarb in place of the raspberries. When I spied her recipe I had a hand-slaps-forehead moment: But of COURSE! Red raspberries in plain old lemon bars is the most simple, most brilliant move EVER!

Every time I give someone a bite of these, I get the same reaction: a brief moment of silence followed by an explosive, "WOW!" or "MMMM!" or "Give me MORE!"
These are tastebud popping treats, if ever there were. The berries help to cut some of the lemon's intensity while at the same time adding a tangy-tart contrast that totally enhances the whole eating experience.
Now that I've eaten these, I kind of doubt I'll ever be able to make plain lemon bars again.
And you know what? I'm perfectly happy with that.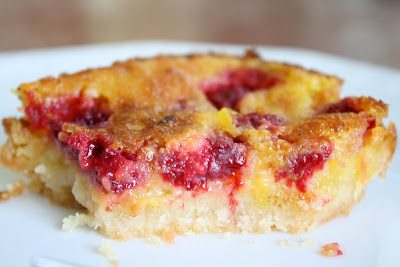 Red Raspberry Lemon Bars
Adapted from Dinner with Julie
Julie cuts the amount of butter in the crust is half, and while I kind of liked the idea, I couldn't bring myself to go all the way. So I compromised, cutting the butter back by a fourth—her recipe calls for 4 tablespoons, mine for 6. The crust had a fabulous texture (perhaps even better than my old butter-packed crust?), somehow managing to be both crispy and chewy. (After patting the crust into the pan, I realized I had forgotten the salt, but a quick dusting from the shaker and the day was saved.)
I have plans to make another pan of these soon (the lemons in my crisper are slowly slipping beyond their prime), and I just may sub a bit of buckwheat flour for some of the crust's white flour. I have a hunch the gentle nuttiness of the buckwheat will only enhance these bars.
For the shortbread crust:
1/4 cup sugar
6 tablespoons butter
1 cup flour
pinch of salt
Cream together the sugar and butter. Add the salt and flour and beat until you have a bowl of buttery sand. Press the crumbs into the bottom of a lightly greased 8″ x 8″ pan. Bake at 350 degrees for 10-12 minutes.
For the filling:
1 cup sugar
2 tablespoons flour
pinch of salt
1/4 teaspoon baking powder
2 eggs
1 lemon, zest and juice (about 3 tablespoons)
1 ½ cups red raspberries, fresh or frozen
Stir together the flour, sugar, salt, and baking powder. Whisk in the eggs and lemon juice and zest.
Sprinkle the berries over the hot crust. Pour the filling over the berries. Bake the bars at 350 degrees for 25-30 minutes, or until set.
Cool completely (yeah, right) before cutting and devouring.
This same time, years previous: angst over my daughter's reading, raspberry lemon buttermilk cake, and angel bread