We have a great garden this year, and compared to last year, in which it did not rain for weeks and weeks and everything shriveled up and died and I completely and totally gave up, it is a SUPER great garden. The potatoes are delicious, the tomatoes are prolific, the raspberries are booming, the basil is zooming, the corn is blooming, and the zucchini is looming—
…or rather, it WAS looming large and lush until it suddenly all keeled over. So we got exactly one week of zucchini. Bummer.
And I'm getting ready to do my THIRD very large planting of green beans because the first two decided to cop out on me.
And my onions are rotting in the ground.
So maybe it's not such a hotsy-totsy garden after all? Or maybe it's the gardener who isn't so hotsy-totsy? But I thought zucchini, green beans, and onions were no-brainer crops! I rely on my no-brainer crops! I need my no-brainer crops!
In any case, the one week of zucchini yielded enough green clubs for me to play with for quite some time. I turned out a batch of blueberry zucchini bread (and have an idea for a couple more I'd like to try), a zucchini strata, a zucchini pasta salad (or I will—it's on today's lunch menu), and my favorite standby zucchini dish, which I was stunned to see has never made it onto the blog.

When it comes down to it, this simple, delicious, most favorite zucchini recipe of mine is not actually a recipe. It's one of those more-of-a-formula-than-a-recipe deals, and you probably make it all the time already and therefore I'm offending you by telling you something this basic, but on the off-chance that you don't know about it, this recipe/formula is for you, baby.
Except that I've taken something so basic and plain and turned it into two recipes so now it looks all complicated and fussy. It's not! The components are mostly the same each time—onions and garlic, zucchini (of course), tomatoes (fresh or canned), cheese (feta or Parmesan), and fresh herbs—but sometimes I make it into a side dish, and other times it's more of a soup or sauce, perfect for serving over brown rice or with some crusty bread, so I kind of had to write it as two recipes.
So without further ado, here it is, written up both ways just for you! Because you're the bees knees and I love you to pieces! XOXO
(Excuse the outburst of affection. It just came over me. I blame it on all the Beautiful that's happening outside my window right now—the twittering birds, flirty breeze, blue-blue skies, and dew-drenched grass.) (I'm trying really hard not to think about the three bushels of apples that will soon waltz through my kitchen on their way to becoming sauce.)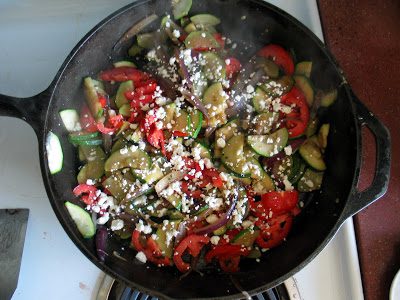 Zucchini Skillet with Tomatoes and Feta
Small zucchinis are always better than big ones. I aim to pick mine when they're about 8 inches long.
And all of these measurements are guesstimates. Just chop, dump, and pour your way to the end, however you best see fit.
4 cups sliced zucchini
½ cup thinly sliced onion
1-2 cloves garlic, minced
olive oil, a generous drizzle
1 cup of fresh tomato, sliced (Roma or cherry are best)
1/4 cup feta cheese
S & P
Heat the oil in a skillet and add the zucchini and onion. Toss them around so they get coated with the oil, add some S & P, and then let them cook without stirring so they get a little brown on them. Once they've started browning, add the garlic and stir occasionally until the vegetables are tender (but not mushy). Remove the skillet from the heat and stir in the tomatoes till they're heated through (don't cook them—you're going for a fresh tomato taste). Sprinkle with the feta, more S & P, if needed, and serve immediately.

Zucchini with Sausage, Tomatoes, and Oregano
1 cup chopped onion
4-6 ounces loose sausage, any kind
olive oil, a generous drizzle
4-6 cups sliced zucchini
2 cloves garlic, minced
1 quart tomatoes
1/4 cup fresh oregano, chopped (or 1 teaspoon dried)
S & P
½ cup freshly grated Parmesan
Brown the onion and sausage in a skillet and then transfer to a bowl, leaving the drippings behind in the skillet.
Put the zucchini in the still-hot skillet (add some olive oil if necessary), toss to coat with the fat. Let the zucchini sit for a little so it gets good and brown before stirring. When the zucchini is almost done (tender, but still firm), add the garlic and oregano and saute for another minute. Add sausage and onions and the tomatoes and bring to a simmer. Season with salt and pepper.
Serve over brown rice or noodles and garnish with the Parmesan.
This same time, years previous: simple creamy potato salad, French potato salad, tempero, vanilla pudding, apricot pandowdy