Written yesterday afternoon…
I'm in a cooking slump. Part of it, maybe most of it, has to do with the fact that my two oldest have split for my parents' house and I'm left with the two littlest (and a niece, but now she's back at her mom and dad's so it really is just me and my two littles), and after cooking for four or more kids, a five and a seven-year-old just feel like absolutely nothing. When a hunk of bread and a carrot will meet the need, what IS the point, huh?
I didn't feed them bread and carrots for lunch. I made a pesto pizza with leftover dough, a splat of pesto, and some odd cheese ends (and oven roasted tomatoes for my part). If they get hungry this afternoon, I have four hotdog buns banging around (in an airy sort of way) in my bread drawer that they can have. The kids will probably get all excited about them, too.
See? Why cook?
But I do need to come up with something for supper. Mr. Handsome will come home tired and hungry and I have a pretty good hunch that hotdog buns just won't cut it.
So that's that problem.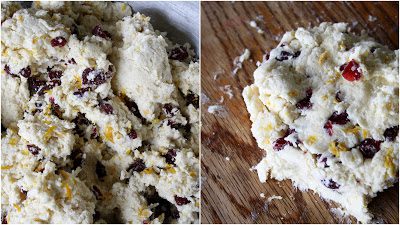 On the other hand, these scones are not a problem. They were a problem at first, mostly because I hadn't yet discovered them and was busy experimenting with other scone recipes and failing miserably and getting all grumpy about it. But then I discovered these and my problems were solved.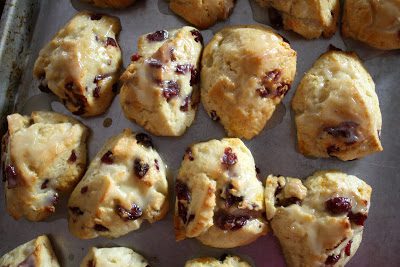 I made them for our family gathering and they were the first ones to disappear. I made them for our PA gathering and sister-in-law Kate has been politely hounding me for the recipe ever since. (Kate! Your day has come!) I baked some up yesterday afternoon and sent the majority home with my mom because their oven is on the fritz and my heart goes out to anyone who does not have access to a steady stream of baked goods.

But now I'm kind of regretting my spurt of big heartedness because I just ate the last scone and really want another one.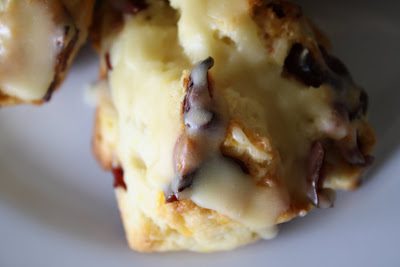 Orange Cranberry Scones
Adapted from House of Annie
To make these even more orange-y, submerge the craisins in hot orange juice for 20 minutes. Drain thoroughly before proceeding.
2 cups flour
1 tablespoon baking powder
3 tablespoons white sugar
½ teaspoon salt
5 tablespoons butter
1-2 tablespoons orange zest
1 cup heavy cream
3/4 cup craisins
½ cup confectioners' sugar, sifted
2 tablespoons orange juice
Mix together the flour, baking powder, white sugar, and salt. Using your fingers, a fork, or the food processor, cut in the butter. With a spoon, stir in the cream and zest. Add the craisins and knead lightly to combine. Divide the dough in half and shape each half into a disk. Wrap in plastic and chill for a couple hours. (At this point you can freeze the disks.)
Cut each disk into 8 pieces and bake on a lightly greased cookie sheet at 400 degrees for 12-18 minutes.
Make a glaze by combining the confectioners' sugar and orange juice. Drizzle it on the scones while they're still hot.
Yield: 16 delectable scones