The girls are having a sewing party in West Virginia with my mom, so it's just me and the boys.

On Saturday they built an arbor and cut down the tree that has been supporting our grape vines.

While they were working on it, our neighbor stopped by to say that his grandmother used to make juice from those vines some thirty or forty years ago. I hope the switcheroo didn't damage the vines much because I'm seriously addicted to grape jam.

My husband took the boys to town with him when he went in to do a work project. I did some paperwork before heading out to the kitchen to do some cooking for the upcoming week. I planned to make a pan of potatoes and onions and perhaps a baked oatmeal, but with the radio to keep me entertained and no children to distract me, one thing lead to another and by the time the boys got home, the kitchen sink was piled high with dirty dishes and I was juggling cupcake pans and oven space, making a hot fudge sauce, whizzing an ice cream base, and whisking some butter and vanilla into a pudding.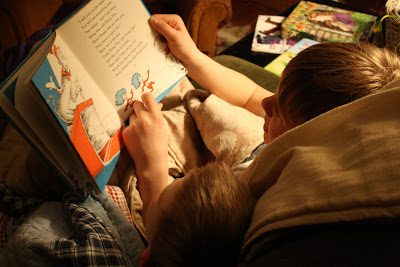 My husband, bless his heart, walked over to the kitchen sink and got right to work. And then while we cleaned up the kitchen yet again after supper, my oldest son read bedtime stories to the little one.

Banana Split Ice Cream
Adapted from the March 2011 issue of Bon Appetit
It's like a rich banana smoothie, but in ice cream form. The hot fudge is luscious. Serve with extra banana slices and a fat, crunchy pretzel, or on top of a peanut butter-smeared Sunday waffle.

Straight out of the ice cream maker, this ice cream is way too soft. It must have several hours to set up in the freezer before serving. Plan accordingly.
3 ripe bananas
1 14-ounce can sweetened condensed milk, divided
1 cup half-and-half
2 tablespoons light corn syrup
1 tablespoon fresh lemon juice
½ cup chocolate chips
1 tablespoon water
Put the bananas, the half-and-half, corn syrup, lemon juice, and 3/4 cup sweetened condensed milk into a blender and whiz until well-combined. Freeze the mixture in an ice cream maker, and then transfer to the freezer to harden for several hours before serving.
Heat the remaining ½ cup of sweetened condensed milk in a saucepan with the tablespoon of water, stirring constantly (it scorches easily) till heated through. Remove the pan from the heat and stir in the chocolate chips. Drizzle the fudge over the ice cream.
This same time, years previous: a warm winter day