Over at Simple Bites, Aimee has been posting up a storm about all things pancake. There was a post on homemade syrups and another post that included several pancake recipes. All that panny-cake talk got me hungry, so one night last week when I was scheduled to have a houseful of kids (eight total, to be exact), I decided to have a pancake feast.
cinnamon molasses syrup on a whole wheat buttermilk pancake
I spent a fair amount of the afternoon putzing around the kitchen, mixing up the dry ingredients and the wet for three different kinds of pancakes: pumpkin, cornmeal-blueberry, and whole wheat buttermilk (I made the buttermilk pancakes using 100 percent whole wheat and they were lovely—there is absolutely no reason to use any white flour in that recipe). I also made three corresponding syrups: cinnamon molasses, orange-honey, and buttery brown sugar. I planned to serve the pancakes in courses (my daughter's idea), and there would be a huge skillet of scrambled cheesy eggs as well. And lots of milk, of course. 'Cause you can't have pancakes without milk.

My plan worked beautifully, or would have, if the electricity hadn't gone off right when I started frying up course two.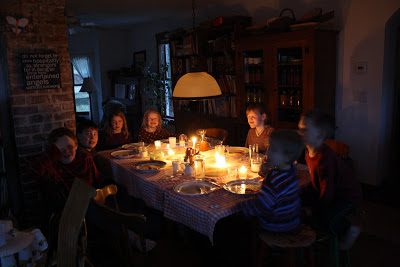 The kids yelled and scrambled for candles and I, my shoulders slumping, said to my husband, "Better go get the outdoor stove."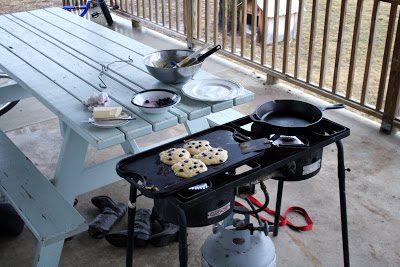 I fried the rest of the pancakes on the porch, a fading headlamp my only weapon against the encroaching darkness, and the kids ferried the pancakes from porch to table. The lack of light in no way inhibited them from stuffing their tummies to the bursting point.
Then, just when I was beginning to contemplate the mountain of dirty dishes (somehow I managed to soil nearly all of my spatulas and rubber scrapers and plates and forks and spoons and glasses and mixing bowls), the lights (and water) came back on.

My husband and I cast a Maria von Trapp spell over the kids while we blitzed the kitchen, and then my husband read from Little House while the kids lollygagged about and I sat on the floor in the middle of them and tried to knit without getting jostled.
All things considered, the meal was a success (though 18 eggs were definitely not enough). I enjoyed my time spent playing and creating and watching the kids stuff their faces. Also, I learned that I love cinnamon molasses syrup and that a bit of butter stirred into a standard brown sugar syrup makes for some serious deliciousness.
a dribble of cinnamon molasses-y goodness

Cinnamon Molasses Syrup
Adapted from Simple Bites
This syrup is wonderfully delicious on heartier pancakes, like sweet potato or pumpkin (I prefer lighter syrups for lighter pancakes). I also drizzled it on some leftover cornbread and loved loved loved it. In fact, I'm thinking that next time I make cornbread, I'll be making this syrup to go with it.
1/4 cup molasses
½ cup brown sugar
1/3 cup water
½ teaspoon cinnamon
1 tablespoon butter
Combine the first four ingredients in a saucepan and bring to a boil. Simmer for 2 or 3 minutes before removing from the heat. Stir in the butter. Store in the fridge, in a lidded glass jar.
Yield: one pint
and a dribble of buttery, brown sugar-y goodness, yum-yum

Buttery Brown Sugar Syrup
Inspired by Simple Bites and a bunch of other recipes on the web
I tried to make an all brown sugar syrup, but the brown sugar only stayed dissolved for a short amount of time before turning grainy. No amount of reheating could return it to it's smooth, syrupy form. For this reason, I used three parts white sugar and one part brown—white sugar dissolves completely and remains that way.
(I already have a brown sugar syrup in the recipe index—it has equal parts sugar and water and some thickener, so it's a little less sweet. Plus, it makes a large amount—it's still my bulk-syrup go-to recipe.)
3/4 cup white sugar
1/4 cup brown sugar
½ cup water
1/4 teaspoon maple flavoring
1/4 teaspoon vanilla
1 tablespoon butter
Put the sugars and water in a saucepan and bring it to a rolling boil. Remove it from the heat and stir in the flavorings and butter. Store in the fridge, in a lidded glass jar.
Yield: one pint
To soak up the sticky-sweet: baked French toast, cornmeal-whole wheat waffles, Dutch puff, Farmer Boy pancakes, oatmeal pancakes, Russian pancakes, and whole wheat buttermilk waffles. Go on now, cook yourself up some breakfast love!