I was the only one in my family who liked this soup, so I'm not going to tell you you'll love it when I know good and well that some of you won't. I'll let you make that call.
As for me (but not my household), I adored it.
That my family is not on board with me regarding this soup is cause for deep mourning. Their foolishness grieves me.

The soup is among the simplest of simple, just a sprinkling of cornmeal and a flurry of beet greens stirred into a chicken broth base. Comforting, nourishing, and earthy, it's the perfect cold-weather and fight-the-flu soup.
You can use other greens in place of the beet greens—in fact, the original recipe called for baby spinach—but my mom had just given us several bags of garden goodness, among which were a passel of beets that I topped and roasted, but before tossing the greens to the chickens, I fished out the prettiest leaves, roughly chopped them up and then set them aside for the soup.
(Believe me, the soup was much easier to make than that sentence was to write. Stringing all those words together has plum tuckered me out. I only have short sentences left it me now. Watch…)
Incorporating beet greens into a soup made me feel cultured.
And edified.
Beet greens are edifying.
My family resists my efforts to edify them.
I love 'em anyway.
I can do that since I'm so edified, see.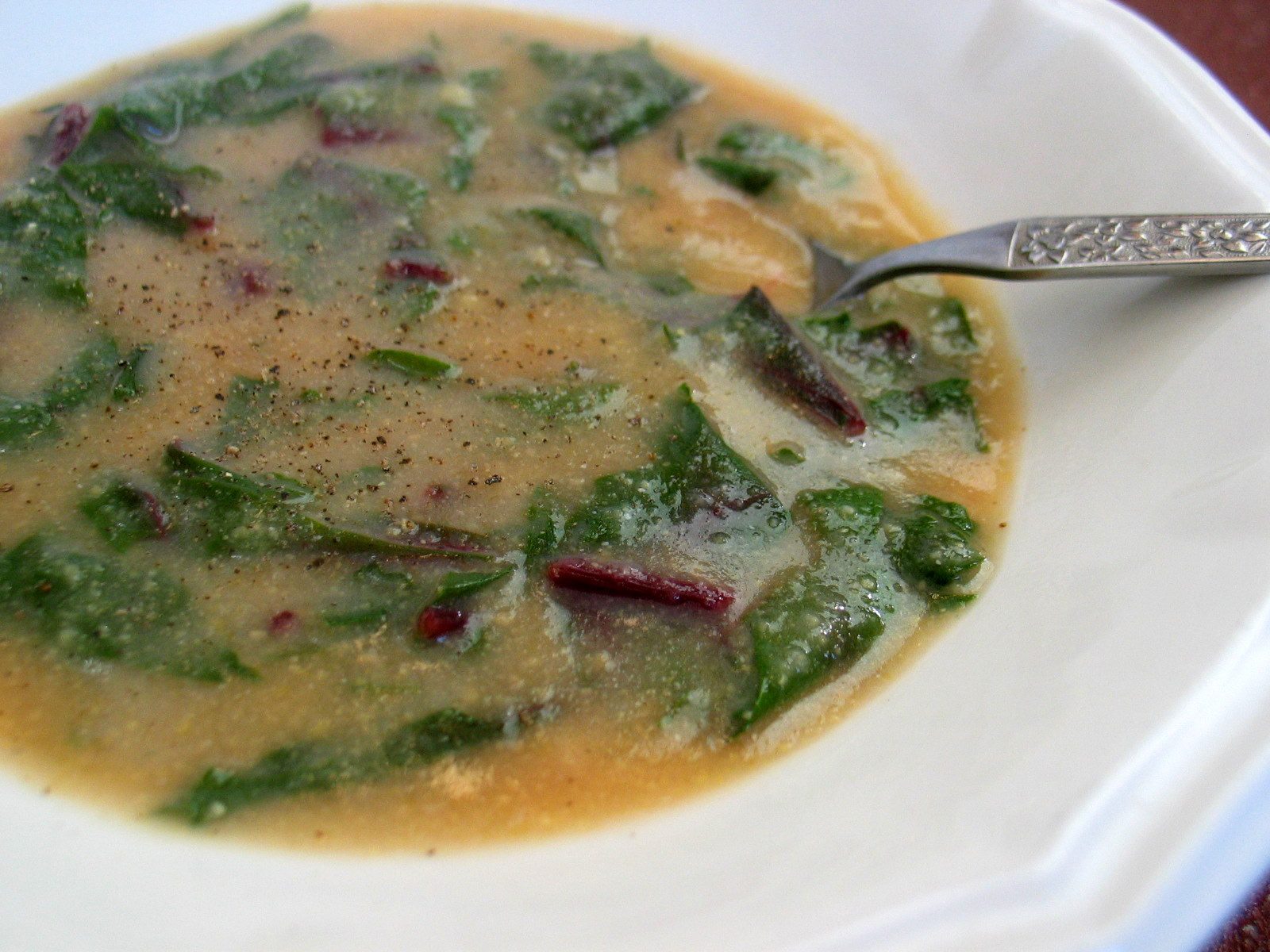 Rustic Cornmeal Soup with Beet Greens
Adapted from the October 2010 issue of Bon Appetit
Knowing that my family would most likely revolt, I cut the recipe in half, and, minus a couple small bowlfuls that the rest of them managed to choke down under my watchful eye, I ate the whole pot myself. (And then I pigged out on pulled beef.)
I think crumbled bacon might be a nice addition. And perhaps a chopped boiled egg? I also think the soup is perfect as is. You decide.
3 ½ cups chicken (or vegetable) broth
6 tablespoons coarse cornmeal
1 ½ tablespoons flour
1 ½ tablespoons butter
1 clove garlic, minced
coarse salt
black pepper
4 ounces red beet greens, roughly chopped
Bring the broth to simmer in a small saucepan. In a larger saucepan set over medium-high heat, stir together the cornmeal and flour and slowly whisk in a cup of the hot broth. Add the garlic and butter and sprinkle with some salt. Slowly add the remaining broth, whisking all the while so that the mixture stays creamy smooth. Simmer on low heat, stirring frequently, for about 20 minutes. Stir in the greens and simmer another 5 minutes. Season and serve.
Yield: 3 servings
This same time, years previous: Donuts!!! Sweet Rolls!!!