I was raised on applesauce (along with a few other things). We ate applesauce as a side dish at suppertime. We ate applesauce smeared atop butter bread for our lunch. We ladled applesauce into popsicle molds and ate it frozen on hot summer afternoons.
Nowadays, there's still an awful lot of apples getting turned into sauce around here. My children adore the stuff so we put up about a hundred quarts of sauce every summer. Despite our zealous, saucy ways, I must admit that I'm not all that much in love with the stuff. I prefer my apples fresh, or else baked up in a pie, cake, or crisp rather than in ordinary schmordinary sauce form.
It has come to my attention that some people believe applesauce has only two functions: as baby food and as a baking ingredient. I agree that it's a great baby food, but I have never, ever fallen prey to the notion that applesauce belongs in baked goods.
There are two reasons that applesauce in baked goods grieves me most mightily. First, some people use applesauce as a substitute for oil. This is wrong. For me, of course. I wouldn't presume to tell you what you can or can't do. That would be rude.
But folks! If you're going to eat a cake, then eat a cake, for crying out loud! A cake complete with all the vital components—sugar! butter! white flour! And if you're not up for indulging, then just don't indulge! In any case, do not—I repeat, do not—desecrate the real deal with applesauce!
Unless desecrated cake is the real deal for you. In that case, desecrate with abandon. See if I care.
The second reason that applesauce in baked goods grieves me is that applesauce is a heck of a lot of work. After all that cutting, cooking, mashing, drilling, and canning, I'm not inclined to hide applesauce in other baked goods. It's a food in its own right and I want everyone to see it and appreciate it for what it is: applesauce. No applesauce gets hidden under a bushel basket in this house, no sir! Here, we let our little applesauce light shine brightly.
For both of the above reasons, I've been averse to cozy-ing up the words "cake" and "applesauce." (Though, I must point out, applesauce in cake is very different from applesauce on cake. The former is taboo—or was taboo, as you've probably already figured out from this long-winded preamble—while the latter is perfectly acceptable, though slightly Pennsylvania Dutchy-esque.)
Anyhow. What I'm trying to get at is that—big bite of crow here—I put applesauce in a cake and loved it.
It's all Deb's fault. Deb posted a recipe for applesauce spice cake and she did not try to mask it with any health nut terminology. No indeed. Hers was a full-blown cake complete with icing and butter and brown sugar. It tempted mightily.
And then I recalled the adult applesauce that I had made the other night. See, in an effort to get myself excited about apples in sauce form, I had simmered chunks of cored, unpeeled apples in some apple cider, with a couple sprigs of rosemary and a cinnamon stick thrown in for umph and some browned butter stirred in for richness. The sauce was classy and sophisticated, but no one liked it except for me. (There was the little problem with the apple peels, I must admit. I hadn't cut the apples into small enough pieces which meant that large flaps of apple skin were a predominant feature. But hey, what are our chompers for anyway?)
In any case, I had a bunch of leftover sauce in the fridge and when Deb's recipe popped up and I recalled my rosemary-infused chunky applesauce, I was a goner. I had no option but to make the cake.

So I did. I immersion blendered up a bit of the sauce till it was creamy smooth and tossed it in with the brown sugar and eggs and spices and baked myself up a lovely applesauce cake.

If it's at all healthy, it's a total coincidence and completely inconsequential.

It's cake, is what it is, and a darn fine one at that. Simple, homey, comfortable, and absolutely autumnal, it begs to be eaten in front of a crackling fire, thick wool socks on your feet and a fleece blanket draped over your shoulders.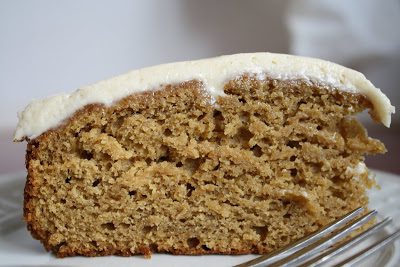 One more thing before I give you the recipe: the cake's name. I have to do something about the name. I've been calling this cake Applesauce Cake because that's what it is, but the name does not own up to the cake. This is not a cake with some applesauce in it. This is an applesauce cake. But the name "Applesauce Cake" does not convey that fact.
So I can not in good consciousness call it an applesauce cake. It must have a new name. Apple Spice Cake? Apple Infused Cake? Apple and Spice Cake? Sauced Apple Cake? Saucy Apple Cake? Saucy, Spicy Apple Cake? Applesauce Spiked Cake? Rosemary and Cinnamon Applesauce Cake?
Good grief! This is going nowhere. I'll have to bite the bullet, back down, and call it what it is. If you have any better ideas, please let me know.

Applesauce Cake
Adapted from Deb of Smitten Kitchen
The apple-ness permeates the moist cake in a most beguiling fashion, and the spices are mild. The first time around I was a little disappointed that I couldn't taste the rosemary outright (and you all know how I love rosemary and apples together) so the second time I allowed a few rosemary needles to get blended up with the apples. Also, the second time around I doubled the cinnamon and increased the ginger, two changes which I wrote into the recipe. If you want less spice, cut them back to 3/4 teaspoon and ½ teaspoon, respectively.
If desired, you can make some rosemary applesauce for the cake (or to eat with your syruped-up Sunday waffles): wash and core a couple pounds of apples. Do not peel them. Chop them up into bite-sized chunks (or leave them bigger if you plan to blend them up) and put them in a kettle with about a half inch of apple cider on the bottom. Toss in a stick of cinnamon and a couple sprigs of rosemary. While the apples are cooking, brown a couple tablespoons of butter in a separate saucepan. When the apples are tender, remove the cinnamon and rosemary and stir in the browned butter. Serve the chunky sauce as is, or blend it up.
One more note: the cinnamon in the frosting is a very fine idea indeed.
½ cup butter, softened
1 cup brown sugar (I used dark)
2 eggs
1 teaspoon vanilla
2 cups flour
2 teaspoons baking powder
½ teaspoon baking soda
1 ½ teaspoons cinnamon
3/4 teaspoon ginger
1/8 teaspoon ground cloves
½ teaspoon salt
1 1/3 cups applesauce
Cinnamon cream cheese frosting (recipe follows)
Cream together the butter and brown sugar. Add the eggs and vanilla and beat some more. Mix together the dry ingredients in a separate bowl and then add them to the creamed butter mixture. Blend gently to combine. Stir in the applesauce.
Pour the batter into a greased 9-inch springform pan (or a square 9×9 glass pan). Bake at 350 degrees for 30-40 minutes. Cool and frost.
If you're not going to eat up the cake within a couple days, store it in the refrigerator. Otherwise, show it off on your most fetching cake plate.
Cinnamon Cream Cheese Frosting
This frosting is gorgeous, pale brown with darker brown speckles.
3 tablespoons butter, softened
5 tablespoons cream cheese
1 cup confectioner's sugar, sifted
1/4 teaspoon vanilla
½ teaspoon cinnamon
Cream together the butter and cream cheese. Beat in the vanilla and cinnamon and then add the confectioner's sugar.
This same time, years previous: garden inventory 2009, pizza with curried pumpkin sauce, sausage, apples, caramelized onions, and sharp cheddar (it wins the award for longest food title)