I make supper a lot. Like, practically every single night, seven days a week, 52 weeks a year, year in and year out. Yadda-yadda-yadda, ad nauseum, so on and so forth. The meals are basic and earthy, intended to be well-balanced, fill bellies, please as many tongues as possible, use up the ingredients I have on hand, and be plentiful enough to provide leftovers. They're meals that I whip up and smack down, BAM.
Last night's supper, on the other hand, was thoughtfully crafted, each dish chosen (as I strolled through an upscale grocery earlier that day) to balance against the others. The ingredients were expensive (by my standards, as well as the rest of the world's) yet simple, requiring only minimal embellishment.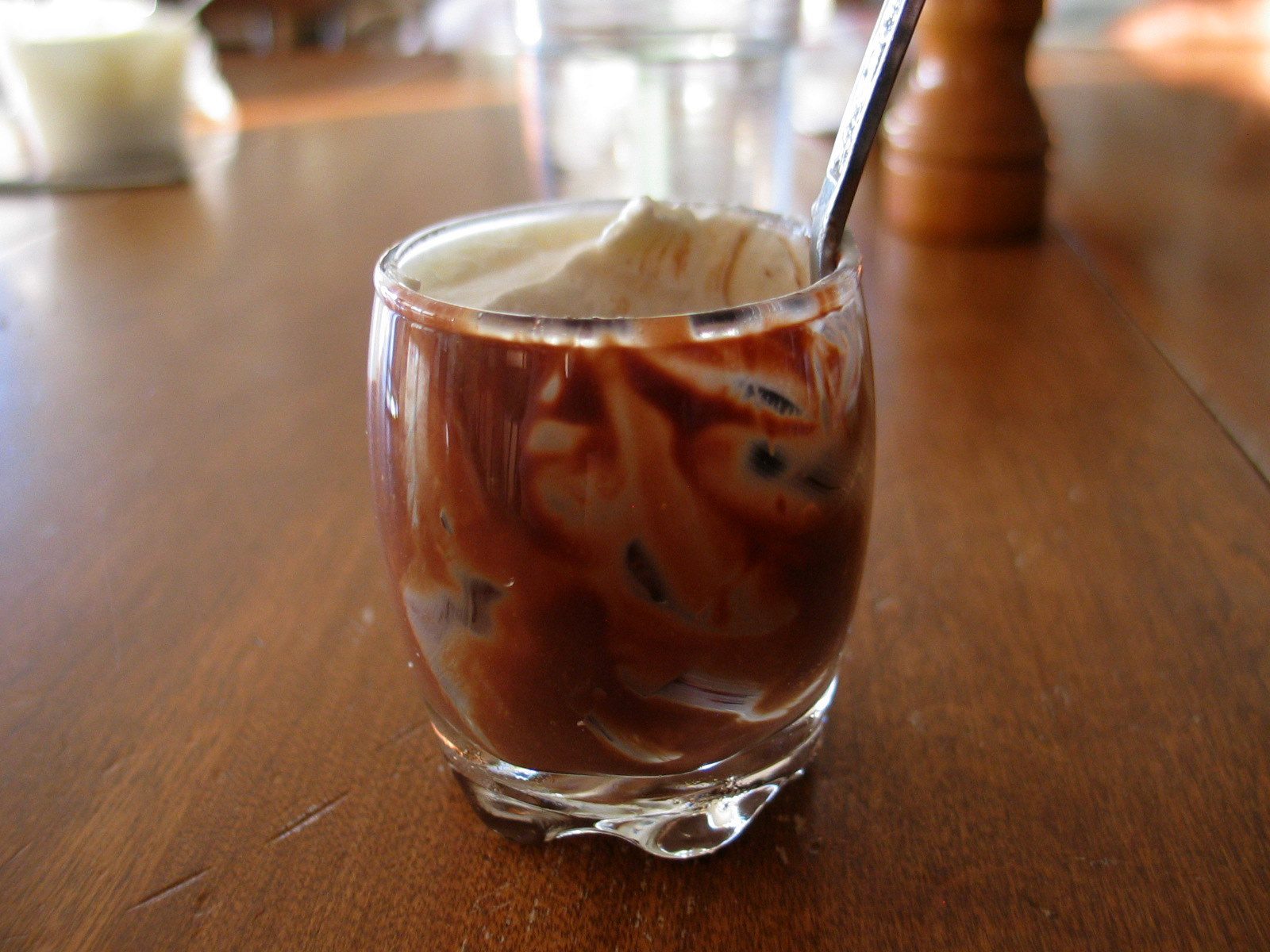 Here's what we ate: lettuce leaves dressed with lemon-olive oil-honey dressing and topped with slices of juicy pear and creamy brie, jasmine rice cooked in chicken broth, oven-roasted shallots, grilled salmon ($19.99 a pound—yikes! [but I got ten bucks off]) with lemon butter, fresh sourdough baguettes (one with seeds and one without), Kahlua-spiked chocolate pots de crème capped with whipped cream, and, for me only, a glass of red wine.

Dinner (not "supper," you'll notice) was an unusually leisurely affair. Afterward, bellies stuffed, the kids ran off to play and Mr. Handsome and I retired (not "moved") to the living room, him to the recliner, me the the green sofa where I curled up cozy-like, my feet tucked under me.
Mr. Handsome attempted to tell me about his day—I had asked, after all—but it proved pointless. I was hyped up on good food and could think of nothing else.
I caught bits and pieces of what he said, though. There was something about a water heater, a cabin, and a muddy hole that kept filling back in with water, to which I smiled vaguely and said, "Those shallots—weren't they just incredible? So simple, too. Just roasted with a little balsamic vinegar and olive oil. Nothing to them, really."
"Yes," he said. "They were good." And then he mentioned something about wiring a basement. "If anyone hammers a nail there, they'll get electrocuted, but oh well," he chuckled.*
"That salmon, wow," I amicably replied. "I just popped it on the grill and then topped it with the lemon butter. It was soooo good."
"Mm, yes. It was good," he said, and then in yet another valiant attempt to change the subject, "I was listening to NPR about that Florida preacher—"
"Don't even talk about it." I said firmly, sitting straight up and punching the air with my wine glass. "It makes me mad just thinking about it!"
Suddenly exhausted, I slumped back against the sofa. "Brie," I said dreamily. "Brie is amazing, don't you think? So … creamy. And I got it for a good price, I'll have you know. There's a whole bunch leftover, too. I'll be living on brie and pears." I sighed happily. "Brie and pears—they were meant for each other."
Mr. Handsome finally surrendered. "Brie is delicious. The salmon was delicious. Everything was delicious. It was an amazing dinner, hon. Totally amazing."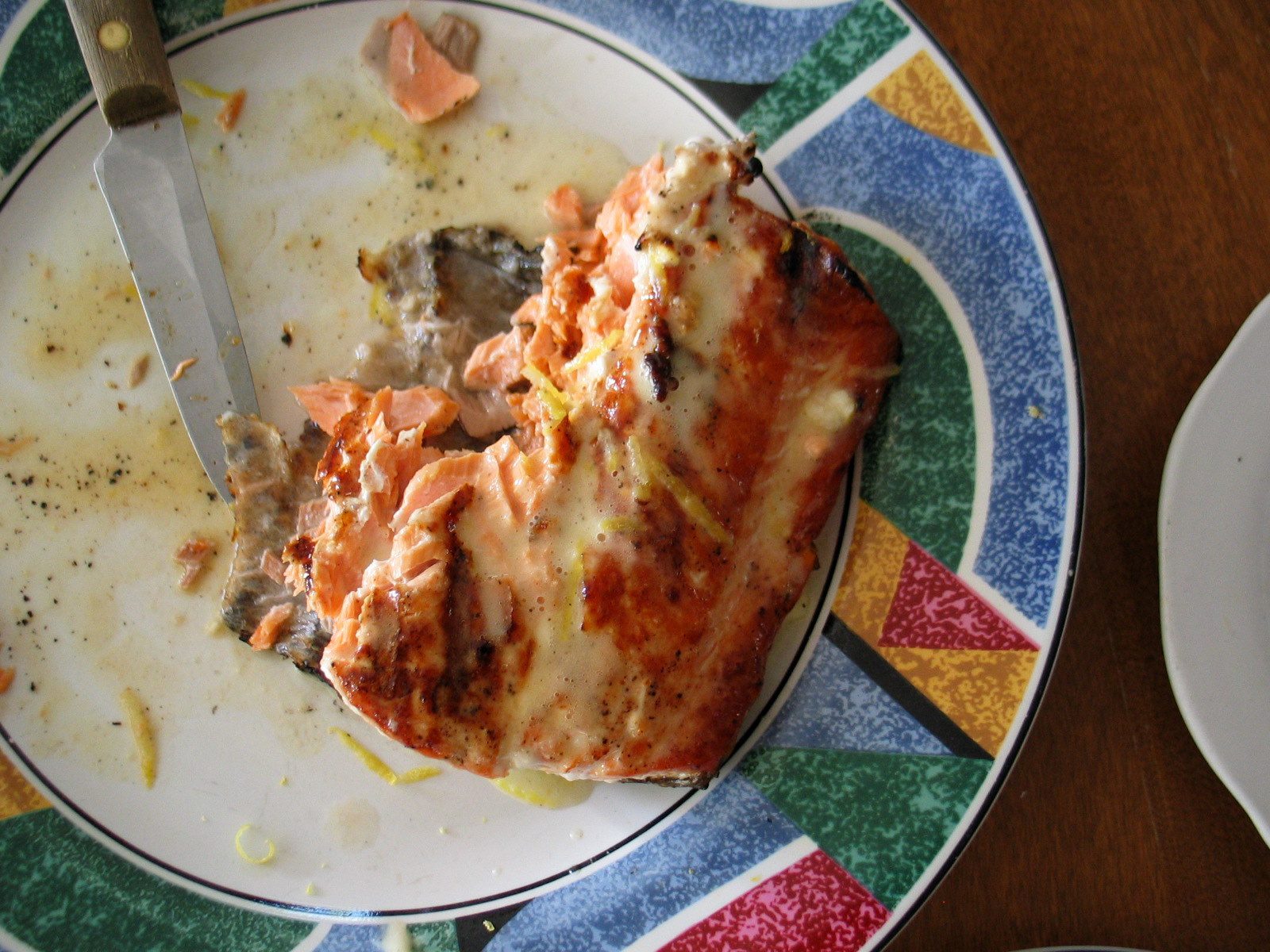 Grilled Salmon with Lemon Butter
Adapted from Epicurious
Substitute lime for the lemon, if you wish. There will be leftover lemon butter, which they say is excellent over chicken. I imagine it would also be good tossed with pasta and broccoli and some shavings of Parmesan…
1 pound salmon
salt and pepper
1 teaspoon lemon zest
4-6 tablespoons lemon butter (recipe follows)

Salt and pepper the salmon. Preheat your grill. Oil the rack. Grill the salmon for about 4 minutes on each side (keep the grill lid closed), or until it registers 155 degrees when pierced with a meat thermometer. Transfer the salmon to a platter and sprinkle with the lemon zest. Scoop some tablespoons (start with four and go from there) of lemon butter on the top and serve. Pass the extra lemon butter.
For the lemon butter:
8 tablespoons butter, melted
1/4 cup fresh lemon juice
1 clove garlic, minced
1 teaspoon salt
½ teaspoon black pepper
In the jar of a blender, combine the melted butter, lemon juice, garlic, salt, and pepper. Blend till frothy and smooth, about 20 seconds. Pour into a little jar and chill in the fridge. (Or, if you prefer, you can wait till the butter is cool and then shape it into a log and freeze—then you can chop off a little whenever you need it.)

Oven-Roasted Shallots
Adapted from Molly's blog Orangette
I ate the leftovers for the next day's lunch along with some brie, freshly baked sourdough, and pears. And then I died and went to heaven all over again.
1 pound shallots, peeled, large ones cut in half
1 tablespoon balsamic vinegar
1 tablespoon olive oil
a pinch of sea salt
Put the shallots in a 9 x 9 glass pan and toss with the vinegar, oil, and salt. Cover the dish tightly with aluminum foil and bake at 400 degrees for 40 minutes. Remove the pan from the oven and turn the shallots—the bottoms should be caramel-y brown. Cover the dish and return it to the oven for another 30 minutes. Serve the shallots warm or at room temperature.
*Mr. Handsome is an exceptionally careful carpenter. He was speaking hyperbolically.