This is the third year that Mr. Handsome and I have participated in the Fresh Air Fund. The first year was a loooong time ago, back when we were first married (14 years this month). We hosted two girls. I don't remember much from that visit except that they were sweet and that they freaked out over the potato bugs.
Then last year we went through the interview process again and ended up with a seven-year-old boy. We lucked out—he's sweet and well-mannered. We invited him back, and to our delight, he accepted.

Lest you be deceived, hosting a complete stranger from the inner city—practically another country—is not all rosy-posy sugar-n-pie. There's homesickness, bickering, an extra mouth to feed, and sibling jealousy.
The first several days with our little boy are the toughest. That's when media-detox takes place, as well as the strongest pangs of homesickness. Little Fresh Air Boy doesn't talk for the first 24 hours. Last year I thought it was because he was scared senseless, but he did the same thing again this year.
I've determined it's because he's scared senseless.
But then he thaws and his personality (and love of hot sauce) gets a chance to shine through. He develops coping methods that involve book-reading and matchbox car-playing, swinging, and befriending the dog.

We don't do much special stuff when he's here. (We don't do much special stuff when he's not. I figure I'm special enough and that the rest of my family ought to be just tickled pink to get to hang out with me every single day.) We make a trip to West Virginia—the real country—where my parents put on a show complete with a treasure hunt, watermelon picking, a hike through the woods to play in the creek, music-making, a javelin-throwing contest, and extensive read-aloud time.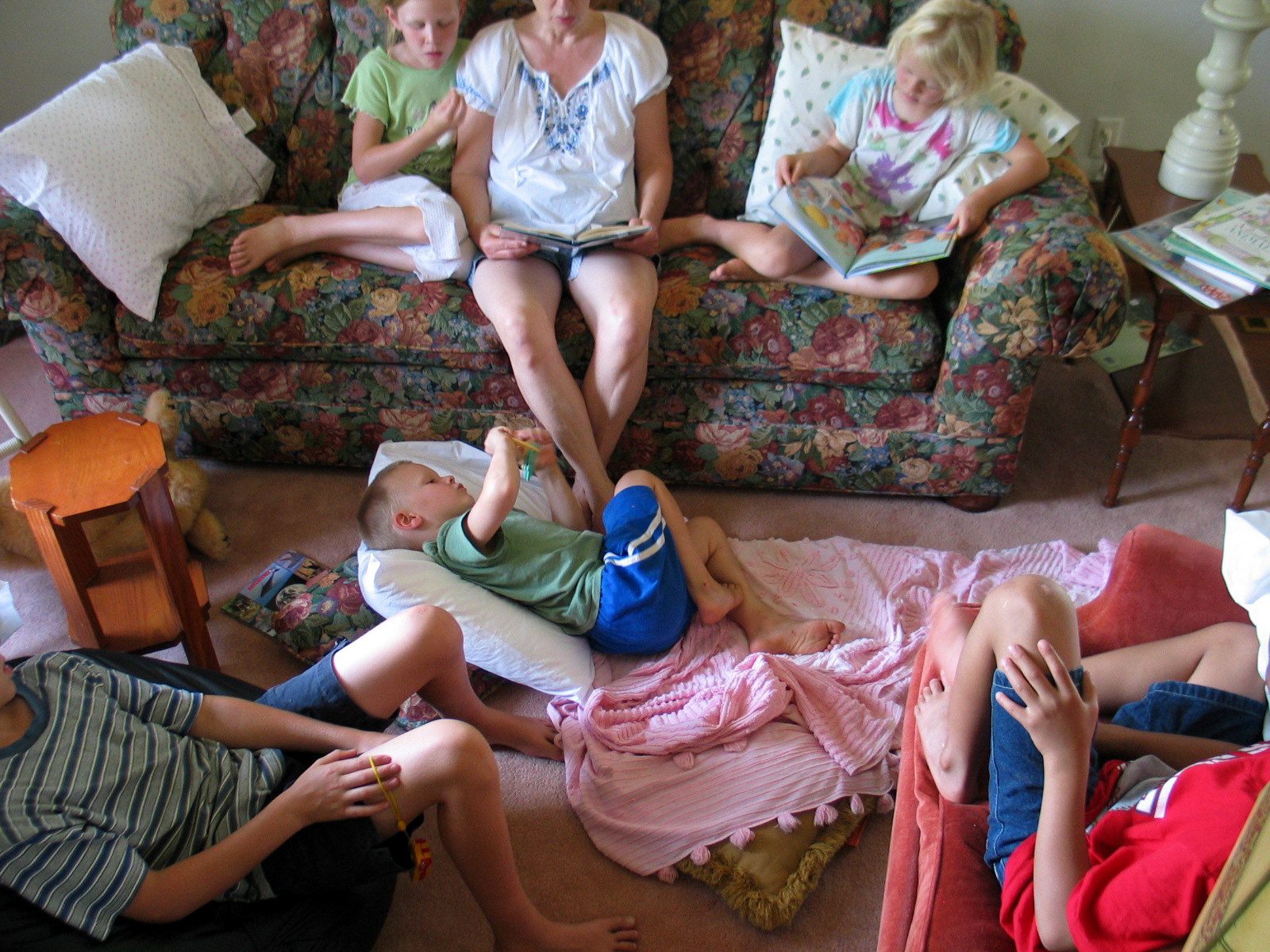 Back home, I make it a point to go swimming at both the pool and the creek, though I place a much greater emphasis on the creek, partly because of the excellent exploring opportunities and partly because I can take my computer and write the whole time.

Our Fresh Air Boy had never been to a creek before he came to see us, and despite the weird stinky smells, he loves it.

Fresh Air Boy is passionate about my granola, applesauce, and spaghetti. He has learned to appreciate nectarines. We went to a wedding—his first—where he tried everything on the buffet, including both kinds of Pakistani kima and both kinds of salad dressing. We were duly impressed and told him so.

This year we attended the Fresh Air Fund picnic. There were people there who have been hosting Fresh Air kids for years and years and years. The chairwoman (who makes a killer homemade peach ice cream) told me that this year there were 4500 fresh air kids in the program. At the peak, there were 7000. The number had declined due to lack of families, but now it's on the rise again.
I chatted with a number of other host moms. A common thread ran through our conversations: nearly each of us has a child who reacts negatively to the Fresh Air child. The way to deal with it? Send the irritated/irritating child to be with the grandparents, provide plenty of daily space and quiet time, have planned activities (for your own children as well as the guest child), and thank your lucky stars that the program lasts for only ten days.

And then do it all over again next year because it is so totally worth it.
This same time, years previous: Fresh Mozzarella and On drying food