After years of canning Red Haven peaches, writing a guest post on the topic, and putting up four bushels of the fruit this year, I've come to the conclusion that I don't really like them after all. They can up well enough—cleanly yellow, sweet, and firm-tender—but I've always thought them rather bland and flavorless when fresh.
But then at the Fresh Air picnic, Mrs. Chairwoman raved to me about Glo Haven peaches. Since I'm so impressionable, I then had to go out and buy a half bushel. Oh my, oh my, oh MY. They tasted good! Sweet and juicy and wonderfully peachy, just how peaches ought to taste. For experiment's sake, I canned several quarts (the fruit is rosier, so it tints the water an enchanting pale pink), froze a couple quarts, and we ate the rest fresh.

Remember how I said I don't really have a favorite way to prepare fresh peaches? The reason was, perhaps, because I was working with an inferior peach (though still a fine canning peach, mind you). Nothing I ever would've made with them would've wowed me.
That has changed, however. I now have found The Very Best Way (according to yours truly) to serve fresh, peachy peaches.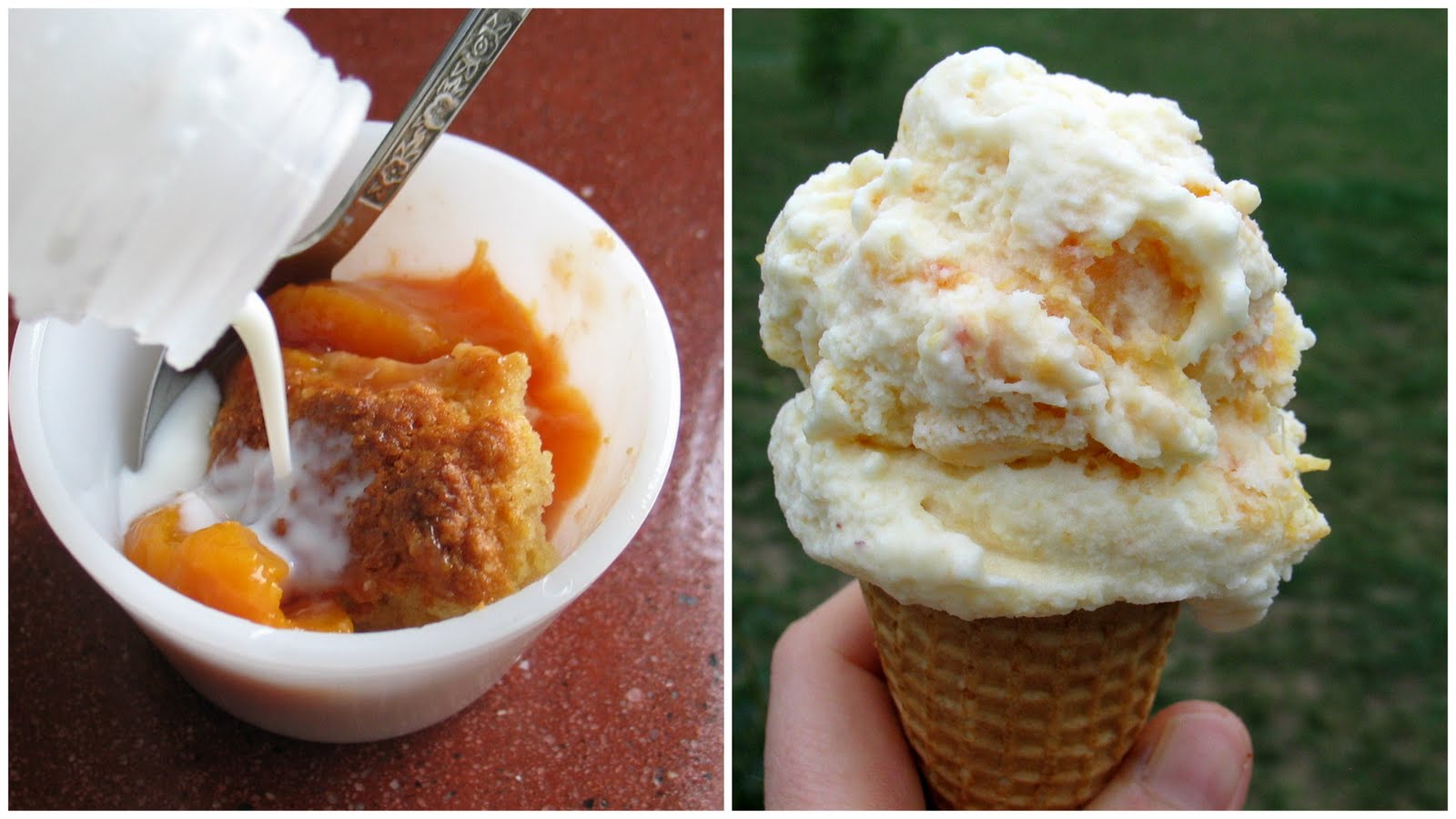 Two ways, in fact. Things are looking up.
Way Number One: peach cornmeal cobbler.

I tried the recipe several weeks ago when I was swimming in Red Havens, and while I loved the cobbler part, the fruit was only so-so.
Then on Saturday, while in the thick of applesauce making, I tried the cobbler again. Twice. The first time I forgot the cornmeal, and since that's kind of the whole point of the dessert, I had to go and make it again. That meant I had two large cobblers sitting on the kitchen counter.

I alerted my brother's household to the cobbler overload. If you stop by, bring a couple containers to take some home in, I directed. He came over, of course, and when he did, he had a whole bag of containers in hand. (Is this the definition of an optimist or just the sign of a hungry man?) "I didn't know which size you'd want," he said impishly.
Later, some friends stopped by and dug in. Spoons flashed and lips smacked. By bedtime both pans were empty and I was wishing I had saved me a few extry peaches for a Sunday cobbler. I just may need to buy another half-bushel.
Way Number Two to use these yummy peaches: fresh peach ice cream.

This recipe comes from Mrs. Chairwoman herself. I called her up a couple days after the picnic (and nearly gave her a panic attack because she thought I was at home playing with peaches instead of taking Fresh Air Boy to the bus to go back to NY, but I assured her that Mr. Handsome was serving drop-off duty, thus allowing me to attend to my peaches and cream) to beg the recipe and she kindly read it off to me.
It's different then most ice creams in that the recipe calls for cornstarch and flour as thickener, uses the whole egg (not just the yolk), and contains more milk than cream. As a result, the ice cream is less heavy and perhaps a bit icy. This bothers me not one wit. In fact, I think it tastes even better this way—lighter, summery, and peachy sweet.
***
Peach Cornmeal Cobbler
Adapted from Deb at Smitten Kitchen

I increased the cobbler topping by fifty percent and omitted the blueberries. While blueberries (or red raspberries) would be a delicious addition, I wanted a purely peachy affair.
For the fruit:
6 cups thick (peeled) peach slices
2/3 cups brown sugar
2 tablespoons flour
2 tablespoons lemon juice (bottled is fine)
1/4 teaspoon cinnamon
1/4 teaspoon salt
Toss the peaches with the lemon juice. Combine the other ingredients in a small bowl and then toss with the peaches. Dump the peaches into a 9 x 13 baking pan.
For the biscuit:
1 cup, plus 2 tablespoons, flour
1/3 cup cornmeal
4 ½ tablespoons brown sugar, packed
2 1/4 teaspoons baking powder
1/3 teaspoon salt
4 ½ tablespoons butter
3/4 cup buttermilk
1-2 tablespoons demerara sugar, optional
Stir together the flour, cornmeal, brown sugar, baking powder, and salt. Using your fingers, crumble in the butter. Stir in the buttermilk. Dollop the biscuit dough on top of the peaches, about twelve dollops, more or less. Sprinkle the biscuits with the demerara sugar.
Bake the cobbler at 350 degrees for 30 to 40 minutes, or until the biscuits are quite brown and the fruit is bubbling madly.
Serve warm or at room temperature, plain, with cold milk, or with a scoop of vanilla ice cream.
Updated on August 22, 2010: Added some demerara sugar to the top of the biscuits before baking. Lovely.
Updated on March 15, 2011: Substitute sour cherries for the peaches and swoon.
Fresh Peach Ice Cream
Adapted from Mrs. Fresh Air Chairwoman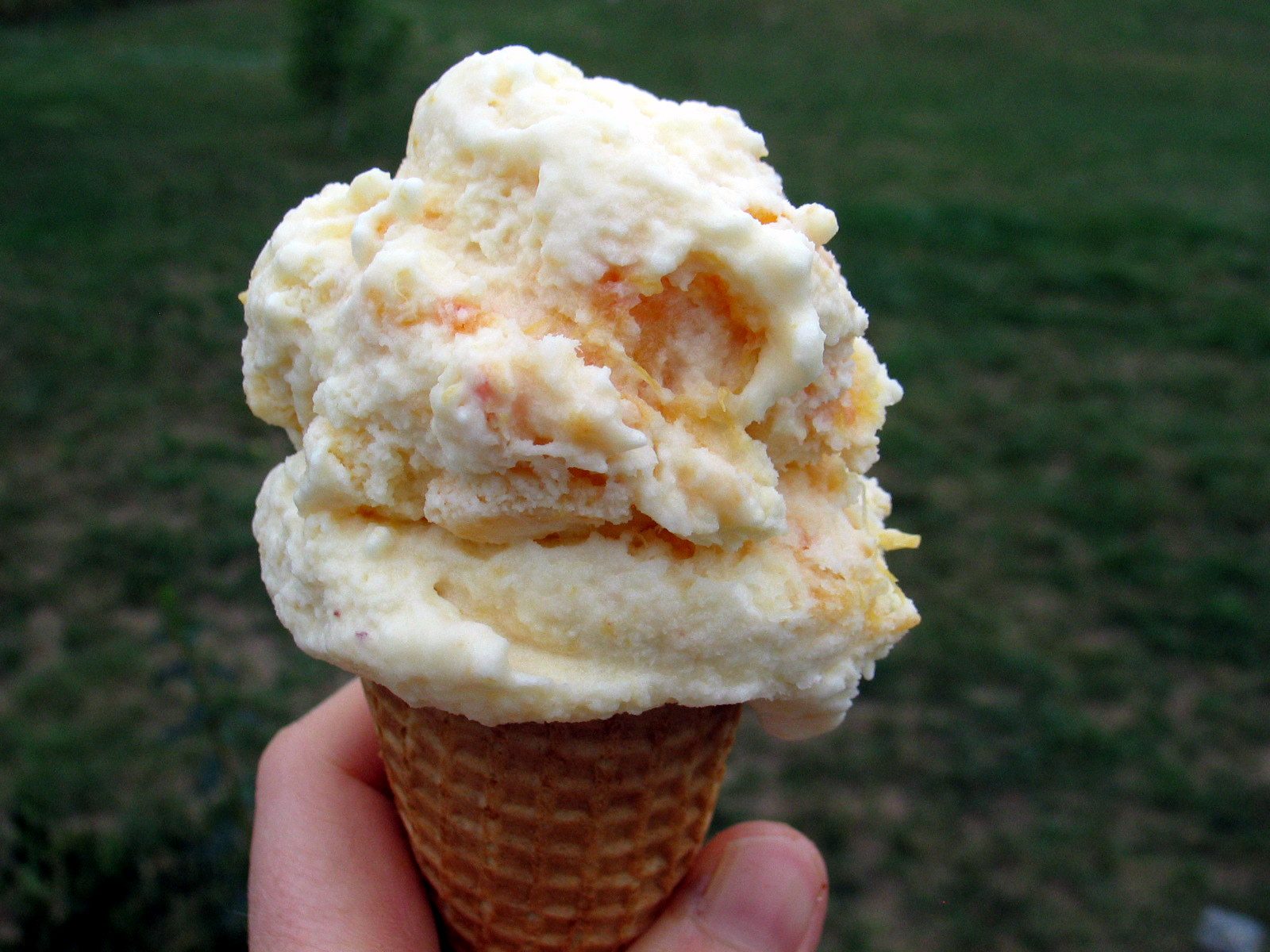 I halved the original recipe, but even so, this makes two quarts of base, twice as much as what I could put in my ice cream maker (the perfect amount for a four-quart, hand-crank machine). You can halve the recipe again, or, like I did, just make the full amount and freeze the ice cream on two separate occasions. (I think you could even freeze the extra quart of base if you wanted to.)
2 cups milk, divided
2 cups cream
1 1/4 cups sugar, divided
2 eggs, beaten
2 tablespoons flour
2 tablespoons cornstarch
1/4 teaspoon salt
1 ½ cups crushed peaches
Stir together the crushed peaches and ½ cup sugar. Set aside.
Scald 1 3/4 cups milk. While the milk is heating up, stir together the flour, cornstarch, salt, and 1/4 cup milk in a small bowl. When the milk is hot, whisk in the flour-milk slurry and cook for one minute, stirring steadily. Remove the kettle from the heat.
Whisk the beaten eggs with 3/4 cup sugar. Temper the eggs with the hot milk: add about a half cup of the hot milk to the eggs, a little at a time, whisking steadily. Pour the tempered eggs into the kettle, still whisking. Return the kettle to the heat and cook for one more minute. Whisk, whisk, whisk. Remove the kettle from the heat and add the cream.
Pour the mixture through a fine-mesh strainer to remove the solids. Stir in the sugary peaches. Pour the mixture into a half gallon container and store in the refrigerator until it is completely cooled.
Freeze according to your ice cream maker's instructions (see head note).
Yield: 2 ½ to 3 quarts of ice cream.
This same time, years previous: Tomato and Red Wine Sauce and Vegetable Beef Soup, Mustard Eggs, and Russian Pancakes