Our garden is a rice krispy mess. We didn't mulch this year and it's going on three weeks without rain, so the ground is rock hard. We can't even water (much) for fear the well will run dry. When I walk through the garden, which isn't often anymore, it crackles and pops. The whole situation makes me cranky.
However, the potatoes are doing splendidly. Last year they all rotted after we dug them, and since I suspect the same thing will happen again this year (I'm across-the-board pessimistic when it comes to the garden), I'm making lots of potato salad while I can. I have two kinds that are my favorite: Simple Creamy Potato Salad and French Potato Salad.

I was raised on Creamy Potato Salad. My potato-loving mom taught me how to make it—more a process than a recipe—though she is forever changing her mind about what she likes, moving on to greener pastures, or creamier tatey salads, as it were.
The French Potato Salad entered my life last year when my aunt served it at her annual soiree. It's a warm—or room temp—salad, no chilling necessary (though chilled leftovers are plentilicious), starring red-skinned potatoes lightly dressed in a white wine and chicken broth dressing.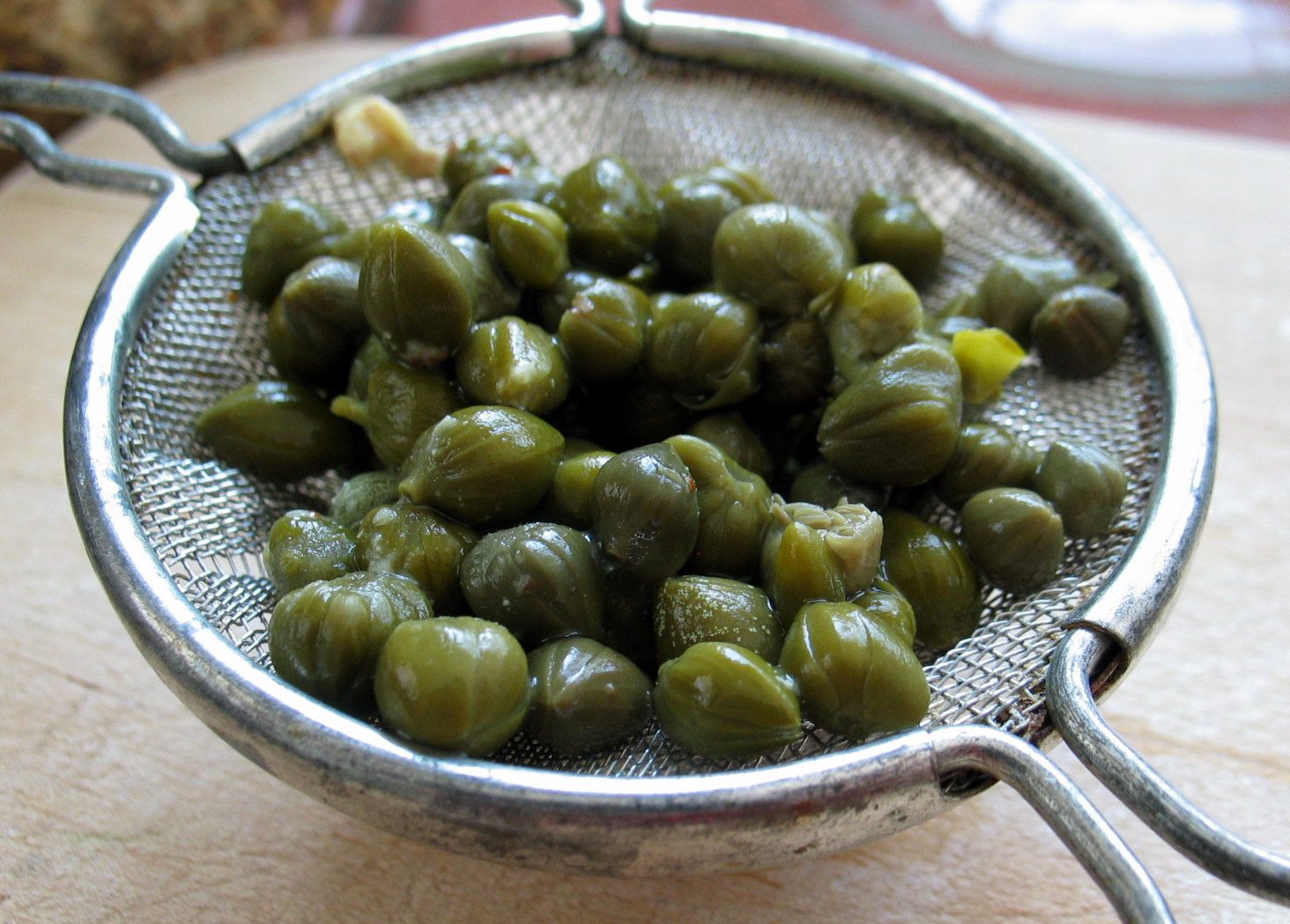 There are capers, too. Perhaps they're the French in the salad? I'm not for sure. But don't be scared of them. They're just pickled green peppercorns, and they're kind of fun. (Note: this peppercorn-capering deal is a complete lie [see comments]. Disregard anything I ever say.)
Simple Creamy Potato Salad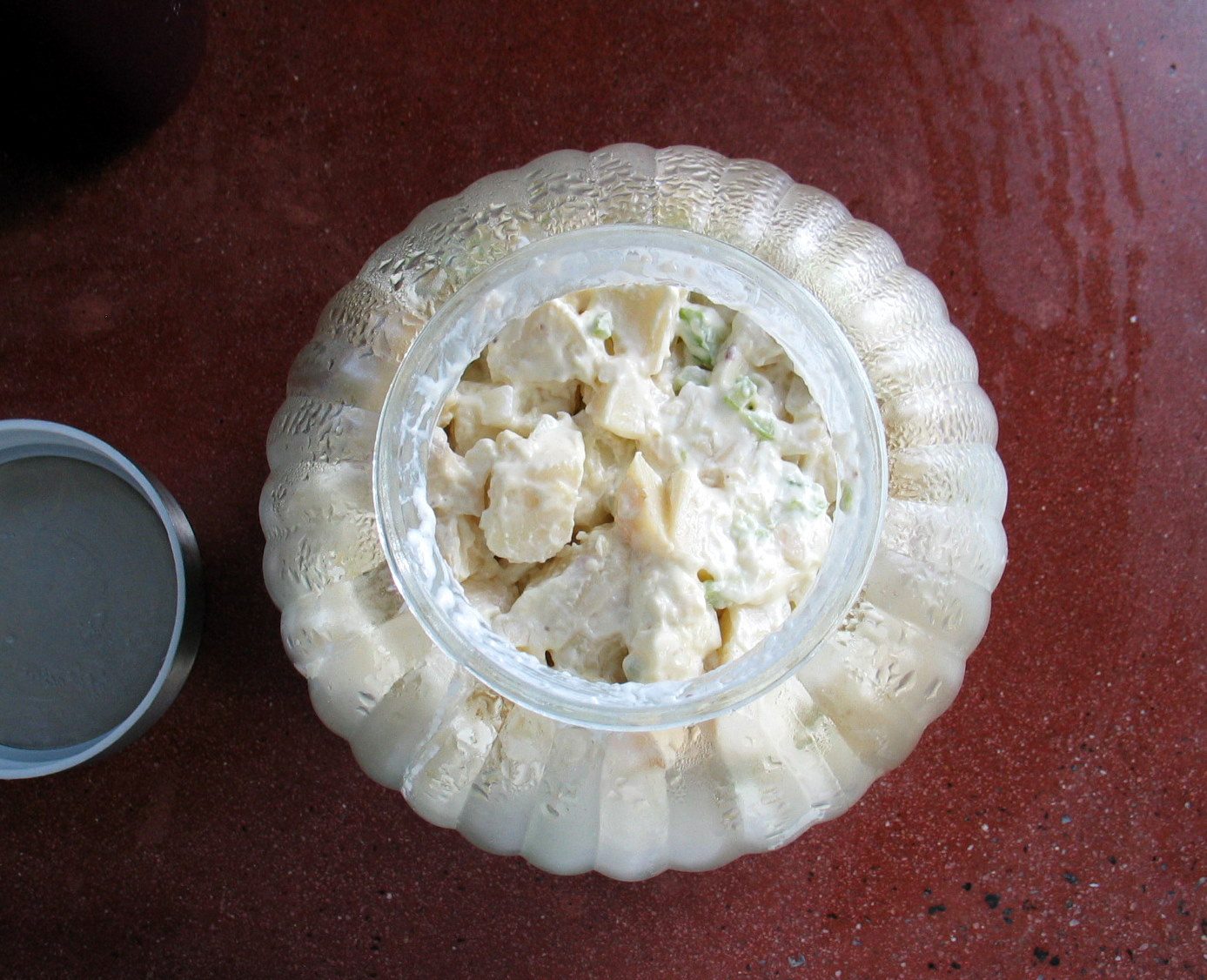 Confession: the proportions are guesstimates.
To make this a one-meal dish, add chopped boiled eggs, some crumbled bacon or cooked ham, sliced and cooked carrots, peas, grated cheese, etc.
You may sub sour cream and/or plain yogurt for some of the mayonnaise.
3 pounds potatoes
½ onion, cut into small dice
1 rib celery, small dice
½ – 1 cup mayonnaise
1 teaspoon apple cider vinegar
1 teaspoon sugar
1 teaspoon salt
½ teaspoon black pepper
½ teaspoon Dijon mustard
Put the potatoes in a kettle and cover them with cold water. Bring the water to a boil and simmer till the potatoes are fork-tender. Check frequently, removing the smaller potatoes as they finish cooking. (Otherwise, you'll have potato smash. Which, come to think of it, is still quite good, but probably not the effect you're after.)
When the potatoes are cool enough to handle, peel them. Chop them into ½-inch cubes, or smaller, and put them in a large bowl. Add the onions and celery.
In a small bowl, stir together the sugar, vinegar, salt, pepper, mustard, and ½ cup of the mayonnaise. Add to the potatoes and stir gently to combine. Add more mayo, salt, and pepper as needed. Chill and serve.
French Potato Salad
Adapted from the August 1999 issue of Bon Appetit, via my aunt, Dr. Perfection

3 1/4 pounds red-skinned potatoes, large dice
1/4 cup chicken broth
1/4 cup dry white wine
1/4 cup olive oil
½ cup minced onion (or 4 green onions)
2 tablespoons Dijon mustard
2 tablespoons drained capers
½ teaspoon salt
1/4 teaspoon black pepper
Cover the potatoes with water and simmer till fork-tender. Drain. (Sometimes I cook the potatoes whole and chop them later, unpeeled.)
In a separate bowl, mix together the remaining ingredients and toss with the potatoes. Taste to correct seasonings. Serve.
About one year ago: Tempero
About two years ago: Grace's Vanilla Pudding, Apricot Pandowdy, What to do with brown bags.