I'm soooo ready for summer to be over already. I want to start fresh with a brand-spanking-new summer, now.
We had that drought and it was so bad that Virginia declared a state of emergency for our county. So I'm not making it up when I say things were bad. They were.
And then it rained. It rained three nice, heavy downpours, to be exact (more or less). Things started greening up. We were lighthearted and carefree. The kids even got to use the sprinkler since we didn't have to be so scrooge-y with our well water.
And then it stopped raining and began browning down, big time. I'm peeved with this turn of events. Seriously peeved.
We aren't getting hardly anything from our garden. Think 28 tomato plants are a lot? Yes? Well, I did, too. But we're getting such a piddly-little amount that I've had to outline a plan of action: salsa first, canned tomatoes second, and pizza sauce third. I doubt I'll get to the third.
The corn is thigh-high and bearing skinny little sticks of nothing.
Carrots? Bitter.
Cukes? Bitter, and then dead.
Zucchinis? Small, wormy, wilted, dead.
Chard? Eaten. (By bugs.)
Beets? Small, puny, eaten. (By me. In one sitting.)
Green beans? Twenty-six quarts from a whole stinkin' pound of seed.
Red Raspberries? Dry, small, bug-infested, rotten.
I was thinking of doing a fall crop of green beans as that's our major winter vegetable, but seeing as it's so dry, it'd be pointless.
I'm trying to stay positive. This winter I have the marvelous opportunity to use up everything in my freezers and on my canning shelves! There's still some corn, tomatoes, pickles, red beets, and a few jars of green beans, and once I use it all up, I'll have an excuse to buy green veggies in winter!
Yay me.
My disgust, irritation, and frustration—or, my irrifrustugation—is really not that big of a deal, all things considered. We have an abundance of food despite the few shortages, plus lots of money to buy whatever we want to eat. In fact, just the other day I was wailing happily about all the good food there is to eat and too little time to do it in. I get in a tizzy over the silliest things.
That very evening I had a meeting at church. It was the same night that our church's fellowship hall and kitchen get transformed into a food pantry. When I walked in the door, the hall was lined with people waiting their turn to get their brown bags of day-old bread, dried beans, and tins of fruit. The line stretched the whole way to the end of the hall and up the steps. As I stepped over and around people to climb the stairs to our meeting room, I was struck by the irony of my too-much-food complaint—whining about my good fortune! the nerve!—and the realization that, on the turn of a dime, it could be me waiting in some airless church hallway for some free food. Not that this one dry summer is That Dime, of course, but, when it comes right down to it, there really isn't much dividing me from them.
There's no great lesson here. I'm still peeved at the cloudless sky, still overwhelmed by all my fun cooking projects, still ready for a summer redo. But the fresh perspective was momentarily profound. End of story.
Now, for a recipe. I have so many up my sleeve. The hard part is deciding which to write about, but seeing as I'm an immediate person, I'll go with what we had for dinner tonight.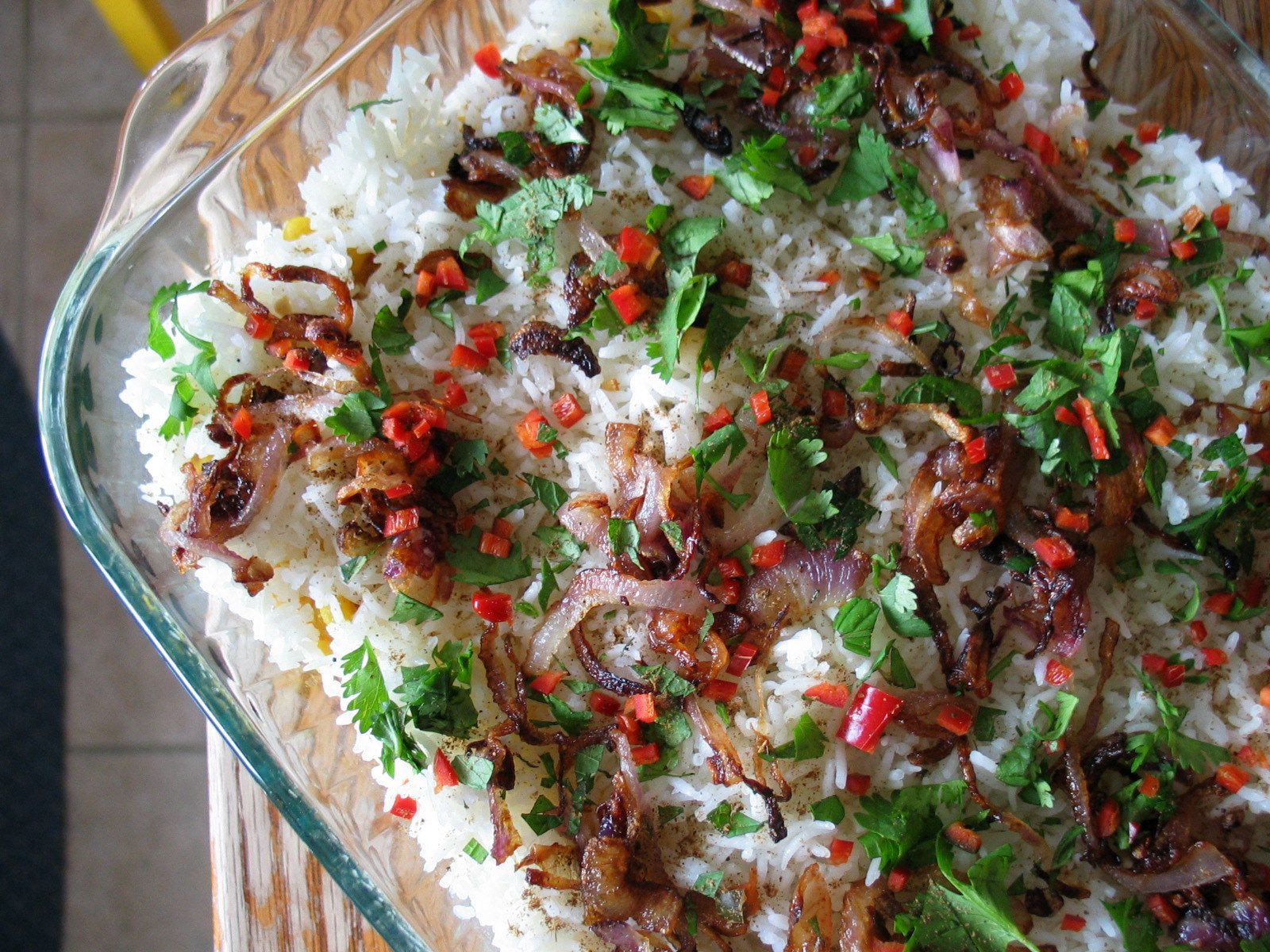 Pre-oven

It's both a winter dish (uses the oven, rice and legumes) and a summer dish (fresh mint, cilantro, green chili). But considering that it's Indian (kick alert!) and India is a hot country, I'd say it fits into this hot, dry summer just about perfect.

Indian Pilaf of Rice and Split Peas
Adapted from A Taste of India by Madhur Jaffrey
This dish is both light and filling, slightly spicy from the chili, nutty from the split peas, and sweet from the caramelized onions. I can't get enough of it and am already looking forward to feasting on the leftovers.
Although I found it fairly mild, my kids fussed about the heat. (It wasn't too hot, technically speaking, so I was able to enforce the eat-it-or-no-dessert rule.) Even so, if making this with hopes of pleasing the little ones, I suggest omitting the green chili and using black pepper in place of the cayenne.
The onion was my favorite part; I'll double it the next time around.
½ cup yellow split peas
2 cups Basmati rice
½ teaspoon turmeric, divided
1/4 cup canola oil
1 large onion, peeled, halved, and sliced into thin half rings
2 teaspoons minced, fresh ginger
1 clove garlic, minced
5 tablespoons plain yogurt, divided
1 tablespoon and ½ teaspoon salt, divided
1/4 teaspoon cayenne pepper
2 tablespoons butter, melted
2 tablespoons lemon juice
2 tablespoons milk
1 tablespoon chopped fresh cilantro
1 tablespoon chopped fresh mint
1 green chili (I used a jalapeno), minced
½ teaspoon garam masala
The Soaking Part:
Pick over the split peas and then wash them in several changes of water. Let them soak in enough water to cover them by 3 inches for 1 ½ hours.
Wash the rice several times till the water runs clear. Let it soak in enough water to cover it by an inch for 30 minutes. Drain.
The Pre-cooking Part:
Put the split peas in their soaking water in a saucepan, add 1/4 teaspoon turmeric and simmer on the stove, leaving the lid slightly ajar, for about 30 minutes, or until the peas are tender but not mushy. Drain.
Bring 12 cups of water to boil in a large kettle. Add 1 tablespoon salt. Add the drained rice and boil for 3-5 minutes, or until the rice is 3/4 of the way cooked (but still has a slim, hard, inner core). Drain.
The Actual Cooking Part:
Heat the oil in a heavy-bottomed saucepan over medium-high heat. Have a lid nearby in case of splatters (par for the course with Indian food, I'm learning—can't really expect anything different when you add yogurt to hot oil). Add the onions and stir gently till they are dark brown and crispy. Scoop the onions out of the oil and set aside.
Reduce the heat to medium and add the ginger and garlic. Stir briefly. When they are light brown, add 1 tablespoon of yogurt and 1/4 teaspoon turmeric and stir. The liquid will evaporate and the yogurt will curdle a bit (no worries). Add the remaining 4 tablespoons of yogurt, a spoonful at a time, stirring in between additions. Add the drained split peas, the salt, and the cayenne pepper. Cook for one minute. Remove from the heat.
The Assembling Part:
Put half of the rice in the bottom of a 9 x 13 pan. Layer on the split pea mixture. Top with the remaining rice. Drizzle the butter, lemon juice, and milk over the pilaf. Sprinkle with the mint and cilantro and garam masala. Cover tightly with foil and bake for 30 minutes at 350 degrees.
The Eating Part:
All by its lonesome or with a cucumber-tomato-onion salad or with green peas or with a lettuce salad or with a meat or with a yogurt chutney or, or, or—the options are endless and delicious.
Yield: 6 servings
This same time, years previous: Chocolate Beet Cake