I cooked all day Saturday in preparation for the Birthday Brothers' Indian feast. Sunday afternoon I assembled and reheated, as well as made the rice, a chicken dish, and the pooris. It was quite a juggling act to find enough serving bowls and stove space, but finally the table was spread and we dug in. (Of course I forgot to take a picture of the groaning table in all its spicy glory. You'll have to use your imagination.)
This is what we ate:
*shrimp in coconut milk
*pureed vegetables
*yogurt chutney
*dal
*chicken in a green sauce
*pooris
*rice with spinach and tomatoes
*stuffed okra
*spicy potatoes
*hard-boiled eggs in a tomato sauce
*mango lassi
The okra was no good (could be the okra was too old/tough/big), the pureed veggies were blah, and the chicken in a green sauce was a dud, but the rest of the dishes passed muster quite nicely. My two favorites were the eggs in a tomato sauce and the spicy potatoes, both which I made for book club last week.

Re the book club: apparently I wasn't the only one who got hungry reading Interpreter of Maladies. Normally we just drink tea and discuss, but last week we sat down to a table of chapatis and naan, spicy potatoes, and rice with eggs in tomato sauce (my other contribution). The meal over, we lingered, sipping water and talking about whether or not Shoba left Shukumar. Or at least everyone else talked about it. I asked for the potatoes to be passed and then hugged the bowl to my chest while I quietly and methodically finished off what was left.

When I get on a kick, it's for real. Our newest netflix arrived a couple days ago—The Namesake, an Indian movie. When I told Mr. Handsome what it was, he groaned and rolled his eyes. He rolls his eyes at me a lot these days, but then he smiles, too, so it's okay.
We interrupt our regular programming to bring you a Random Moment,
courtesy of Miss Beccaboo
Today on the way home from swimming lessons, the following conversation ensued between her and me.
Her: Can I make my own peanut butter and jelly sandwich for lunch? You put in too much peanut butter.
Me (vaguely, mind elsewhere): We'll see…
Her: Mom. I need to learn how to cook for if you die or get shot or something. Then I can know how to make myself something to eat while I try to stay calm and look for the phone.
We didn't have PB&J for lunch, but if we had, I would've let her make her own.
Back to the potatoes.
These chunky potatoes are packed with flavor, tender, and slightly creamy around the edges. And spicy, of course. The kids don't like them—no surprise there—but I don't mind. More for me!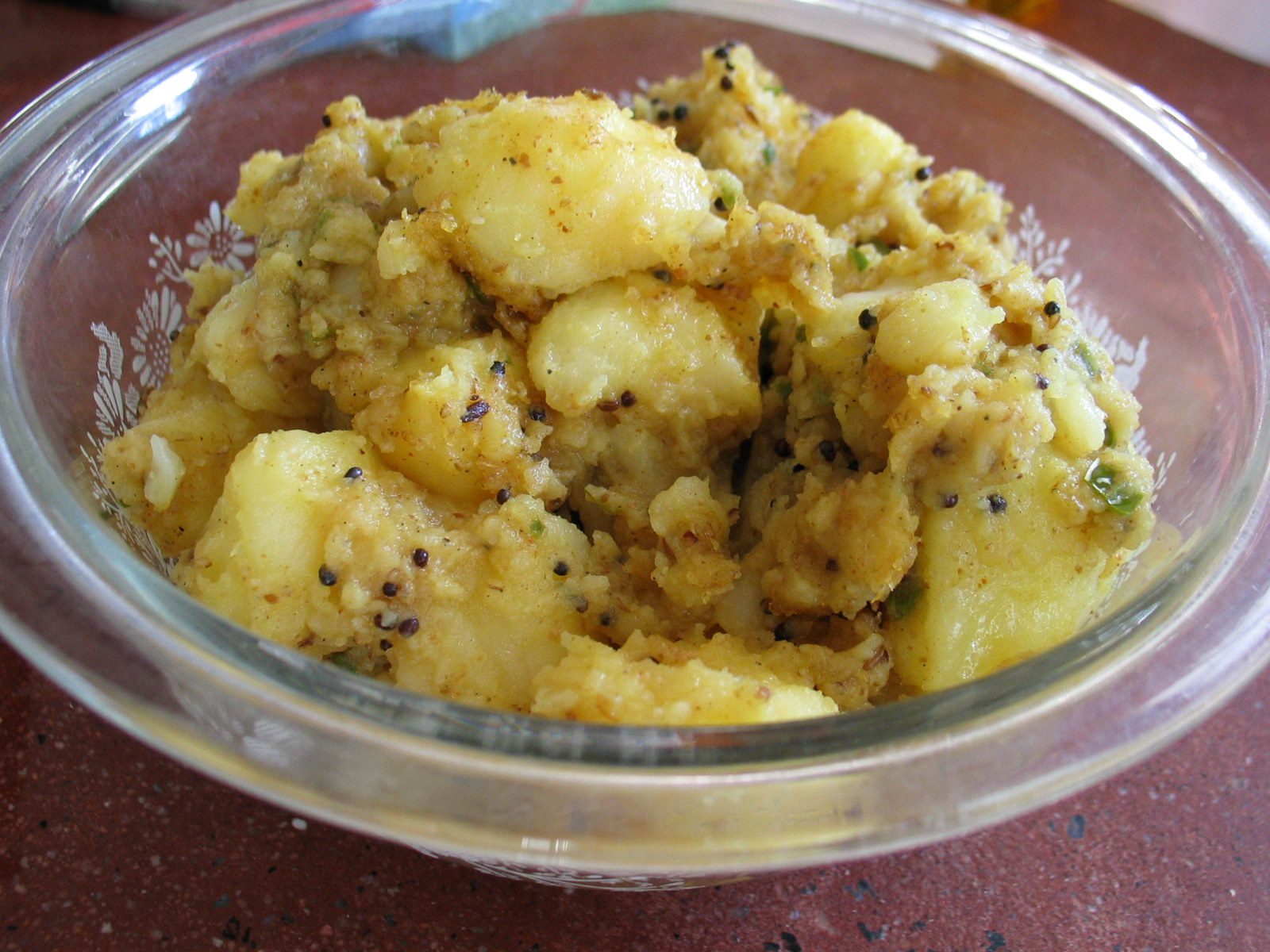 Spicy Indian Potatoes
Adapted from A Taste of India by Madhur Jaffrey
For last night's dinner, I made a double batch and had only a few leftovers. I'm giving you the single recipe, but if you're cooking for a spice-n-spud loving crowd, you'll want to double it for sure.
Before turning on the stove, measure all the spices into little cups and bowls and line them up according to when they'll get added. Once this prep work is done (and the potatoes have been cooked, peeled, and broken into bits), it only takes about five minutes to assemble the dish. The spicy potatoes can also be made ahead, refrigerated, and reheated in the microwave.
1 ½ pounds (about five) waxy potatoes
3/4-inch cube of fresh ginger, peeled and minced
5 tablespoons canola oil
1 teaspoon black mustard seeds
½ teaspoon cumin seeds
1 fresh, hot green chili, minced (I used serranos)
1 ½ teaspoons ground coriander
1/4 teaspoon ground turmeric
1/4-½ teaspoon cayenne pepper
½ cup water
1 ½ teaspoons lemon juice
1 ½ teaspoons salt
3/4 teaspoon garam masala
Wash the potatoes, put them in a kettle, and cover with water. Bring them to a boil and simmer till fork-tender. Drain, cool a little, and then peel. Using your fingers, break the potatoes apart into 1-inch pieces. There will be a bunch of small, crumbled bits, too, but as Jaffrey says, "that is as it should be."
Put the oil in a heavy-bottomed kettle and heat it over medium-high heat. Once the oil is hot, add the mustard seeds. When they begin to pop, add the cumin seeds. Add the ginger and green chili. Stir for a few seconds until the ginger is lightly browned. Add the coriander, turmeric and cayenne pepper. Stir once and add the broken potatoes. Stir and fry for 1 minute. Add the water, lower the heat and stir gently for ½ minute. Add the lemon juice, salt, and garam masala. Stir gently for another minute. Serve hot.
Yield: 4 servings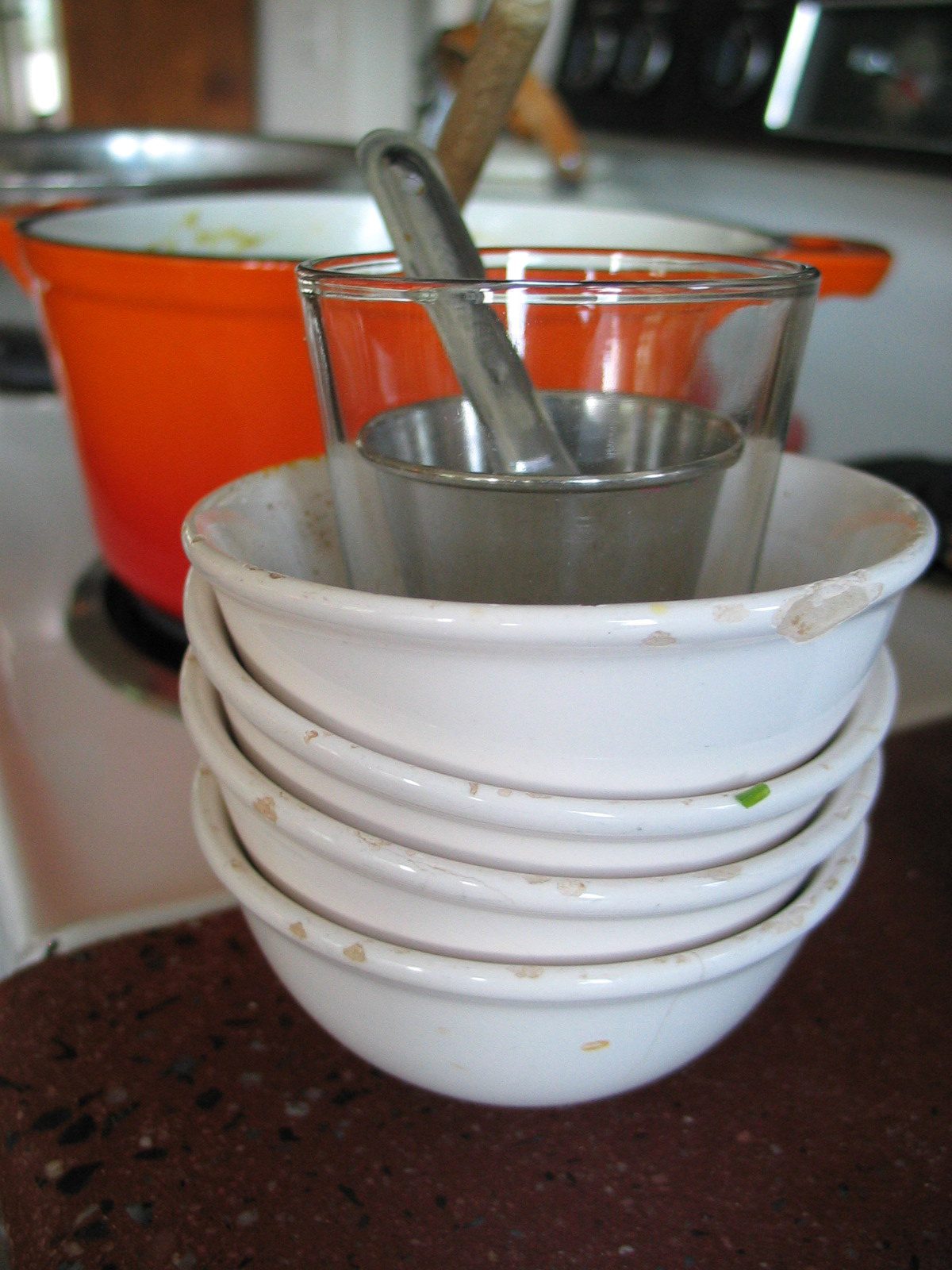 About one year ago: Little bits of smile in a cup of sad
About two years ago: Blackberry Cobbler