Please tell me I'm not the only one out there who compulsively buys strange/unusual/exotic ingredients. You don't, eh? Well then, what about shoes? garden seeds? material? books? Come on, there's gotta be something!
For me it's food. I'm not out for big thrills, mind you. Live baby octopus and corn mold aren't what I'm talking about. But the little box of Indian spices that came in the mail today is right down my happiness alley. Dried Curry Leaves, Kalonji, Black Mustard Seeds, get ready to party!
So often I, in a moment of passion, buy things I use only once, or, worse yet, not at all. Like the grape leaves I bought a year (or two?) ago and the block of hard cane sugar that's been on my shelf for going on five years. Help, help me, Rhonda!
But then I land on something so supremely delightful (Prosciutto dahling, let's elope) that it makes all my expensive/useless purchases totally worth it. (In my opinion, not Mr. Handsome's, but he's not the author of this here blog.)
You could say it's a form of gambling, I suppose. An addiction to food discovery. Some might say I'm greedy, others would call me creative, and yet still others would say I'm an artist. I think I'm just a Curious George, minus the tail, when it comes to food.
Anyway, back to last night's thrilling dinner.
Not that you knew I was talking about last night's dinner before just now, but I was. So now you know. Anyway.
I made peas with prosciutto.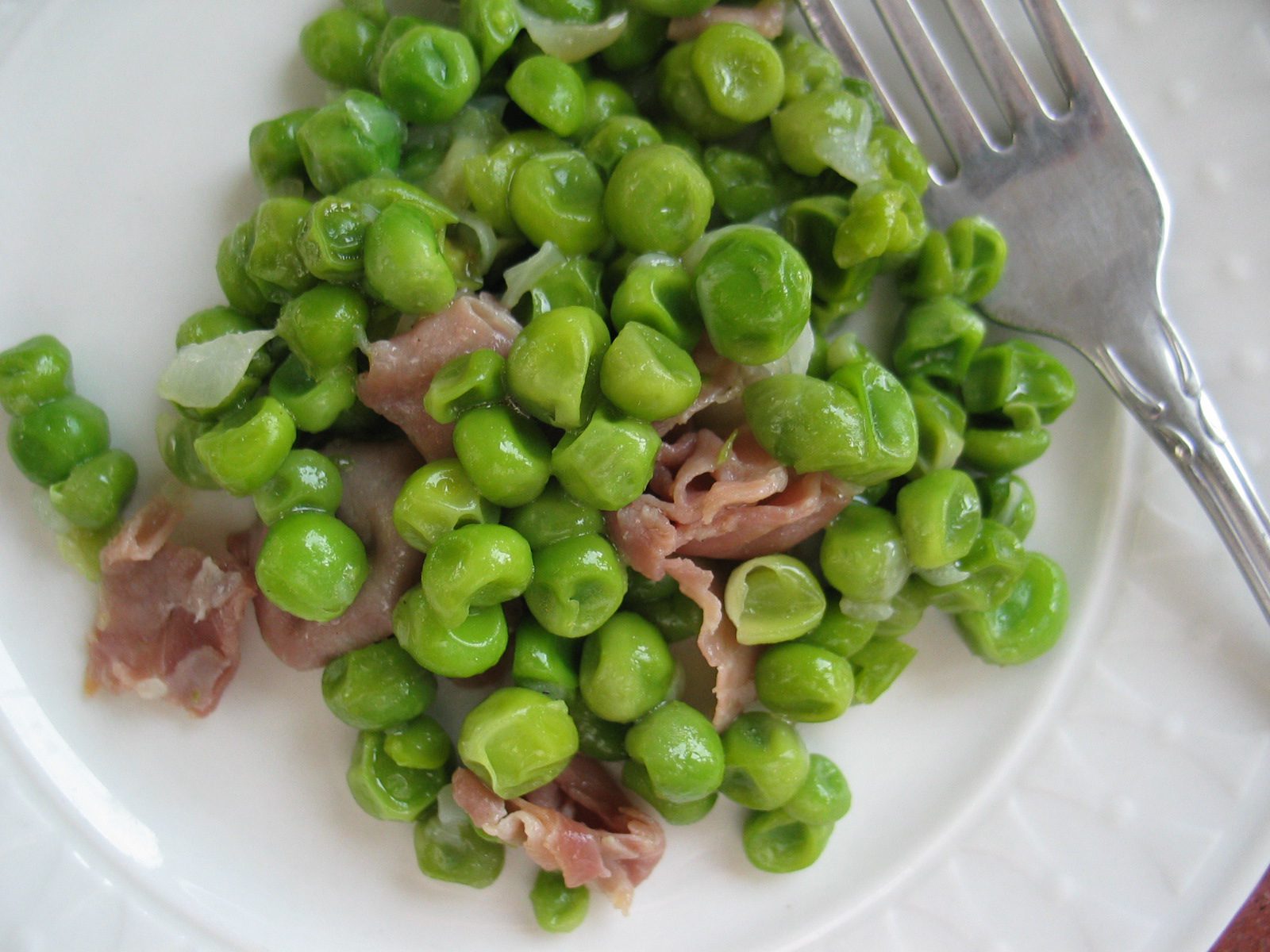 See, I was talking about dinner! I said, and I quote, "Prosciutto dahling, let's elope." So there.
Anyway, I had bought a few ounces of prosciutto to smoosh into dried dates with gorgonzola (one of my tailless C.G. Adventures) and had a few slices leftover. I'm not one to gussy up my veggies—a salt shaker and boiling water is usually all I need—but then Molly posted this pea recipe and I had the prosciutto…
It was worth it. Worth the five dollars for the meat and worth the heartache and suffering for the peas. (Well, maybe not the second part. Store bought peas aren't as heinous as their icy green bean and corn counterparts.) The peas were all buttery and soft, and tossed with the wisps of salty ham—mm-mm good. Mr. Handsome had seconds (he's not one to have seconds of vegetables); I had fourths.
This dish won't be showing up on my table any old day—it's way too fancy and expensive for that. But I do think it might have just earned rights to hang out next to the mashed potatoes and gravy come next Thanksgiving.

Peas with Prosciutto
Adapted from Molly's blog Orangette

The recipe I'm posting here is more or less the same as Molly's. However, I recommend, for the sake of pinching pennies, doubling the peas while keeping the prosciutto the same (increase the other ingredients accordingly).
2 cups (1 pound) peas, fresh or frozen
3 tablespoons butter
½ cup minced white onion
1 clove garlic, minced
salt
black pepper
2 ½ ounces prosciutto
Melt the butter in a pan, add the onion and garlic, and saute for several minutes—do not let the veggies brown. Add the peas and simmer for ten minutes, stirring every now and then. Tear the prosciutto into little pieces (do not stack and cut like I did—they stay stuck thataway) and add them to the pan. Season lightly with salt and pepper. Turn the heat off, lid, and allow to sit for another five minutes. Taste to correct seasonings. Serve warm.
One year ago: Counting Chicks
Two years ago: Red Beet Salad with Caramelized Onions and Feta