Our garden is pathetic. Usually I'm harvesting all sorts of things and feeling semi-overwhelmed come mid-July, but this year I'm practically twiddling my thumbs. The basil plants are anorexic. The chard got eaten by something evil and microscopic. The beans are so measly I get mad just thinking about them.
Even so, I managed to cook a garden meal last weekend. One zucchini, one yellow squash, a handful of cherry tomatoes, and three store-bought Romas. Working together, they pulled off dinner quite nicely.

This is a roasted meal, one that calls for a hot oven, something I generally avoid over the July dinner hour, but we've had some blessedly cool evenings after those hellishly hot days last week—I even made a hot soup for supper one evening. The roasting method is quite delightful: the veggies slump in on their juicy selves, the edges caramelize, the cheesy, bready top creates crunch, and the olive oil binds it all together.

My parents, popping in late Sunday night, ate the cold leftovers straight out of the pan. They seemed mighty pleased about it. In fact, my mom, after cramming an especially loaded fork-full into her mouth, yelled at the rest of us, "That's it. I'm not eating anything else tonight. No more food!" This is what she does—loud public announcements, especially in regards to food—when her internal resolve can not withstand.
Or maybe she was just fed up with me trying to foist all my leftovers on her.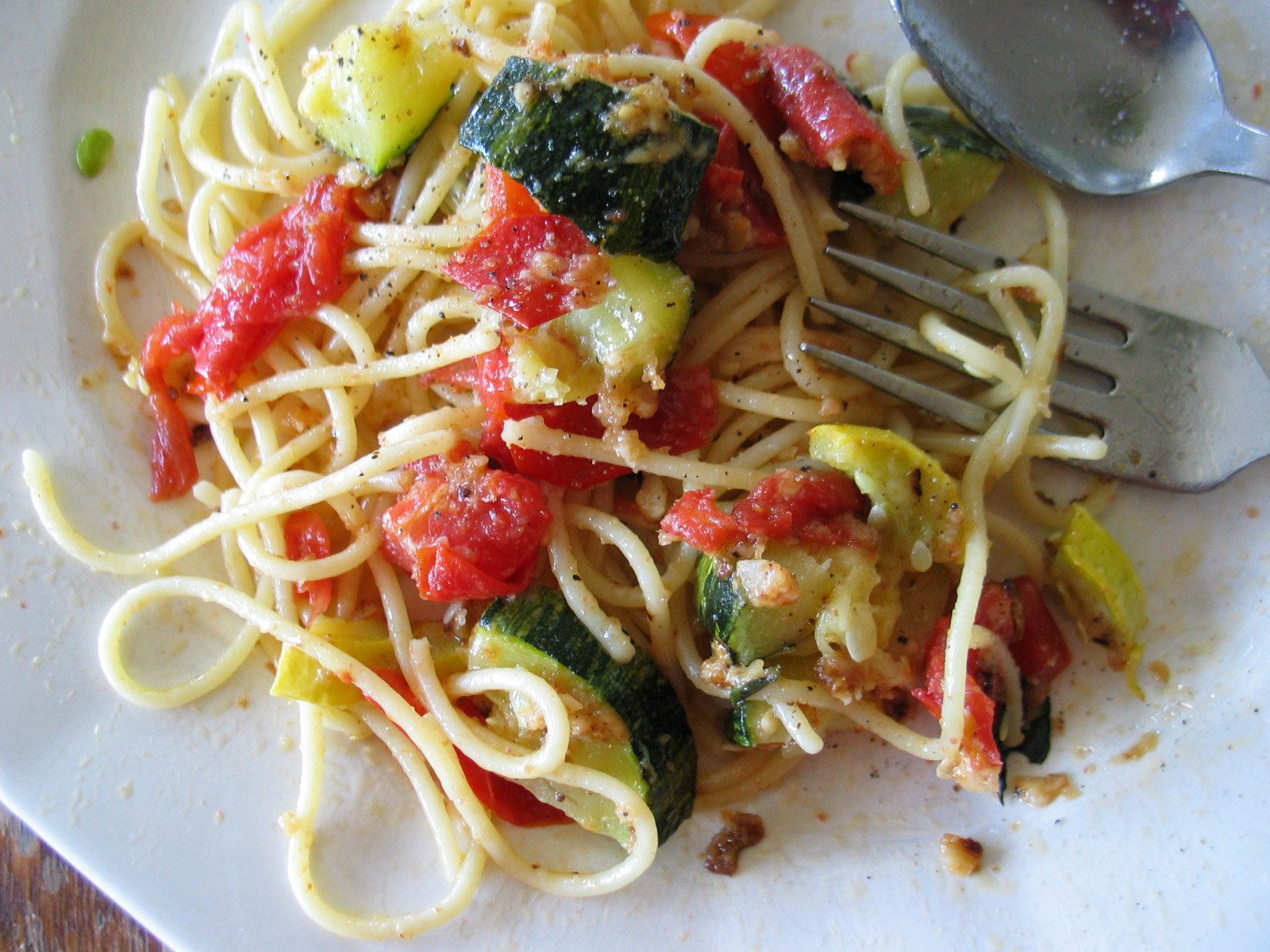 Pasta with Roasted Tomatoes and Summer Squash
Adapted from The Wednesday Chef
I think the original recipe needs twice as many veggies as it calls for, so I'm adjusting the proportions accordingly. If you prefer a less veggie-to-pasta ratio, reduce the veggies by half. (In the photo, it looks like there are plenty of vegetables but that's because I, in a fit of greed, dug them out of the tangly pasta.)
You can switch up the veggies if you like, but I think that in order to provide enough juiciness, half should be tomatoes, cherry or Roma, preferably. Also, I'm not sure on the exact poundage. I filled a 9 x 13 pan in a single layer; if you skip the scales and just cover the bottoms of two 9 x 13 pans with chopped vegetables, you'll be fine.
1 pound of cherry or Roma tomatoes, bite-sized pieces
1 pound of summer squash (yellow and/or green), bite-sized pieces
1 handful torn basil leaves
2 cloves garlic, minced
1/3 – 1/2 cup olive oil
½ cup bread crumbs
½ cup Parmesan cheese, shredded fine
1 teaspoon salt
½ teaspoon black pepper
1 pound spaghetti, or other pasta such as penne, fettuccini, etc.
Divide the chopped vegetables, skin side down, between two 9 x 13 pans. Drizzle with some olive oil, perhaps a quarter cup.
In a separate bowl, combine the bread crumbs, Parmesan cheese, garlic, salt, and pepper. Sprinkle over the vegetables.
Bake the vegetables at 400 degrees for about twenty minutes, or until fork-tender. Remove from the oven and toss with the torn basil.
While the vegetables are baking, cook the spaghetti according to package instructions. Drain.
Combine the pasta and vegetables and toss with the rest of the olive oil. Add more salt and black pepper, if needed.
Updated on August 2, 2010: Made this again, this time using 1 ½ pounds of cherry tomatoes. I stuffed them all into one 9 x 13 pan and they roasted up fine even though they were overlapping. The final tomato-pasta ratio was pretty good, but I still think it could have used more tomatoes, up to 2 pounds.

It really truly is a wonderful dish.
Updated August 17, 2010: This is soooooo delicious! We can't get over how delicious it is! Like, REALLY delicious. I made it for supper tonight—two pounds of cherry tomatoes, no squash, one 9 x 13 pan. Didn't bother to arrange the tomatoes in the pan skin-side down; just threw them in any which a-way. So easy and fast and—did I mention it yet?—DELICIOUS! I had three helpings and countless snitches post-dinner.
About one year ago: A girlie outing
About two years ago: The Baby Nickel, Cooked Oatmeal