The best part of cooking on a Sunday afternoon is not this:
The best part is this:
While everyone snoozed, I made blueberry cheesecake ice cream, fresh tomatillo salsa, and Indian red sauce. I researched and bookmarked countless other recipes. I called an Indian restaurant to see about ordering na'an. I ordered a cookbook. All this despite feeling kind of draggy. (I know I'm draggy when I drink a big coffee and then fall asleep on the couch. But I went to bed early last night, so I don't know what's up with that. Maybe it's the heat? In any case, I'm doing my best to pretend I'm not tired.)

And then Mr. Handsome woke up, washed the mountain of dirty dishes, and took the kids to the pool. I do believe I could cook all day if I had someone to clean up after me.
So why all the Indian food, you wonder? Well, this past month I read Interpreter of Maladies for book club. There was Indian food all over the place in that book and so of course I got real hungry. Behaving in my typically logical (that's a joke) fashion, I checked an Indian cookbook out of the library, ordered spices, and got busy.
The library book is superb (thus the reason I ordered it today, obviously). Each recipe I've made so far is delicious. The recipes look complicated, and there's a lot of detail, but it's really not all that bad once you get started. In fact, with a little prep work in the morning, I can pull together the evening meal in an hour.
Indian food involves spices, spices, and more spices. Whole spices get toasted and then ground, releasing an incredible fragrance that makes my kitchen smell like my childhood Indian friend's house—this is how I know I'm doing something right.
And I feel good eating the food. It's light, nutritious, filling, spicy, and flavorful. Forget boring old macaroni and cheese and give me a bowl of fish in dark sauce or some rice with spinach and tomatoes any day. Or maybe some halves of boiled eggs floating sunnily in that Indian red sauce? Yes, please!
My goal is to cook enough recipes so that I get a feel for the rhythm of Indian cooking. I'd like to develop a big-enough repertoire so that I'm able to pull off a well-rounded company dinner fairly easily. I made this shrimp in coconut milk, the first recipe I tried from the book, and one taste—nay, just the smell—told me I was well on my way to meeting my goal.

The kids found the sauce to be too hot, but the older two gobbled up the (sauce-drenched) shrimp which gave me hope that they will all, with enough opportunity, eventually learn to appreciate the exotic flavors.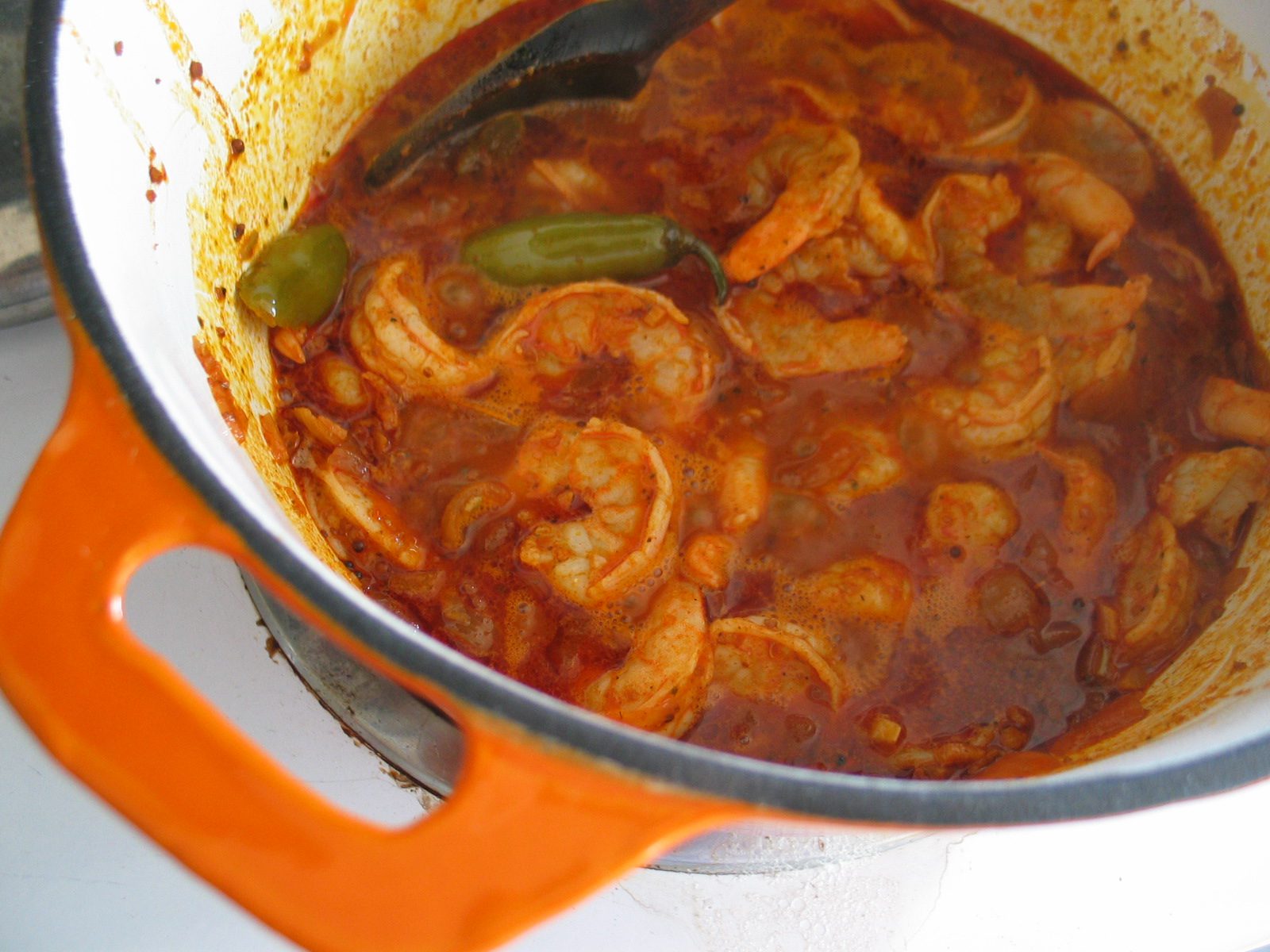 Shrimp with Coconut Milk
Only slightly adapted from A Taste of India by Madhur Jaffrey
If your local store doesn't carry black mustard seeds or dried curry leaves (not related to curry powder), you can order them here.
The original recipe called for 3/4 teaspoon of cayenne pepper, but I cut back to ½ teaspoon. The resulting sauce made my mouth tingle, and I had to eat slower (not a bad thing), but I didn't cry—perfect.
I reduce the shrimp to 1 pound and ended up with a bunch of shrimp-less sauce, delicious over rice, nonetheless. However, the full 1 ½ pounds would've been perfect.
Hint: before you start cooking, measure your spices and chop your veggies. Line everything up on the counter in the order that it gets added to the pot. This sounds anal, but it makes the cooking process smooth as silk.

1 ½ pounds shrimp, unpeeled, deveined, uncooked
2 tablespoons whole coriander seeds
1/4 teaspoon whole fenugreek seeds
1 teaspoon whole black peppercorns
10 dried curry leaves
2 teaspoons lemon juice
5 tablespoons vegetable oil
1 teaspoon whole black mustard seeds
1 medium onion, sliced into thin, half rings
5 cloves garlic, minced
1 teaspoon minced fresh ginger
1 3/4 cups water
2 tablespoons paprika
½ teaspoon cayenne pepper
½ teaspoon ground turmeric
1 teaspoon salt
2 fresh, hot green chilies (I used serranos)
14-ounce can (1 3/4 cups) coconut milk
Peel and rinse the shrimp. Pat dry, cover, and keep chilled in the refrigerator.
Heat a small, cast-iron skillet, and when hot, put in the coriander seeds, the fenugreek seeds, and the peppercorns. Stir them about for 1 minutes until lightly roasted. Remove from heat and put them into the container of a spice (or coffee) grinder. Add the dried curry leaves. Grind as fine as possible.
Heat the oil in a large, heavy kettle. When hot, put in the mustard seeds. As soon as they begin to pop (watch out!), add the onion and garlic and fry till lightly browned. Add the ginger and cook for another couple seconds.
Add the water, paprika, cayenne pepper, turmeric, salt, whole chilies, the ground spice mixture, and the lemon juice. Bring the mixture to a boil. Reduce the heat to medium-low and simmer briskly for 5 minutes. Turn off the heat. (At this point, the sauce can be jarred and refrigerated till shortly before serving, making it a perfect dish for a company meal.)
Five minutes before you want to eat, heat the sauce in a heavy kettle. Once it bubbles, add the shrimp. Stir them around till they turn opaque. Stir in the coconut milk. When the sauce is heated through and shows signs of just beginning to bubble, turn off the heat.
Serve over rice.
Yield: 6 servings.
About one year ago: The sex talk
About two years ago: Alfredo Sauce