Back in May (or was it April?), I phoned our local orchard and signed up for eight gallons of pick-your-own sour cherries. The call came last Wednesday: "We like to let the cherries ripen a little longer, but people are taking them so you better come get yours now."
Okaaaay. Um, "Thanks! I'll be out in the next day or two."
"Well, don't wait too long or else there won't be any left."
Huh? I hung up the phone and then shook my head several times, hard. The people who run this orchard, dear folks that they are (and kinder towards the fruit and more honest in their dealings than another local orchard), strike me as rather odd. They say things sideways, appear surprisingly clueless, and are all-around unhelpful. All except for the informed, accommodating man who runs the show, bless his heart; the rest of them, well—I just shake my head a lot and move on.
So the next evening, we loaded about eight 5-gallon buckets into the back of the car (not that we were planning to fill them—we just didn't want to pack the cherries too high and risk smashing them) and drove to the orchard. The woman weighed our buckets and then said, almost reproachfully, as though she were scolding us, "I hope you get your eight gallons."
Once in the orchard, we pulled up alongside the thickly-laden trees and commenced to picking. In an hour and a half, we had eight gallons, and we had only made a small dent in the trees we were picking from.
Whatever, lady.
Back home that night, I called up my friend and asked to borrow her cherry pitter. I had never before in my life used a cherry pitter, but I figured that 49 pounds of cherries deserved something higher-tech than my thumb. Let me tell you, was it ever worth it! Mr. Handsome started pitting at 9 pm and worked straight through for an hour and a half and did them all. I bustled around, washing cherries, cutting them up to dry (½ a dryer load yielded two pints), packing them into quart boxes to freeze (8), and canning 9 quarts. We had a big bowl left over that I, over the course of the next couple days, turned into jam and assorted pastries and cakes. By 11 pm we were washing up, the cherries done, done, done. Never before have cherries jumped into jars so quickly.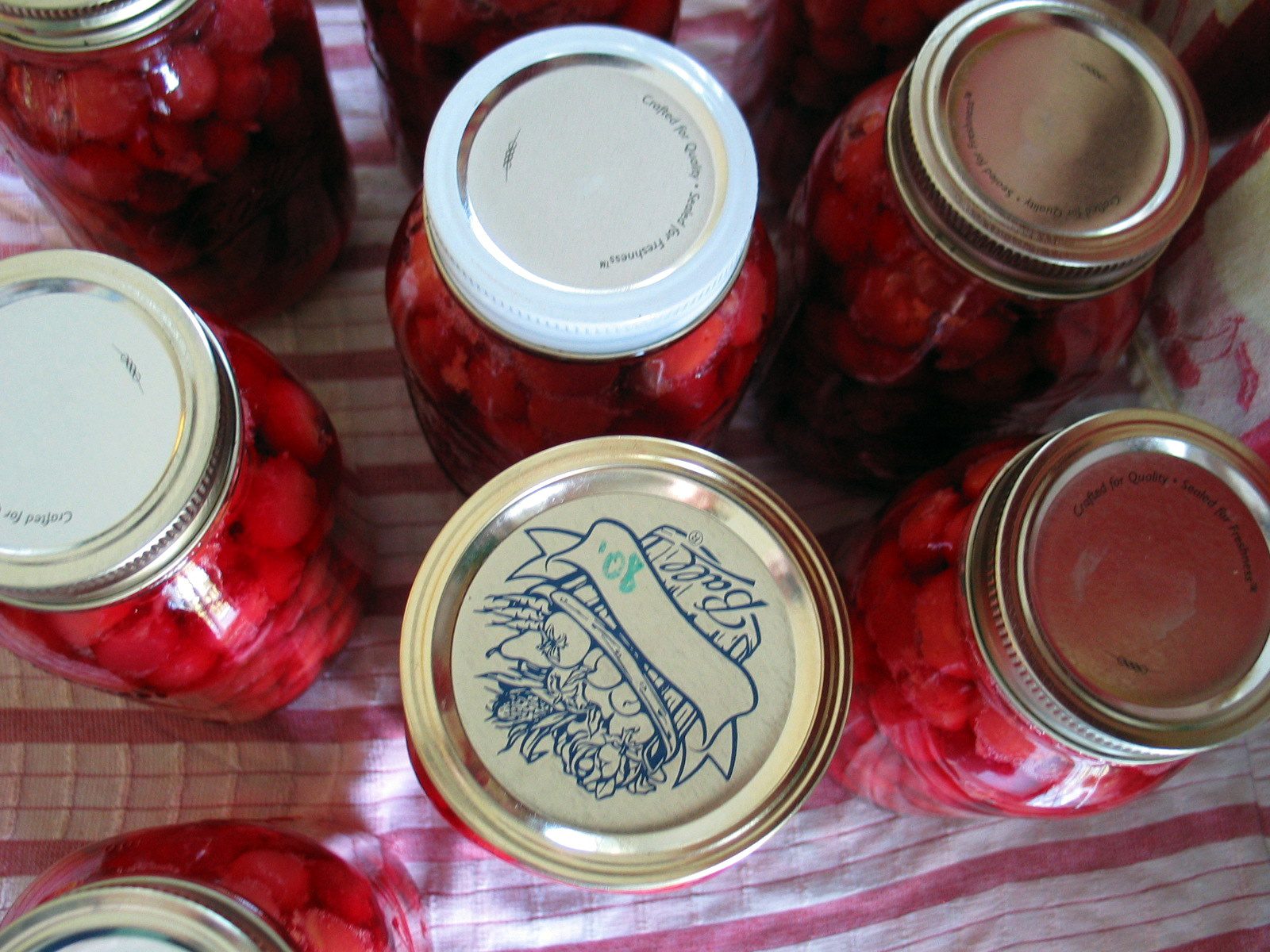 (Now, to be completely honest, the cherry pitter left behind more pits than I'm used to, but it was perhaps Mr. Handsome's fault more than the pitter's—he was moving like greased lightening. But I've learned that a couple pits here and there is not all that terrible. A hawk's eye catches the odd pit fairly easily enough, and as long as you don't chew too lustily, your teeth probably won't get too bunged up.)
Some of the sour cherries got turned into these crostatas, mini free-form tarts.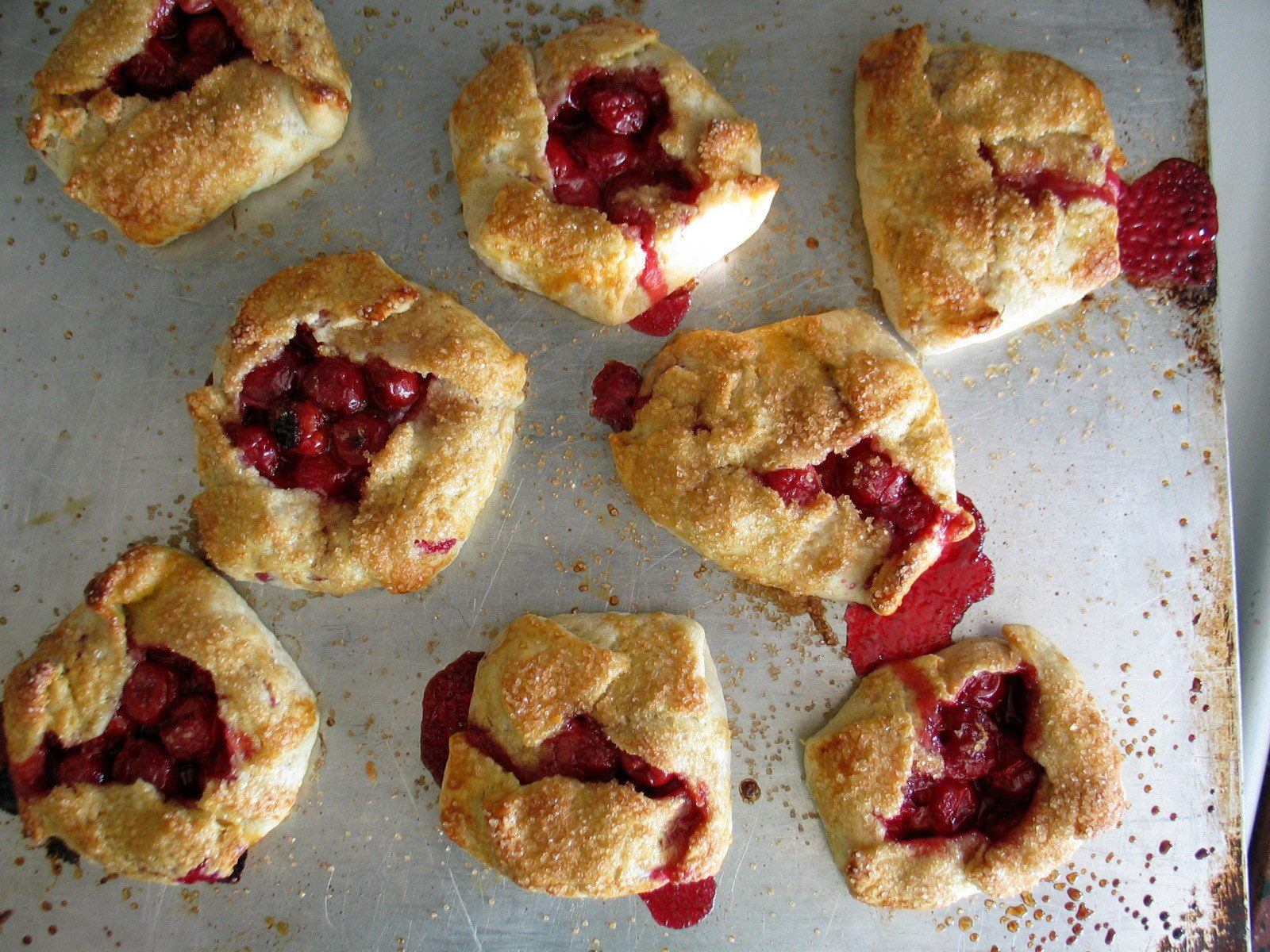 I learned about crostatas from Joy the Baker—she recently did a little tutorial on how to make apricot crostatas. I thought the crostatas enchanting, dainty yet rustic, and a blessedly unadulterated way to showcase seasonal fruits.
For the sour cherry version, I thickened the cherries with some Therm Flo and sugar and a bit of almond extract. And for a variation, I mashed up some creamy goat cheese with lemon zest and spread it directly on the pastries before piling the cherries on top. While the crostatas were still warm, the goat cheese appeared curdled (and yucky-looking), but once they cooled completely, it was simply a nice layer of cheesiness. Mr. Handsome surprised me by preferring the goat cheese version (and he says he doesn't like goat cheese).

These can be eaten out of hand (and then you can de-fancify them, calling them hand pies instead of crostatas), or served on a plate with a blop of whipped cream. (I plan to try a goat cheese cream variation in place of regular whipped cream: 1 ½ cups whipping cream, 3 ounces goat cheese, 1/4 cup powdered sugar, ½ teaspoon vanilla, whipped together till soft peaks form.)

Sour Cherry Crostatas
With thanks to Joy the Baker for the inspiration
Keep in mind that the crostatas will need to be refrigerated for an hour before baking, so make sure you have sufficient room in your fridge before starting.
This calls for only half of a butter pastry recipe, but I recommend you make the full amount and then freeze (or refrigerate) the remaining disk for later; fruit comes into season thick and fast now, and I'm sure you'll find a way to use it up in no time at all.
½ recipe rich butter pastry
3 cups pitted sour cherries and their juice
½ cup white sugar
1 tablespoon Therm Flo or cornstarch
1 teaspoon fresh lemon juice, optional
½ teaspoon almond or vanilla extract, optional
1 egg, beaten
2 teaspoons milk or cream
1-2 tablespoon demerara sugar
Stir together the Therm Flo and white sugar and add it to the cherries. Cook the mixture over medium high heat till it just begins to bubble and has thickened a bit. Remove from the heat and add the extracts, if desired. Cool completely.
Mix together the egg and cream and set aside.
Lightly dust a work surface with flour, divide the butter pastry into eight pieces, and roll the pieces into circles, about four inches in diameter. Brush the circles with some of the egg mixture, spoon some of the cherries into the center, and fold the pastry up and over the filling. Brush more egg mixture over the sides and tops of the pastry, and sprinkle liberally with Demerara sugar. Repeat till you've filled all eight circles of pastry (you will probably have some cherry filling leftover).
Slip the tray of crostatas (it might be a good idea to use a rimmed tray as the crostatas do ooze juices) into the fridge to chill for an hour. Bake at 400 degrees for 15-20 minutes. (Mine could've used another five minutes in the cooker; yours should be a little darker than the ones in the photos.)
Yield: eight beauties that disappear in no time flat.