Newsflash: MY KIDS DRINK SPINACH.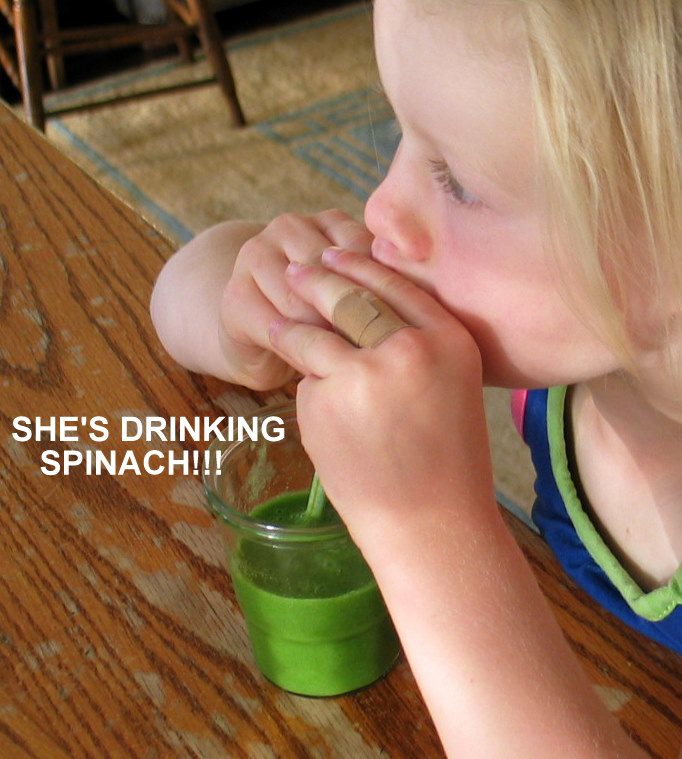 We are now, officially, "That Weird Family." And I'm perfectly fine with it. Absolutely, completely, and perfectly fine.
I didn't know they could or would do this until Thursday noon when I fixed them some spinach smoothies, a.k.a. green smoothies.
I had heard of green smoothies but I thought they had something to do with green tea. Earlier this week I suddenly got curious, did some digging, and learned that, lo and behold, green smoothies get their name and color from greens like spinach and kale. Fifty percent fruit and fifty percent vegetables is what one site said.
No freakin' way, I thought. Then I recalled that I had two nanners in the freezer and thought, Well, why not? It was ten minutes till twelve and the kids were playing outside. They wouldn't be around to witness what weird stuff went in my blender.
So I put half a bag of frozen spinach into the blender, added the bananas, and then doused the contents with some of my home-canned apple juice. Flipping the blender on and watching the contents turn bright green, I started feeling a little odd, like I was suddenly a tree-loving, tie-dye wearing, dreadlock-sporting, granola-munching, weed-smoking hippie. I was gettin' some pretty funky vibes, there was no doubt about it.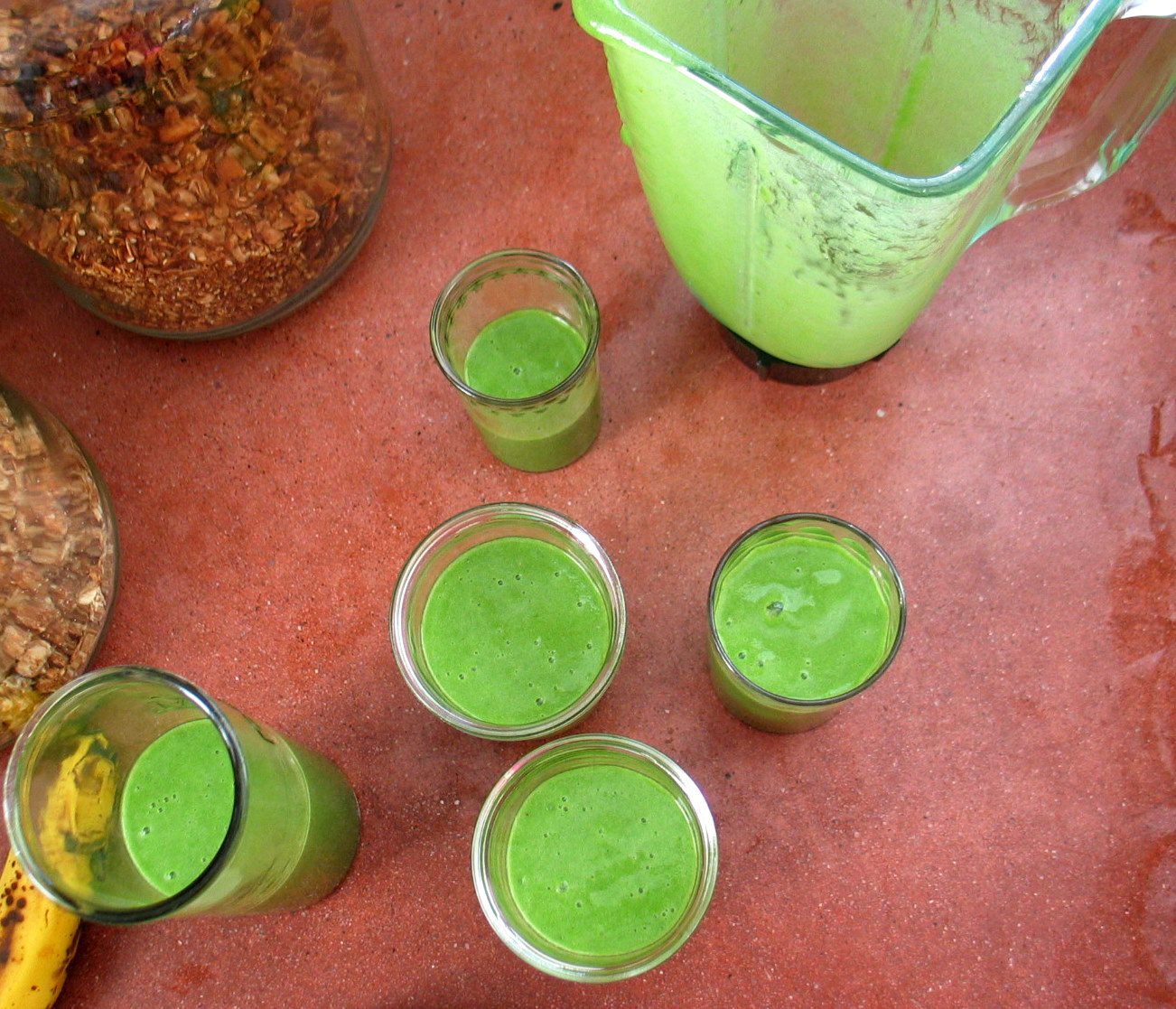 I whirled the contents till there wasn't one tell-tale sign of leafy-ness—the mixture was smooth, creamy, and very, very green. I poured the contents into glasses and summoned the children. They came running, but once inside they slowed down considerably, circling the table, suspiciously eyeing their glasses of green.
"Have I got a treat for you!" I crowed. "Go wash your hands and sit up. Hurry, hurry! I can't wait for you to taste it!" They hustled, sat, and slurped, and the feedback was immediate: Yum! WOW. This is delicious! Oh boy, this is good! What is it?
"I'm not telling till you're all done," I said, grinning mysteriously. "Now, who wants toasted shredded wheat bread with peanut butter and honey?"
They drained their glasses in no time flat. "It's spinach," I said.
They froze. Horror and disbelief flashed across their trusting faces. I talked fast, happily, excitedly.
"And there's bananas and apple juice, too. It's sweet, isn't it? It's so good for you and it's delicious! You can't even taste the spinach, and it turns it the prettiest green. Isn't that amazing?"
They relaxed, sucked up the last few drops, and asked for more. Score!
I made a smoothie for Mr. Handsome that evening (after a trip to town where I bought more bananas). The kids fought over the bit that remained in the blender. Miss Beccaboo, who wasn't around when I doled it out, was severely disappointed, so I promised her another one for the next day's lunch, this time with pineapple, banana, and strawberries, and lots of yummy spinach, too.

I didn't get around to following up on my word (life threw me a humdinger of a curve ball—more on that later), but that evening for dessert (!!!!!), I whipped up another smoothie, this time with extra spinach, bananas, apple juice, and canned pears.

I'm shocked. I'm tickled. I'm thrilled. Mr. Handsome loves them. There is no dairy to bloat him, he of the lactose-intolerant. I love them; they make me feel light and airy and energetic. The kids love, love, love them. Need I say more?
Now if you'll excuse me, I need to go plant five more packets of spinach.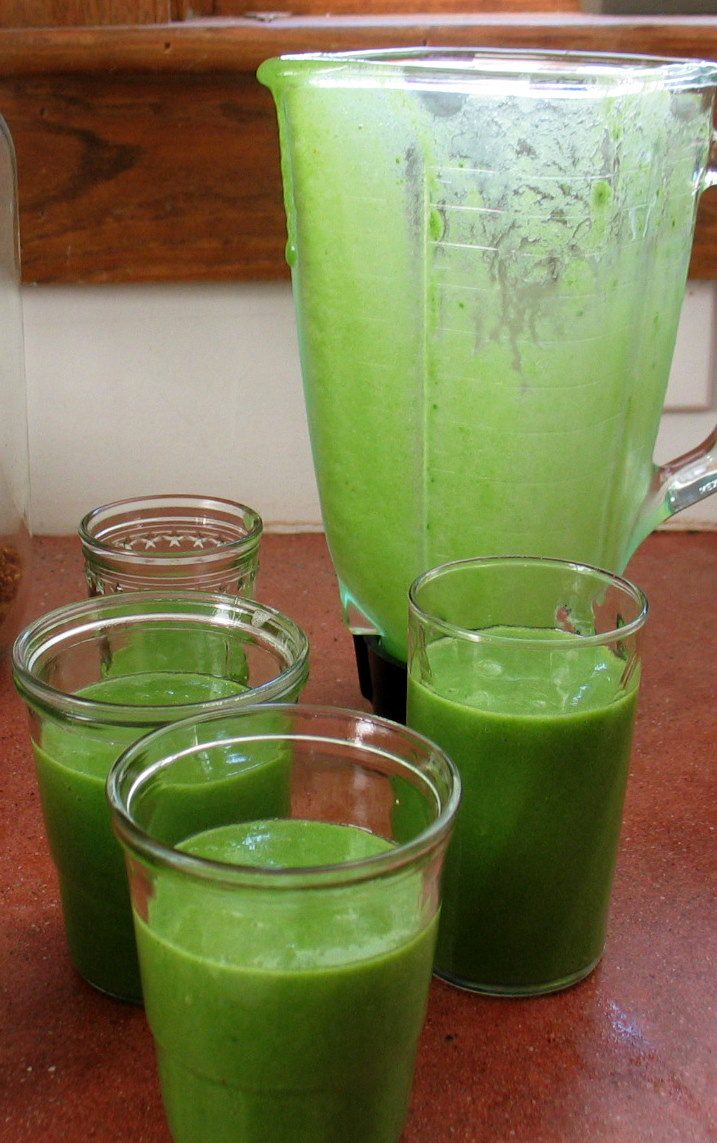 Green Smoothie
The formula is pretty simple: fifty percent vegetable, fifty percent fruit, and water (or fruit juice) to cover. However, at this point I'm using more fruit then vegetable. (I halfway weighed last night's portions: 4 ounces frozen spinach, 2 bananas [about six ounces], two or three canned pears plus some juice, and about one cup of home-canned apple juice.)
I've read that you can increase the veggies to sixty percent, and the variations are wide-ranging and never-ending. For example, in place of spinach try dandelion greens, purslane, nettle leaves, arugula, parsley, and basil. And other suggested fruits (though a banana or avocado helps to emulsify, or make creamy, the smoothie) include apples, lemons or limes (rind removed), strawberries, pears, peaches, raspberries, and blueberries. The experts also suggest including a teaspoon of super food, such as bee pollen, hemp seeds, goji berries, pure chocolate, and wheatgrass juice, of which I have none. For now, the fact that my kids are drinking spinach is more than enough.
Basic Green Smoothie Formula
4 ounces spinach (one whole bag), fresh or frozen (don't bother to drain)
2 bananas, fresh or frozen
1-2 cups apple juice
ice, if desired
Blend thoroughly and serve.
I will update this post as I try new variations. If you're already a green smoothie afficionado, please share your secrets. I'm on a roll!
Updated on May 3, 2010: Strawberries and spinach make a puke-y brown smoothie. Still delicious though, if you can get past the sludge-ish-ness.
About one year ago: Strawberry Cheesecake Ice Cream.