I've been on a dip kick. It started with these naked babes and went downhill from there. I made hot artichoke dip and no one in my family liked it but me. (There's gotta be something seriously wrong with people who don't like hot artichoke dip. I refuse to justify their strangeness.) I served pesto torte. I bought the ingredients for guacamole and pico de gallo. (Can you tell that I've recently acquired Pioneer Woman's cookbook?) I made double and triple batches of pita chips multiple times.
In fact, I have two more bags of pitas sitting on the counter just waiting to be dressed with butter, chopped up, salted, and baked. If you haven't made them yet, you really must. We are all absolutely nuts about them. Head over heels in love. True love.
And I served them to company this weekend and they commented about them several times, impressed that I had added no extra seasonings.
They're really good.
If, by chance you missed my post about them, or the link for the post in the first paragraph, I'll include it again right HERE. I'm just trying to make it easy for you.
Okay, I'll stop now.
(Please make them.)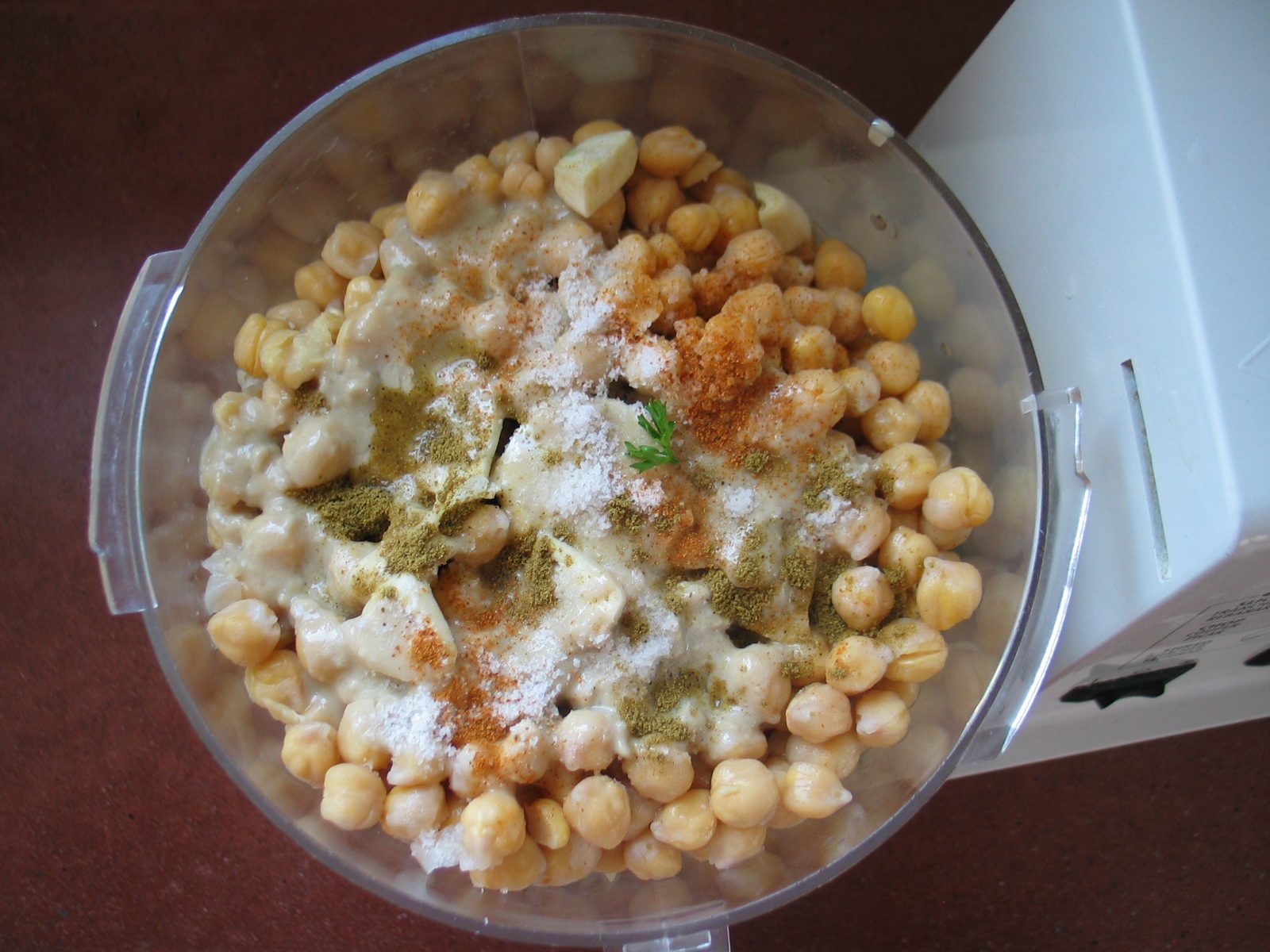 Back to the dips.
So I was talking pesto torte and baked brie and salsa (well, not the salsa, but I could've been) and then Mavis up and said, What about the hummus, huh?
And I said, Dang! She's right! I forgot the hummus!
So now I give you the hummus. It's my favoritest hummus recipe. I can eat embarrassingly enormous quantities of it.

That is, if I were to be the type of person that gets embarrassed about my hummus consumption. But I'm not. The stuff is good for you. There is nothing to be ashamed about.
This hummus is not only nutritious, pretty, and creamy, it's lemony, garlicky, and parsley-y. (Say "parsley-y" three times fast and you'll feel like you have the palsy. Or maybe it's just me?)
It's filling enough to be a main dish, and if the mono-color offends you, serve it with some carrot sticks and fresh fruit.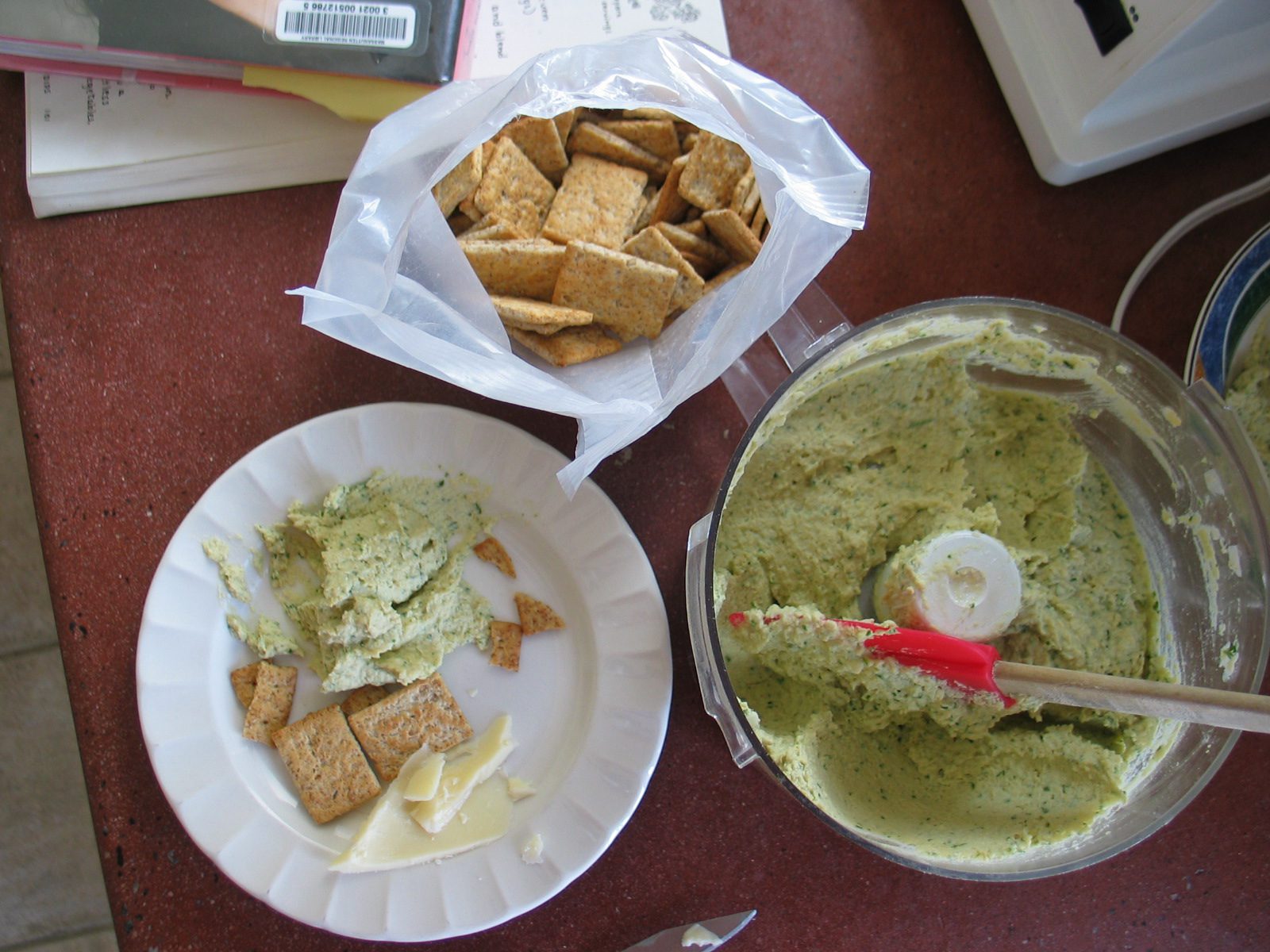 Go on, now. Make it. Throw you and your buddies a springy dip party. (When summer hits, you can branch out and make it a skinny dip party. If you're that sort. But if you do that and get embarrassed, don't blame it on the hummus.)
And whatever you do, spring or summer, DON'T FORGET THE PITA CHIPS. (Geesh.)
Hummus
Adapted from The Moosewood Cookbook by Mollie Katzen
The fresh parsley and lemon juice are crucial. Do not use substitutes.
2 cloves garlic, peeled and sliced
1 large handful of parsley
2 scallions, roughly chopped
3 cups cooked chickpeas (or 2 15-1/2 ounce cans), rinsed and drained
6 tablespoons tahini
6 tablespoons fresh lemon juice
1 teaspoon salt
1/8-1/4 teaspoon cayenne
1/2 teaspoon cumin
Place all ingredients in a food processor and pulse till well-mixed and creamy. (Or, if you prefer, you can leave it a little chunkier.) Taste to correct seasonings.
Store in a tightly lidded container in the refrigerator.
Serve with crackers, PITA CHIPS, or fresh flour tortillas.
About one year ago: Rhubarb Sorbet