After a couple weeks of not being able to use my word documents (thanks to a computer that was filled to the gills), I now have a smaller, brand-spanking-new computer with BIG space. I'm slow to acclimate to new technology and I still don't have the ability to load pictures, but that should (keep your fingers crossed) be fixed soon. And then I'll be able to show you all the stuff I've been up to.
But since I can't show you yet, I'll have to settle with telling. And you'll have to settle for reading, not just looking.
I'm such a demanding blogger, making you work like that. Shame on me.
Anyway, last week it rained. And then it sunned. And then I scurried down to the local greenhouse, bought lots of plants, and came home and threw them—whump, whump—into the garden. Over the course of two days, I planted the entire garden: tomatoes, peppers, jalapenos, anise, fennel, dill, carrots, beets, cucumbers, beans (October Sky, red, black, and green), edamame, and corn. (We have a little space remaining, but it's reserved for Miss Beccaboo's popcorn and a row of sweet potatoes.) Yay me.
It wasn't just me doing all the work, I'll admit. I got Mr. Handsome to help (he's missing a few teeth now), but it was me instigating the whole thing. And that's the truth.
I worked outside most of the day on Saturday, so it was fitting that our menu was garden-based, more so than it usually is. For lunch we had a huge salad of fresh lettuce, spinach, thinned chard, radishes, and spring onions (and with ham, boiled eggs, sunflower seeds, raisins, and oven-roasted tomatoes). There is nothing quick about salad when you have to pick and clean the lettuce. That's why I make it a habit of preparing a huge bowl of salad—for the next several days we are set to go.
Supper's colors were spectacular: yellow! white! green! red! Skillet-blackened asparagus topped with poached eggs (and buttered toast to mop it up with), lemony shortcake, sugared strawberries, and billows of whipped cream.

But what I really want to tell you about is the salad we had for supper the night before: a spinach-strawberry salad.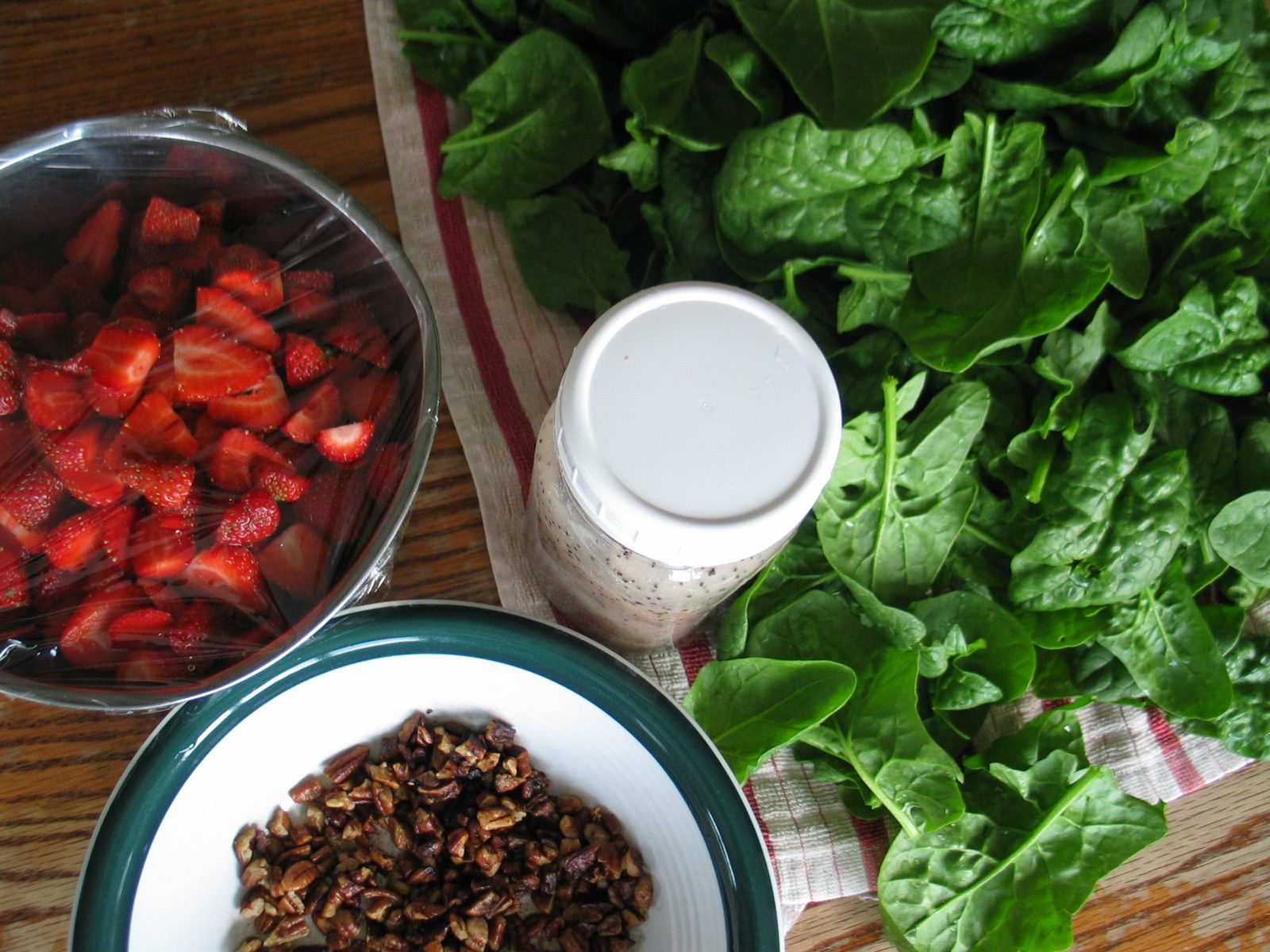 I look forward to this salad every spring—its shockingly brilliant colors, the tangy-sweet dressing, the crunchy buttery pecans. It's the embodiment of sunshine and bare feet.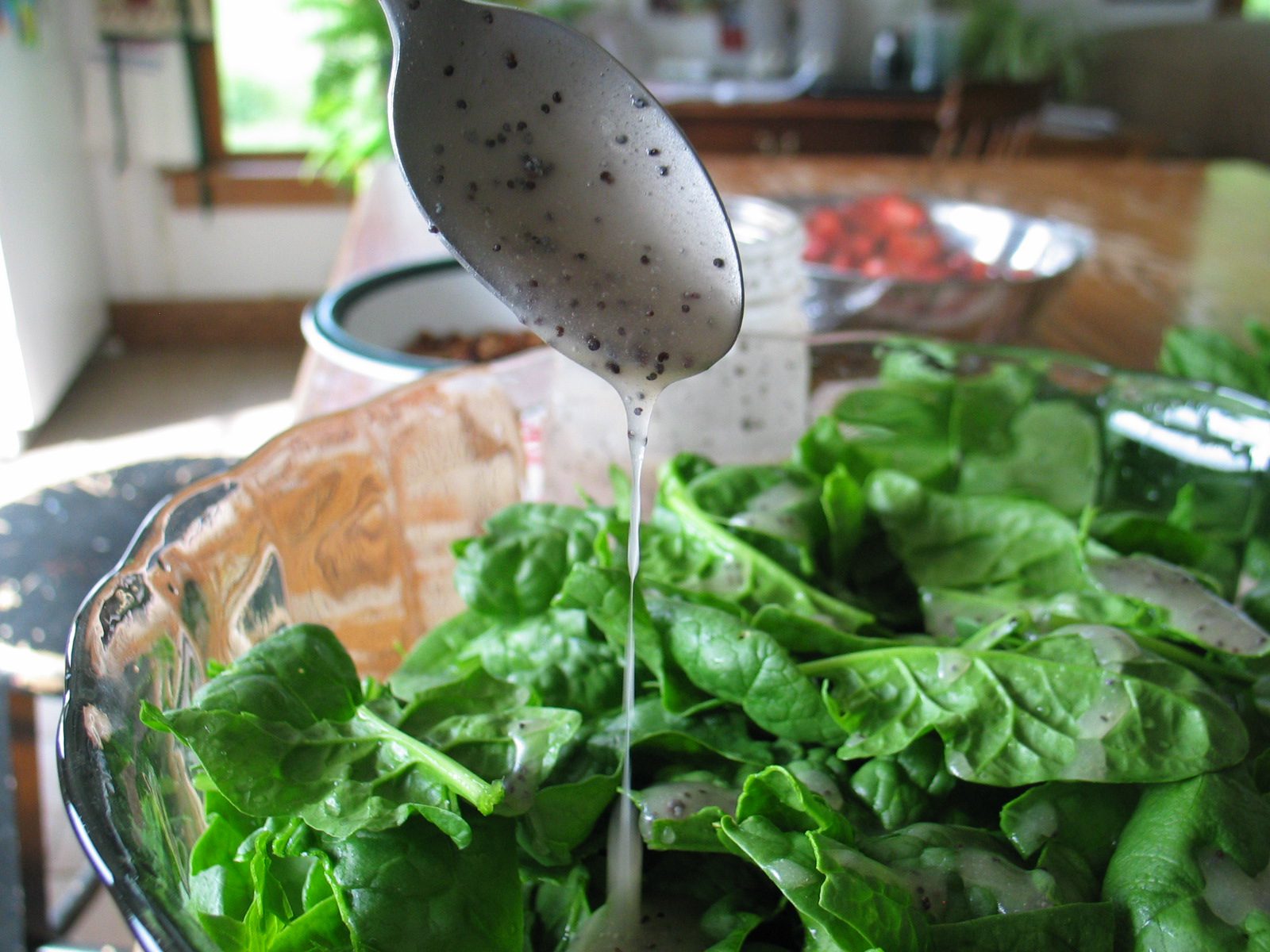 I fixed a large bowl of the salad, and between the two of us, Mr. Handsome and I put away the entire thing.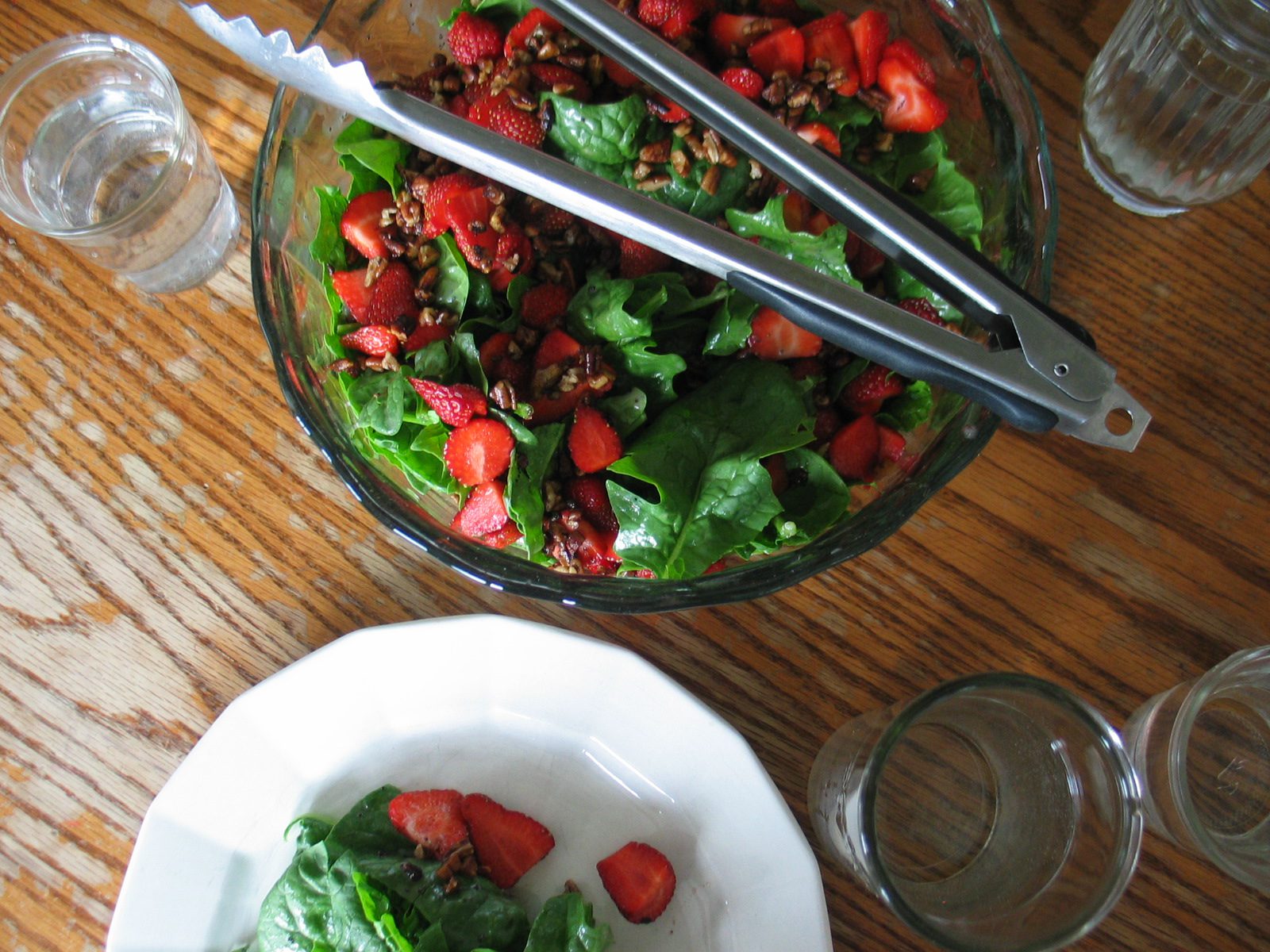 I first ate this salad at a church potluck, a picnic at a local park. I still remember who brought the salad (Keith) and where exactly on the table the salad was placed (a little beyond a box of pizza). As you can see, it made quite the impression on me.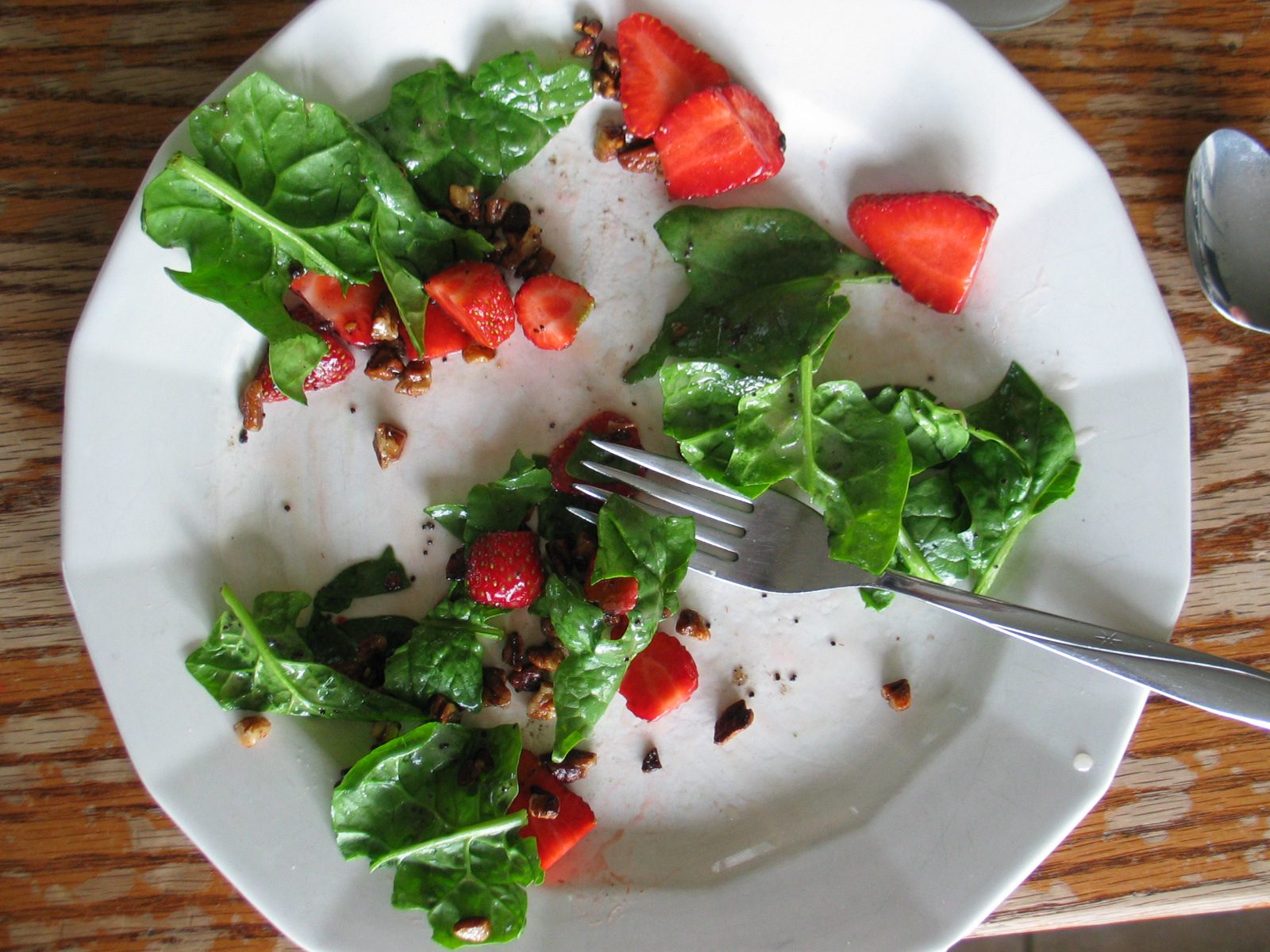 Strawberry Spinach Salad
1 large bag of fresh spinach, about 10 ounces (though I never measure), cleaned and torn
1 pint fresh strawberries (again, I never measure), cleaned, topped, and sliced
½ cup chopped pecans
1-2 tablespoons butter
1/3 cup red wine vinegar
½ cup sugar
3/4 cup vegetable oil
1/4 teaspoon salt
1 teaspoon dry mustard
1 tablespoon minced onion
1 tablespoon poppy seeds
Melt the butter in a small skillet and add the pecans. Toss them about till golden brown. Transfer them from the skillet to a bowl (so they don't continue cooking and burn to a crisp) and set aside.
In a blender, whirl together the vinegar, sugar, oil, salt, mustard, and minced onion. Blend it well, till it's creamy smooth and pale pink. Pour the dressing into a pint jar and stir in the poppy seeds. Set aside.
Immediately before serving, put the spinach in a large salad bowl and toss with the dressing. You probably won't need all of the dressing. Put whatever is left over in the fridge for the next day's salad (because there will be a next day's salad)—to use, simply bring to room temperature, and shake well before serving.
Top the spinach with the sliced strawberries and the toasted pecans. Heap high your plate and dig in!
Serves 2-8, depending on appetites and whether or not there is anything else is for dinner.
About one year ago: Garden tales, part one.