I first started thinking about rhubarb in terms of savory after doing some reading in my honkin' huge food encyclopedia. My book reports that in Iran they serve rhubarb in stew and that in Afghanistan it gets added to spinach. In Poland they cook it with potatoes and aromatics. And so on. It got me to thinking. Clearly, I was underestimating my rhubarb.
So I started searching through my cookbooks and poking around on the web. There wasn't much out there. I attempted some rhubarb smothered pork chops. They were edible, but not something I'd repeat.
I dug deeper. The pickings were few and far between and I began to get discouraged. But onward-ho I pushed. I had a persnickety hunch that we, the rhubarb sweeties, were missing out on something special.
And then I discovered lemon-rhubarb chicken. I was right! We were missing out!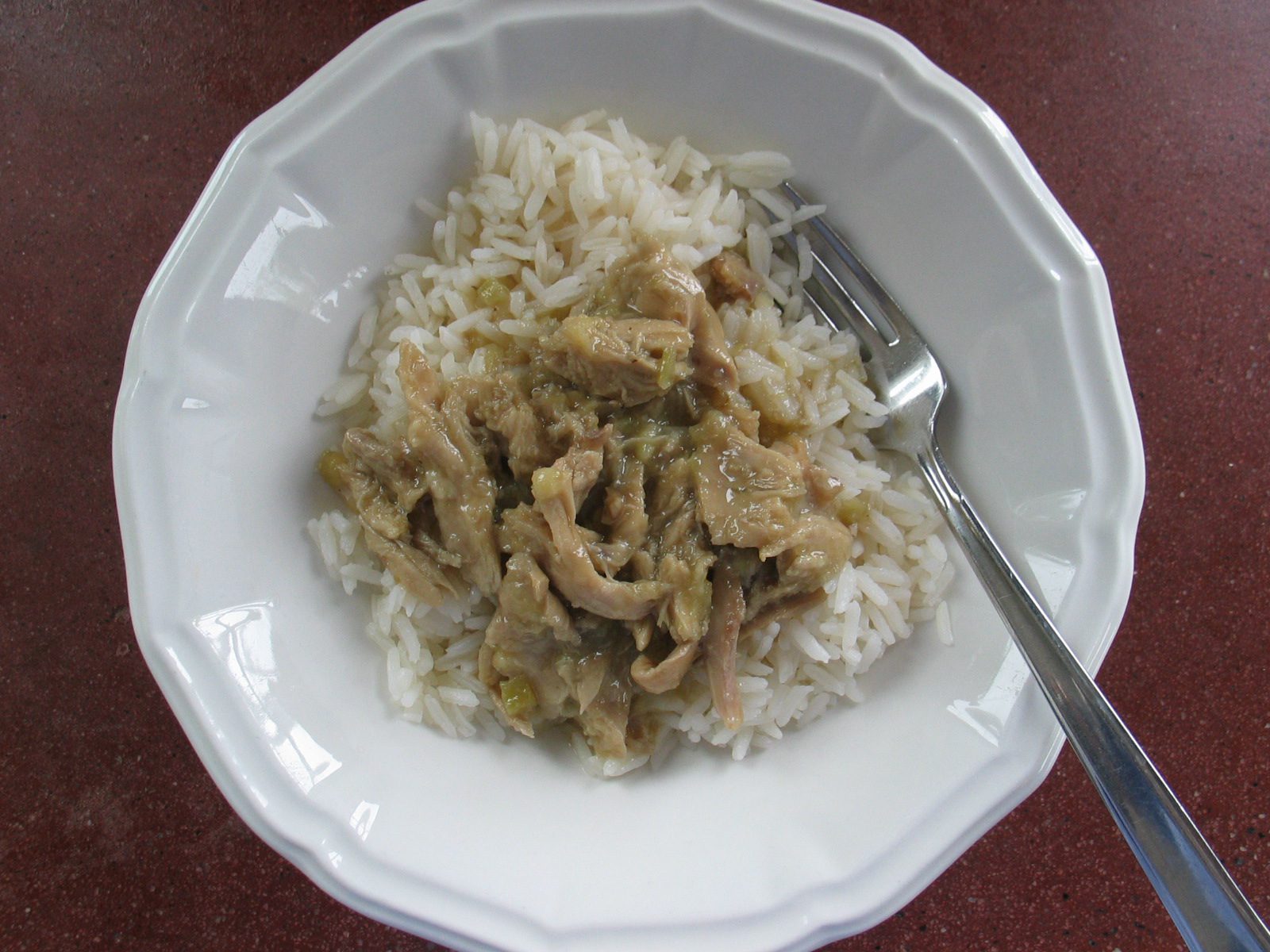 The idea of this recipe is simple: make a rhubarb sauce, reduce it, and serve it over chicken.
(Actually, the original recipe was a bit more complex. It called for stuffing rhubarb into chicken breasts. I opted to simply stuff and roast a whole chicken. The final dish tasted marvelous, but there was one little problem: my rhubarb is mostly green, remember, and mushy green rhubarb and a chicken carcass—well, let me stop there. I knew, however, despite the dish's less-than-desirable appearance and thanks to my cast-iron stomach, that I had landed on a keeper.)
The sauce is profound, like spring on a spoon—light, tangy, sweet, sprightly. It calls to mind nymphs and druads, carpets of moss and fairy dust.
I've changed the recipe up even more, simplifying and beautifying as I typed. The final dish is still not going to win any beauty contests—pale sauce with white chicken on white rice (unless, of course, you dress it up with sprigs of parsley and slices of lemon)—but your tongue will sing multitudes of praises. And if you serve it with brilliant green asparagus and some pickled beets, you'll have a feast for the eyes as well as the tummy.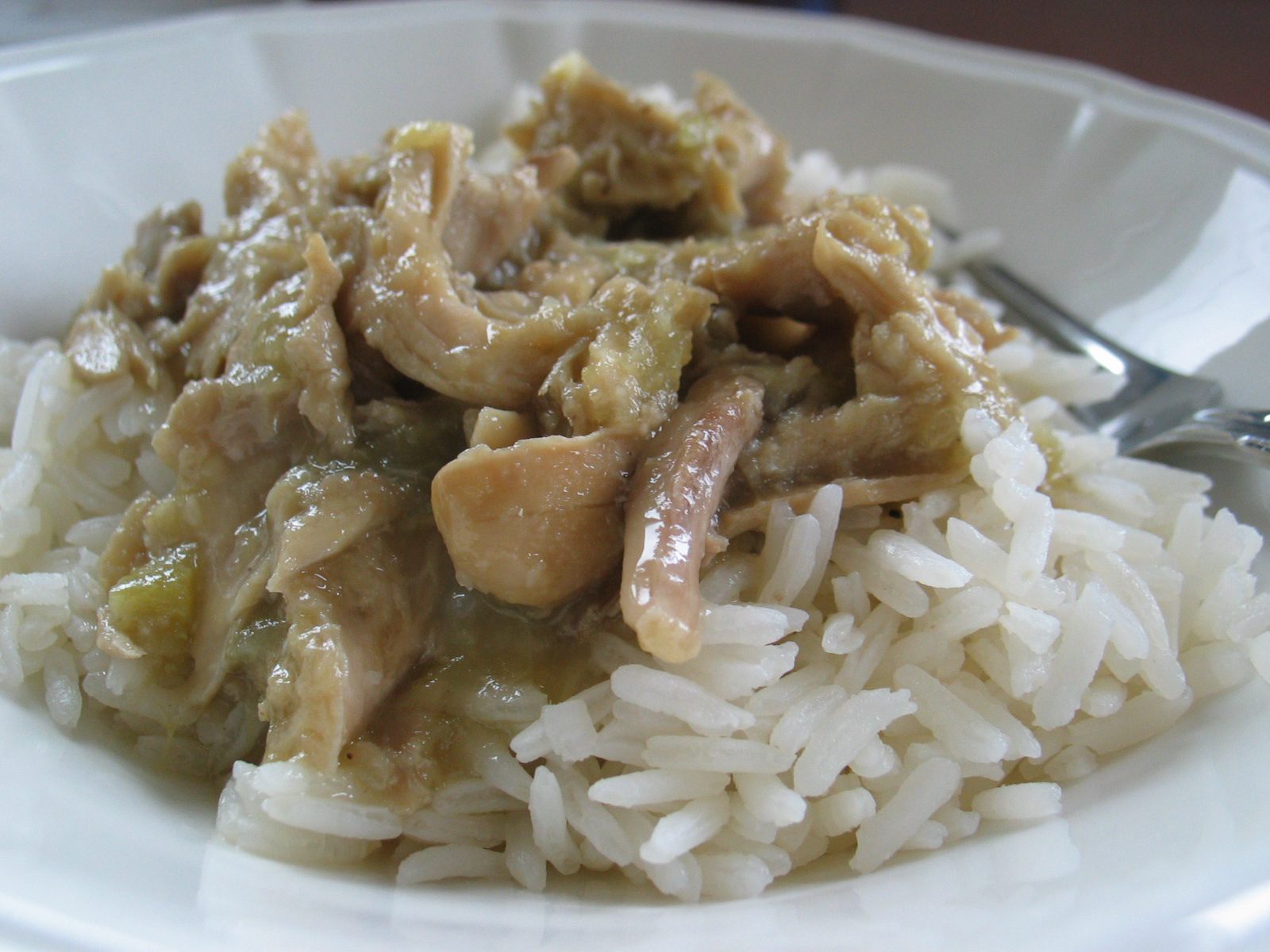 Lemon-Rhubarb Chicken
Adapted from the February 2007 issue of Bon Appetit via Epicurious
A note about storing ginger: I store fresh ginger by peeling it, roughly chopping it, packing it into a jar, and then topping the jar off with sherry. Stored in the refrigerator, it keeps indefinitely.
about 4-5 cups cooked chicken, chopped
5 tablespoons olive oil
6 tablespoons minced onion, divided
4 1/2 cups diced rhubarb, divided
1 tablespoon fresh lemon juice
2 teaspoons lemon zest
4 tablespoons butter
1/2 cup sliced ginger (unpeeled is okay)
3/4 cup sugar
6 tablespoons brandy
4 cups chicken broth
1/4 teaspoon fennel seeds (or one whole star anise)
1 bay leaf
salt
black pepper
Saute 2 tablespoons of the onion and 2 cups of the rhubarb in 2 tablespoons olive oil for five minutes, or until just beginning to soften. Stir in the lemon juice and zest. Season with salt and pepper and set aside.
Melt the butter in a heavy-bottomed skillet. Add the remaining onions and rhubarb and the ginger; saute for about ten minutes. Add the sugar and brandy, bring the mixture to a boil and boil hard for one minute. Add the chicken broth, fennel, bay leaf, some salt and pepper, and simmer over medium heat for about an hour, or until the broth has been reduced to about two cups. Strain the sauce, discarding the solids.
Return the strained sauce to the (wiped out) heavy-bottomed pan, add the reserved rhubarb and the cooked chicken. Heat through and taste to correct seasonings.
Serve over rice.
About one year ago: Bald-Headed Baby and Raspberry-Mint Tea