My kids know me. The other night I walked into the kitchen as Mr. Handsome was in the middle of scolding Yo-Yo for doing something mean to The Baby Nickel. As I passed by the table, I shot Yo-Yo the most heavily weighted, reproachful look I could muster. And then Yo-Yo piped right up, "Don't shoot me a reproachful look, Mom!" Dang! That boy knows how to hit the nail on the head—thunk!—dead center.
We've been reading the book What The World Eats by Peter Menzel and Faith D'Aluisio, Menzel being the same fellow who wrote Material World. The kids and I were discussing the world obesity problem (did you know that there are now as many overfed people in the world as underfed?), and I explained a little about Michelle Obama's efforts to curb child obesity. Miss Beccaboo said, "When I get big, I'm going to work in a school and be a cafeteria lady and feed everybody your good bread!" That girl knows how to melt my heart.

Later, after picking some strawberries from the garden, Miss Beccaboo came into the kitchen to wash, top, and slice them. Along the way, she discovered an old onion bag and put it on her head like a hairnet. Already playing the part of food service maven, my girl is.

Remember those ridiculous outfits my children were wearing the other day? Well, here's a picture of their craziness. I particularly like Miss Beccaboo, waggling her finger like an old school marm.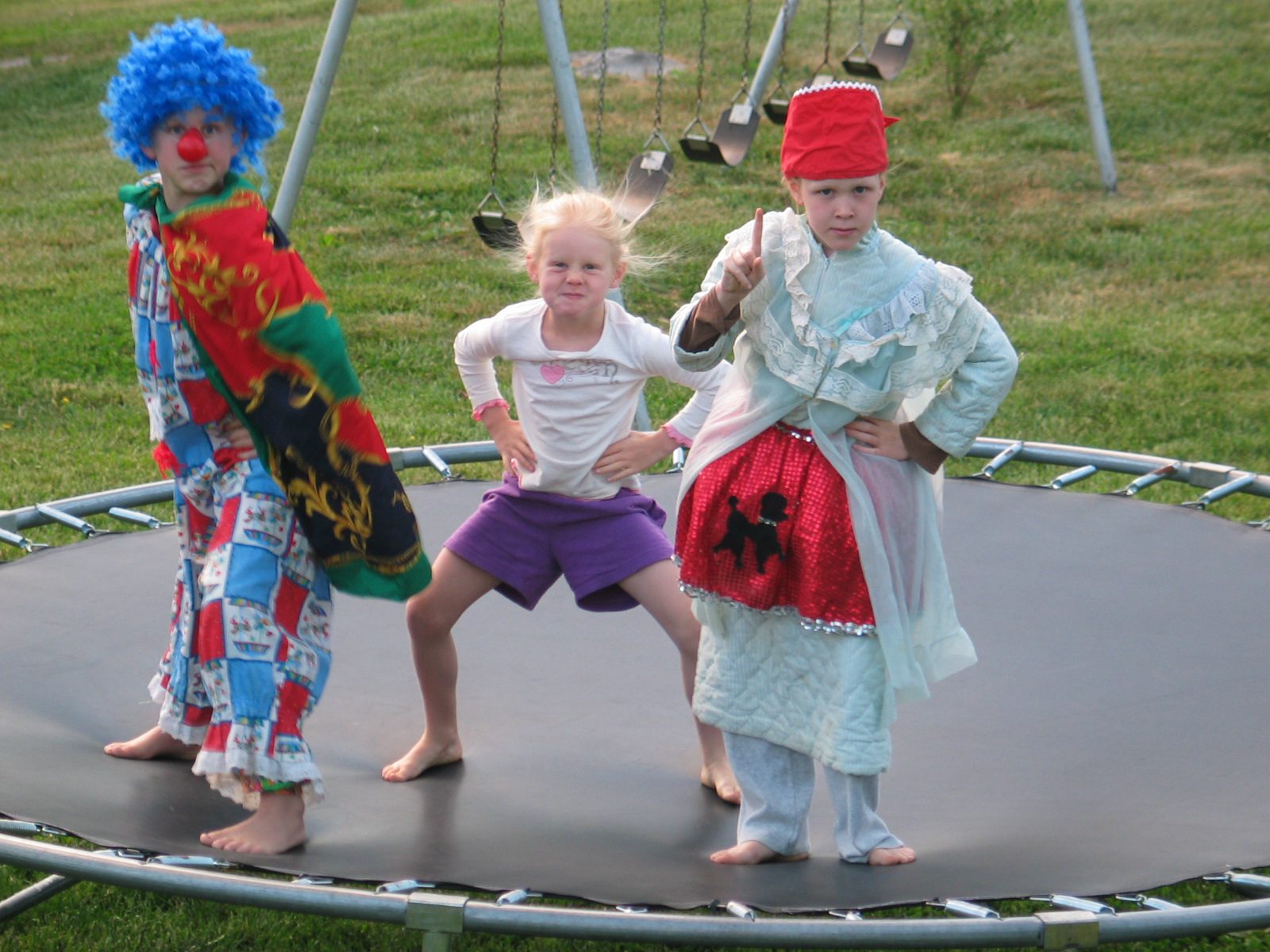 And look at her stance! Hips thrust forward, arms akimbo, chin jutting.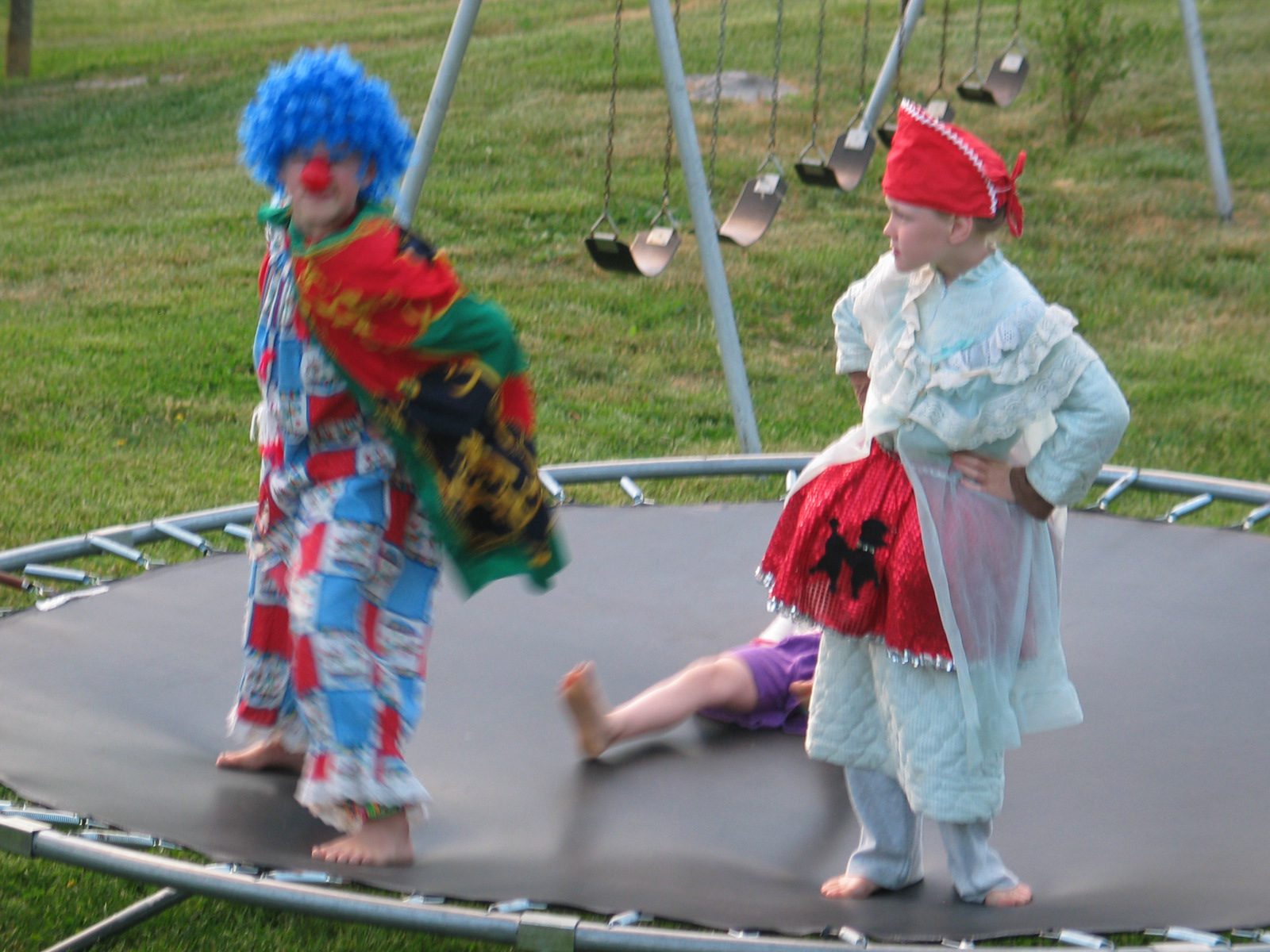 She makes me feel like I'm living a real-life slapstick comedy.
Back to What The World Eats. My kids notice everything in the pictures: the rotting teeth, the porky bellies, the bottles of soda, the lack of silverware. We were all floored by the amount of meat reportedly consumed by an Australian family of seven: more than fifty pounds of meat a week. I got constipated just looking at the picture!
Our meat consumption is considerably less than those particular Aussies, but I still feel like it's on the high side. We eat between three and eight pounds a week, I think—maybe a couple pounds of ground beef and a chicken (they weigh in at about three pounds). We eat bacon, sausage, and ham, too, though I usually use them to season dishes, not to fill us up as the main course. We do eat lots of eggs, though—well over four dozen a week—and a fair amount of cheese. It would be a fun (but tedious) exercise to assemble all the food we eat in a week and snap a picture of it. Maybe sometime when I'm bored.

When we do have ground beef on hand, one of my favorite ways to serve it is in chili. It's a simple dish and everyone likes it. I've taken to adding dark chocolate to the mix.

Doing so makes me feel like Tita in Like Water for Chocolate, subversive and sensual. I feed the chocolate-spiked chili to my family and then watch for strange symptoms—the tearing off of garments, unexplained weeping, giddy laughter. All of which might happen, mind you. I just can never be sure that it's on account of the chocolate. I can assure you, however, that no one has streaked across the yard buck naked and jumped on a strange man's horse.
Yet.
I'll let you know if that changes.

Chocolate-Kissed Chili
Adapted from Simply In Season
You can pretty much do whatever you like with this recipe. Want more green pepper? Put it in. No garlic? Take it out. A hotter dish? Pump up the chili. The biggest discrepancy is with the beans. I like a lot of beans in my chili, but I know other people like less. Do what you will.
Keep in mind that leftovers freeze well.
1 pound ground beef
2 ribs celery, washed and diced
½ cup diced green pepper
1-2 onions, diced
2 cloves garlic, minced, optional
2 quarts stewed tomatoes (not drained)
2 cups corn
4-8 cups cooked beans (red, black, pinto, etc), semi-drained
2-3 tablespoons chili powder
2 teaspoons salt (may use part smoked salt)
1 ounce dark chocolate
Garnish and accompaniments:
Fresh cilantro
Sour cream
Cheddar cheese, grated
Hot sauce
Tortilla chips, cornbread, or flour tortillas
Cook the beef, celery, pepper, onions, and garlic in a kettle over medium-high heat till the beef is beginning to brown and the vegetables are tender, about 10-15 minutes. Dump the contents of the kettle into a crockpot and add the remaining ingredients. Cook on high heat for 4-6 hours, stirring occasionally. Taste to correct seasonings and serve. (Turn the heat back to low if not digging in immediately.) Serve with the garnishes, all the time keeping a sharp lookout for strange men on horseback.
About one year ago: Fowl-ness