Have I ever told you that I'm in a book club? Well, I am. It all started a couple years ago when a friend asked me if I'd like to join her club. (I feel so elementary schoolish, talking about a club like-so, as though we tote around ratty albums stuffed with our scratch-n-sniff sticker collections and snicker about boys.) At that point the group consisted of mostly older women; they wanted a young person in the group to provide a different perspective. Or something. (I'm not sure they knew what perspective they'd be getting with me aboard, but now they have it!) While there is another woman that is only a half dozen years older than me, the majority of the woman are my mother's peers.
I love my book club. I love that the woman are older than me, in a totally different stage of life with a totally different set of issues. I love it that the house where we meet is tidy, no men or children on the premises, and we drink tea out of matching cups and saucers. And I love it that we never all like the same book (and more often than not, we are polarized). The club is the modern day equivalent of a quilting circle, minus the quilt and the productivity factor, and since I hate sewing in any form, it's a perfect fit for me. I much prefer to shred books than to rip seams.
Book taste, like food, is so subjective. What one person enjoys, another despises. This past Monday we discussed Olive Kitteridge, a book recommended by yours truly. Some of the women outright disliked it, others found it humorous, and a couple even enjoyed it. Next month's book is The Lacuna. I am halfway through it and thus far I don't have anything good to say about it (besides noting that I enjoy, as always, Kingsolver's writing style). Once thing is certain: because of this book club, I am covering a wider range, plus a greater quantity, of reading material.
We only read one book a month, but many more titles get tossed around. Someone keeps a list of all the suggestions, a list I draw on if I find myself in need of more ideas. One of the recent titles was The Help by Kathryn Stockett. After hearing some of the women rave about it (too many had already read it to make it worth a group read), I put the book on hold at the library. And then when it finally made its way into my home, I devoured it, hook, line, and sinker.
The book is about the black help in the South, written by a white woman from the perspective of the black women, and what a fascinating tale it is. There were three (main) things that intrigued me. First, I can not, for the life of me, imagine having another person wait on me hand and foot, fetching me ice-cold drinks, watching my kids, cleaning my house, cooking my food, and doing my shopping, thus freeing me up to gossip on the phone, obsess over my cuticles, and play cards. The thought both charms and disgusts me.
Second, I do not understand the logic of the white Southerners. Black people couldn't use the whites' bathrooms or shop in their grocery stores but they could wipe white babies' butts and cook white people's food. It makes no sense at all.

Third, Minny's caramel cake. Minny was the mouthiest of the black help (I adore her), and her famous cake kept popping up throughout the book.

Minny'd say things like, I a on make you a caramel cake, mister, jus' you wait, and my heart would start beating faster just at the thought of that cake. By the time I was halfway through the book, I knew I had to make one if it was the last thing I did. As soon as I slapped the book shut for the last time, I hustled my little rear straight out to the kitchen where I whipped up three different caramel cakes in as many days. I was obsessed.
I'm neither Southern or black, so I really have no caramel cake-making credentials, but I can read and I can cook, so I sniffed my way around the web, comparing recipes and taking notes. I learned that most caramel cakes consist of a simple yellow cake and that the cake gets its name from the icing which is, obviously, caramel.
Cake number one came with high reviews, but I found it to be depressingly bland. If I first browned the butter, I mused, it might ratchet the flavor up a notch. The resulting cake number two was more flavorful but dreadfully dry. Cake number three, with more eggs and regular flour and lots of browned butter, hit the nail smack on the head. Which was a good thing for I was growing weary of all the browning and baking.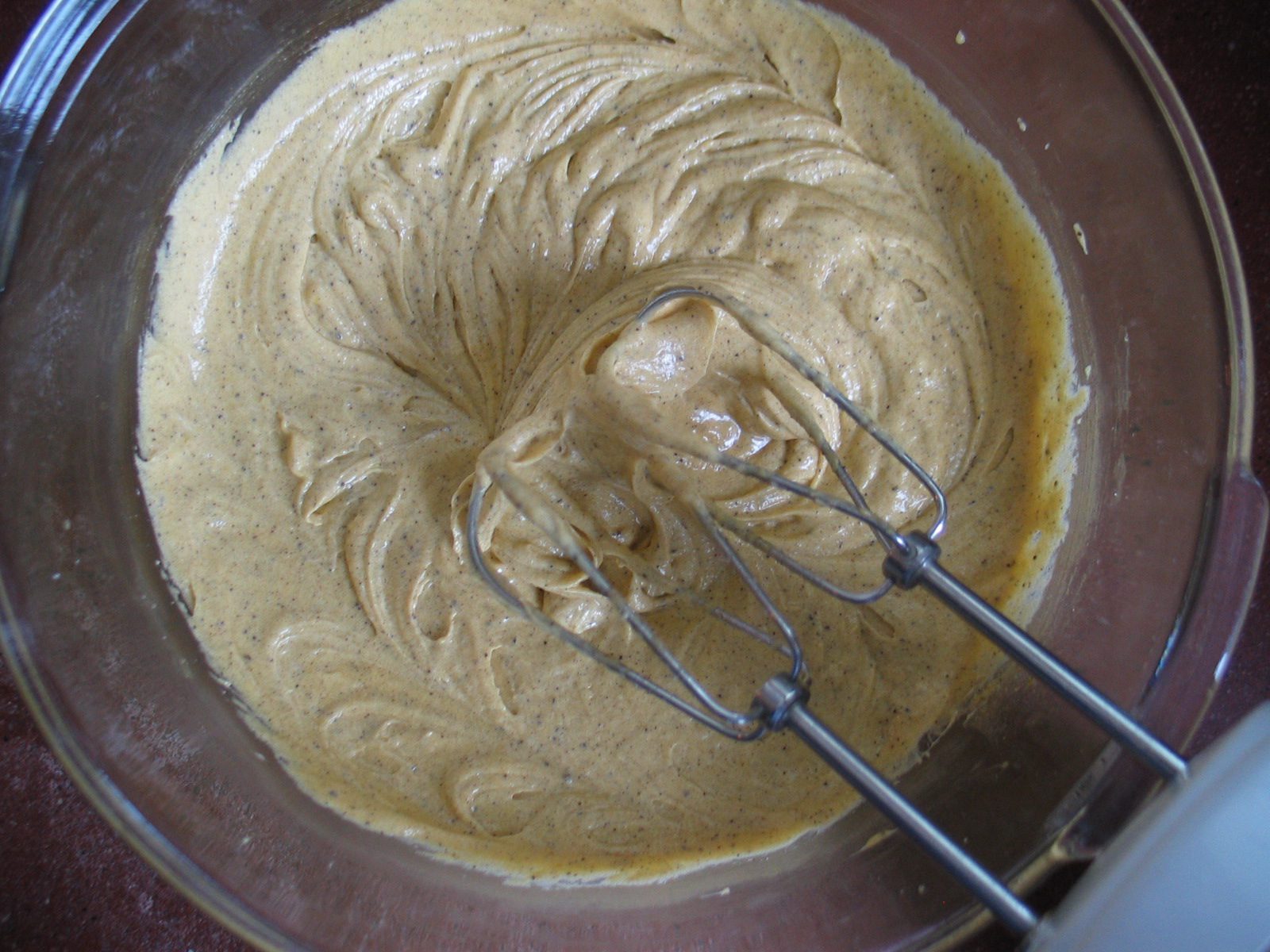 The icing was another adventure. The first one was pallid and syrupy. The second attempt was crunchy and gross.

But then I got smart. I checked Stockett's website, and there, lo and behold, I discovered she had kindly posted the icing recipe for all her salivating readers, of which there are many.

Her icing was simple, classy, and delicious.

Please, do not be dismayed by my cumbersome caramel cake history. I'm a slow learner.

Of course, I don't know if my final result is an authentic authentic Southern caramel cake. But I do know that the cake is tender and yellow, flecked with lots of brown speckles from the browned butter, and that the icing is richly caramelesque.
It is for Minny (and myself and you) that I make this cake.

Caramel Cake
The cake recipe is adapted from the blog Dessert First, and the icing comes from Kathryn Stockett's website.
The cake dries out more quickly than some, so eat it within the first day or two. It is best, though, eaten just a couple hours after pulling it out of the oven. Then it is buttery, light, and soulfully sweet, the perfect thing to go with a cup of strong, hot coffee.
3/4 cup (1 ½ sticks) butter
1 2/3 cups sugar
2 eggs, plus 4 egg yolks
1 teaspoon vanilla
2 ½ cups, plus 2 tablespoons, flour
3 teaspoons baking powder
1 teaspoon salt
1 1/4 cups milk
1 recipe caramel icing (recipe follows)
Brown the butter by melting it in a heavy-bottomed saucepan and then cooking it over medium-high heat till the butter solids turn chocolate-y brown, about ten minutes. Swirl the pan occasionally to keep the butter from burning. Pour the browned butter into your mixing bowl and set it in the fridge for an hour to solidify. (Fifteen minutes in the freezer works, too.)
Butter two 9-inch cake pans and line them with wax paper.
Mix the flour, baking powder, and salt together and set aside.
Take the browned and slightly hardened butter from the fridge and use a hand-held mixer to beat it till it becomes light and creamy. Add the sugar and beat some more. Add the eggs, one at a time, beating thoroughly after each addition. Beat in the vanilla.
Add the dry ingredients alternately with the milk. Divide the batter between the two cake pans and bake the cakes at 350 degrees for 30-40 minutes, or until an inserted toothpick comes out clean. Let the cakes cool for ten minutes before cutting around the edges and inverting them onto a cooling rack.
While the cakes are cooling, make the caramel frosting.
Caramel Frosting
2 ½ cups sugar, divided
1 egg, beaten
½ cup (1 stick) butter
3/4 cup milk
1 teaspoon vanilla
Measure ½ cup of the sugar into a heavy-bottomed saucepan and heat it over medium heat till it is runny and brown (darker than golden, but not burnt).
While the sugar is melting, melt the butter in a separate saucepan. Once the butter has melted, remove the pan from the heat and whisk in the milk, the remaining sugar, and then the egg. Set aside.
Once the ½ cup of sugar is nice and runny, add the contents from the other pan, crank the heat up to medium-high, and boil it for about ten minutes, stirring frequently, until the mixture begins to pull away from the sides and the temperature registers 230 degrees on a candy thermometer.
Remove the kettle from the heat, whisk in the vanilla, and then continue to whisk the mixture for several more minutes, or until the caramel has cooled and thickened a little. Ice the cake layers. (Keep in mind that the caramel will harden as it cools, so work kind of quickly. If the icing gets too stiff, Kathryn says you can whisk in a little cream to thin it out.)
About one year ago: Garden tales, part two and A storm: talking points rained out