Confession: I am often bored.
I realize that this statement is tantamount to blasphemy, considering that I have four kids, a husband, a large garden, a blog, and that I homeschool, read, watch movies, cook much of my food from scratch, go for walks, talk on the phone, chair a church commission, clean house, etc. With all that responsibility you would think The Boredom Feeling wouldn't even be on my radar.
But alas, I am not only sometimes bored, I am often bored.
I know, I know! Something is seriously wrong with me.
I've always been this way, ever since I was a little kid lollygagging on the living room floor, the oppressive cloud of Nothing To Do pressing me down into the ratty brown carpeting. My mother didn't cater to my whines, not one little bit. I got oodles of lectures on the value of productivity, so many, in fact, that the P-word became my most hated word in the whole entire English language. (Now that I've grown, the P-word and I are on very friendly terms, though it hasn't done much to solve my boring blues.) And more often than not, if I fussed to her that there was nothing to do, I found myself with a damp rag in my hands, listlessly dusting the kitchen chair rungs while resolving to never, ever confide in my mother again.
Now I have my own house, my own ratty brown carpet, my own chair rungs and I still get shadowed by the Nothing To Do cloud. Now, however, the cloud is more like a mist, damp and creepy, seeping into the corners of my being, pushing on me from all angles, slowing me down.
This is not depression, mind you. In fact, for the most part I'm an optimistic, up-beat, cheerie person (except for when I'm not). I manage and accomplish just fine. But I perpetually struggle to keep myself motivated.
I think that I might be a fruitcake to have this problem. I know no one else who battles boredom like I do. I am surrounded by people who never seem to have enough time in the day, who have projects going from morning to night and who are able to keep themselves motivated, moving briskly from project A to project B to project F and so on.
Me, on the other hand, I piddle and fritter and sigh. I force myself do things. I maintain.
There is certainly plenty to do, but for me boredom is not an absence of things to do but a lack of pressure. And this is the crux of the matter because I don't like to be pressured. (Oh the ironies!) I limit my social engagements, stridently protecting our quiet country life, keeping our evenings free for reading, movies, popcorn, and lots of chit-chat. I am careful not to tax myself with too many commitments. But then, with too much freedom and not enough pressure, I lose steam. I get bored. With the reverse, too much pressure and not enough freedom, I get irritable and tense. It's a balancing act of the most intricate sort, one I have yet to master.
After suffering under the boredom curse for my whole life, I have come to believe that my inclination towards boredom is not a character flaw, but rather a personality trait. Certain people are never bored; other people are. It has something to do with wiring. (Yo-Yo and Sweetsie get bored a lot [and it irritates me to no end]; Miss Beccaboo and The Baby Nickel do not.)
I don't have an answer for why or how I'm bored, but I do know that I'm a high-needs person (just ask my husband, or my mom). I need to be fed, intellectually and emotionally, on a pretty extravagant scale. No matter how many inspiring books I read or radio shows I listen to, the country life is sometimes deficient in intellectual stimulation for little ol' extroverted me. (Living in an isolated Nicaraguan village for two years was pure agony for my needy self, physically painful, exhausting me in ways I had never before experienced.)
("Absorption." This might be another way of looking at the issue. I have trouble staying absorbed. There are a few specific times that I am fully absorbed: working on photo albums or something artsy, writing, meaningful conversations.)
Some days my life is frenetic. Days when I have errands to run or appointments to keep. Days when the garden is in full riot and I'm up to my elbows in canning jars and sauces and salsas and peaches. But still, even when life is intense, I find myself fighting the draggy boredom blues.
I just thought you might like to know that about me.

Oh yes, and that I spice up my boring life with a set of fat, waxy lips.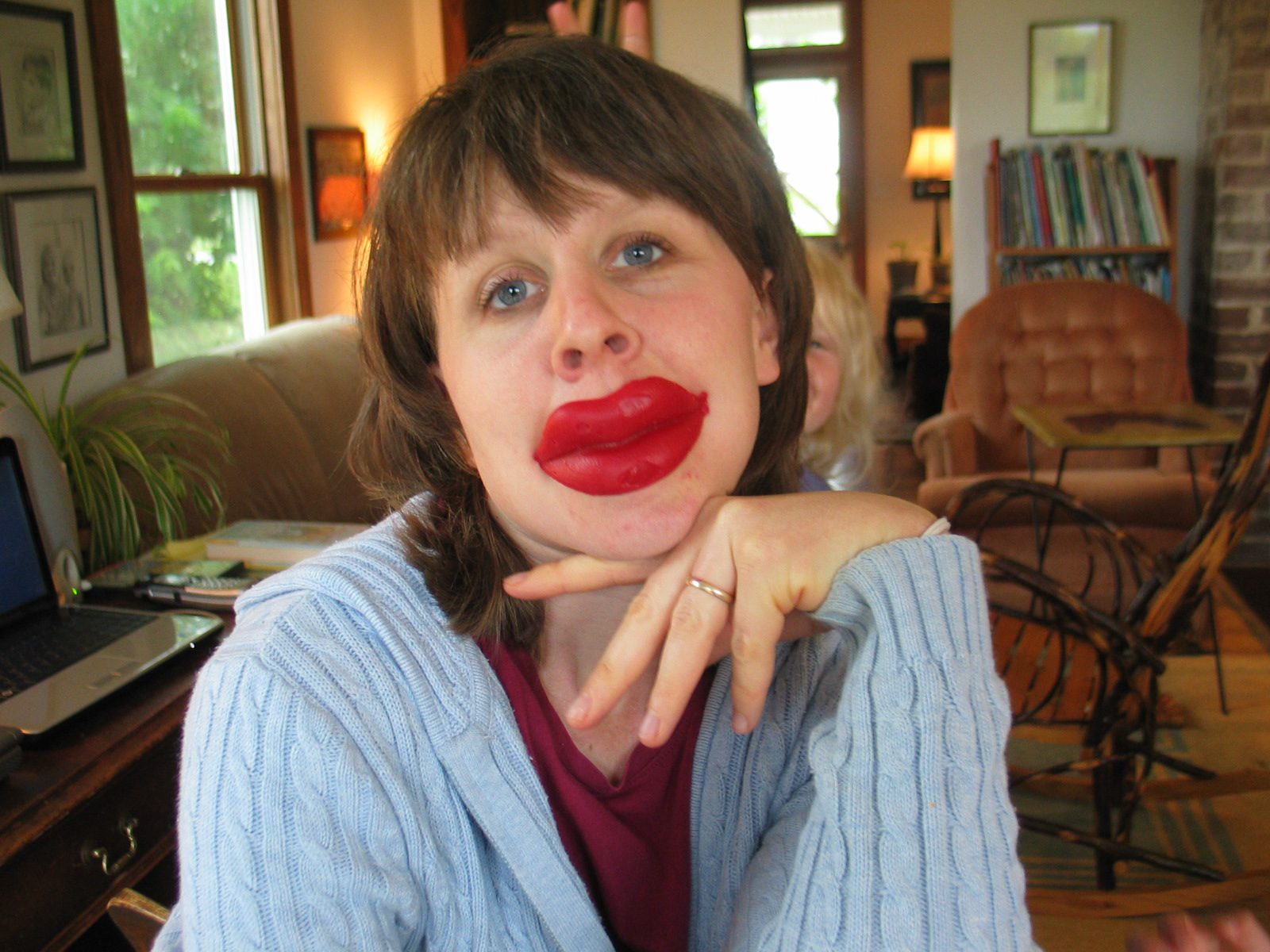 I think everybody ought to have a pair for when the going gets dull.

About one year ago: Cinnamon Tea Biscuits