Hey you! Quick! Listen up! I've got something important to tell you! Your relationship with asparagus depends upon what I'm going to say next.
Nah, forget it. I'm not going to say anything after all. Instead, I'm simply going to tell you what to do. You must obey, no questions asked, okay? Ignore the fact that I go to church with holes in the back of my skirt, stab myself with pitchforks, don't know the difference between snap and hull peas, and chuck books at the people I love most. You can trust me on this. I promise.
All set? Okay, here's what I want you to do.

First, obtain some fresh asparagus. Harvest, buy, steal—anything goes here. This is important.

You'll need about a pound, give or take a handful. The amount isn't really that crucial, but the freshness is. It must be fresh.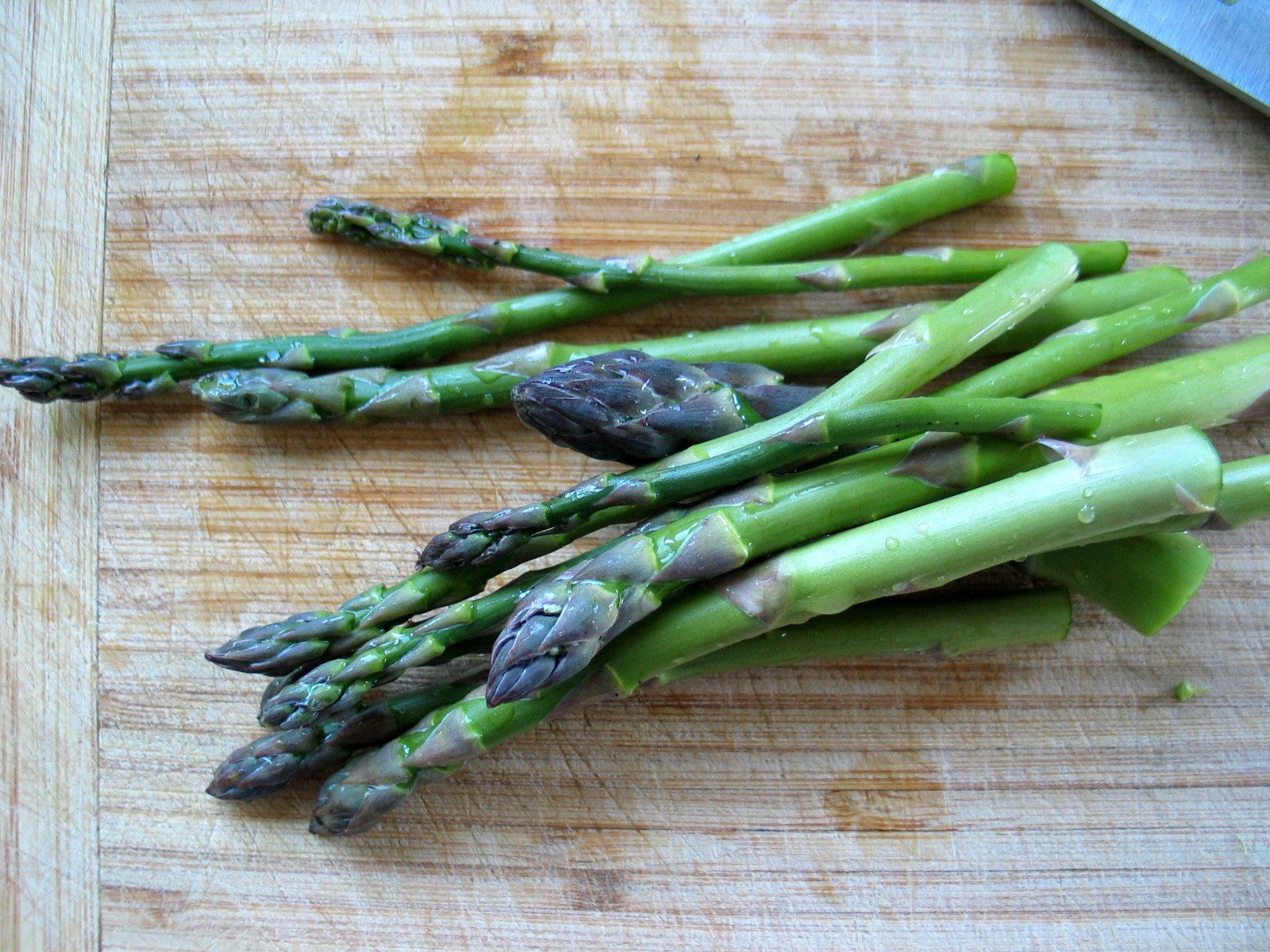 Wash it, cut off the tough bottom ends and chop the spears into pea-sized chunks. Put them in a bowl.

Second, grate enough fresh Parmesan to make about three-fourths cup and add that to the asparagus.

Third, toast one-half cup of roughly chopped walnuts in a skillet. Add them to the asparagus and cheese. It's fine if they are still so hot that they sizzle and pop. Pay them no mind.

Fourth and final, in a small bowl whisk together 1/3 cup red wine vinegar with 1/4 cup olive oil and some salt and pepper. Add it to the asparagus and stir to combine.
Cover the salad and let it rest in the refrigerator for a couple hours before eating—if you can wait that long. I couldn't.

I made a valiant effort. Really, I did. But the bowl kept wandering out of the fridge and slipping back onto the counter, and then I'd find myself standing by it with a fork in my hand. When lunch rolled around, more than half of the salad had already disappeared down my gullet.

Which was okay because by then I wasn't really even hungry anymore.
Asparagus Walnut Salad
Adapted from Sara at Culinerapy
This salad is flexible. I suspect any hard salty cheese would work, or you could use feta. Perhaps you could swap out the walnuts for some toasted pine nuts. Bulk up the salad with some boiled egg or shredded chicken. Raisins might be good here, too.
Whatever you do, serve the salad with some crusty bread so none of the yummy juices go to waste.
1 pound fresh asparagus, washed, tough ends removed, and chopped into pea-sized pieces
3/4 cup freshly grated Parmesan cheese
½ cup chopped walnuts, toasted
1/3 cup red wine vinegar
1/4 cup olive oil
1/4-1/2 teaspoon salt
1/8-1/4 teaspoon black pepper
Put the asparagus, cheese, and walnuts in a bowl. In a separate bowl, whisk together the remaining ingredients and then toss them with the asparagus. Cover and chill the salad for a couple hours before serving.
About one year ago: Asparagus with Lemony Crème Fraîche and Boiled Egg. Tis the season!