Spring came swooping in this year and crashed in our asparagus patch. The green shoots are flying up through the dirt and leaping for the sun almost faster than I can cut them.
Almost, I said. But not quite.

I've already skillet-fried a bunch and made a handsome dish of Korean beef with sesame-asparagus spears (served atop rice along with a runny fried egg). Then last night I tried a new recipe. It was a simple little thing, only calling for four ingredients (not counting the asparagus)—lemon juice, butter, salt, and pepper. The procedure was straightforward: after bathing the asparagus in boiling water, I drained them and then tossed them with the happy foursome. The result was both lush and sassy.
We ate the buttery-lemony asparagus alongside some pasta (shells, because that's what we had, but spaghetti would have been better) with Alfredo sauce, but they would go well with anything—roast chicken, meatloaf, potato gnocchi, you name it.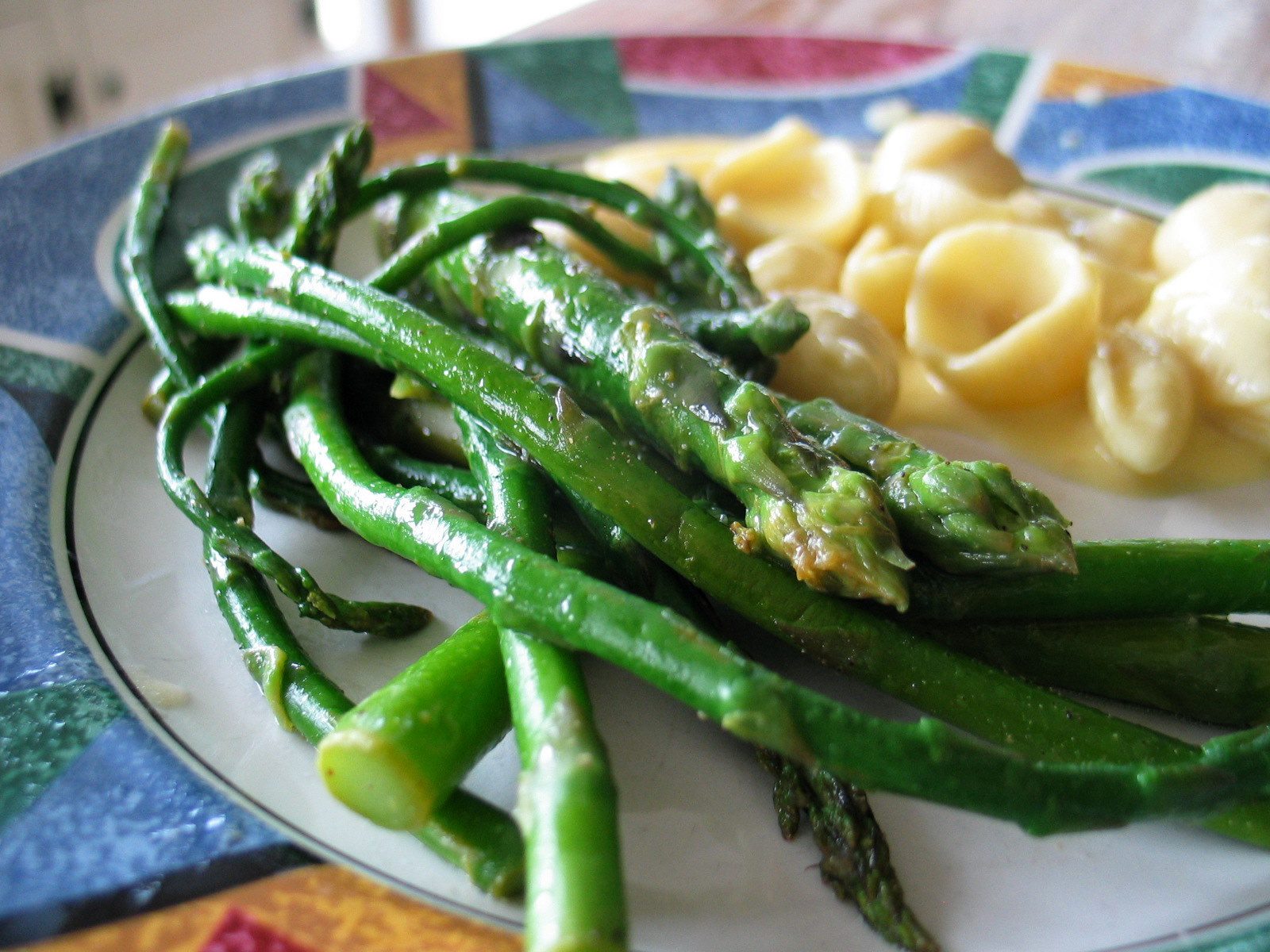 Seeing as we're at the forefront of an asparagus onslaught, I'd be interested to hear about your favorite ways for cooking these sprightly dudes (because, as we all know, they are most definitely dudes).
Go on, now. Do tell! I'm counting on you to help get me through.

Asparagus with Lemon and Butter
Adapted from the April 2004 issue of Gourmet magazine
The recipe calls for four pounds of asparagus, but I didn't measure mine. I probably used more like two pounds—thus the fluctuation in poundage.
For a slight change of pace, try browning the butter.
Got leftovers? Add them to a frittata , quiche, or stir fry.
2-4 pounds fresh asparagus, cleaned and trimmed
2 tablespoons butter, melted
1 tablespoon fresh lemon juice
1/4 teaspoon salt
1/8 teaspoon pepper
Cook the asparagus in boiling, salted water for 5-7 minutes, or until it is just starting to get tender. Do not overcook it! My asparagus is never uniform—it ranges from squat and porky to willowy-wispy. I remedy this situation by adding the thicker stalks to the boiling water first and then the medium-sized shoots. I save the skinniest ones till the very end.
When the asparagus is done, drain and return it to the kettle (or serving bowl). Add the seasonings and toss to coat. Serve immediately.
About one year ago: Cream of Tomato Soup.