The night before we left on our Tour de PA, I made a bowl of sweet and spicy popcorn, a late-night snack for my loverman and me. The recipe called for cayenne, Demerara sugar, and fresh rosemary, the last of which I had none, but even so, the popcorn was mighty impressive without it—salty, crunchy sweet, and lip-burning hot. It bit my tongue and branded itself into my head.

I didn't know that at the time, of course, but it soon became apparent because I couldn't stop thinking about it, really actually thinking about it. No matter what crazy fun was going on around me—twelve kids and two dogs zipping around the sofas at one house, the uncles and cousins and brothers belting out folksy music at deafeningly harmonious levels at another house, car rides with the cranky, sniveling kids between houses—no matter what glorious chaos was going on, when an image of that popcorn, all buttery and flecked with cayenne and Demerara sugar (oh my stars!), slipped into my mind, my eyes glazed over as I tossed the image about my brain, relishing every minute of my savory daydream. When you get home, I'd tell myself, you can make a big bowl of popcorn and eat it all. It gave me something to live for.
Not that I wasn't already living it up amongst our kindly kin, because I was, really and truly. We were treated like kings and queens, sleeping on the best air mattresses and feasting on all kinds of delectable goodies, from enchiladas and ham to hummus and chocolates to omelets and egg salad and mountains of fresh fruit. And baked French toast with hot blueberry sauce and cranberry relish and sweet-and-sour chicken and fruit salad and creamy tomato soup and tea ring. All you dear ones out there? If you thought I was acting a little spacey while I was at your house, now you know. It was the popcorn.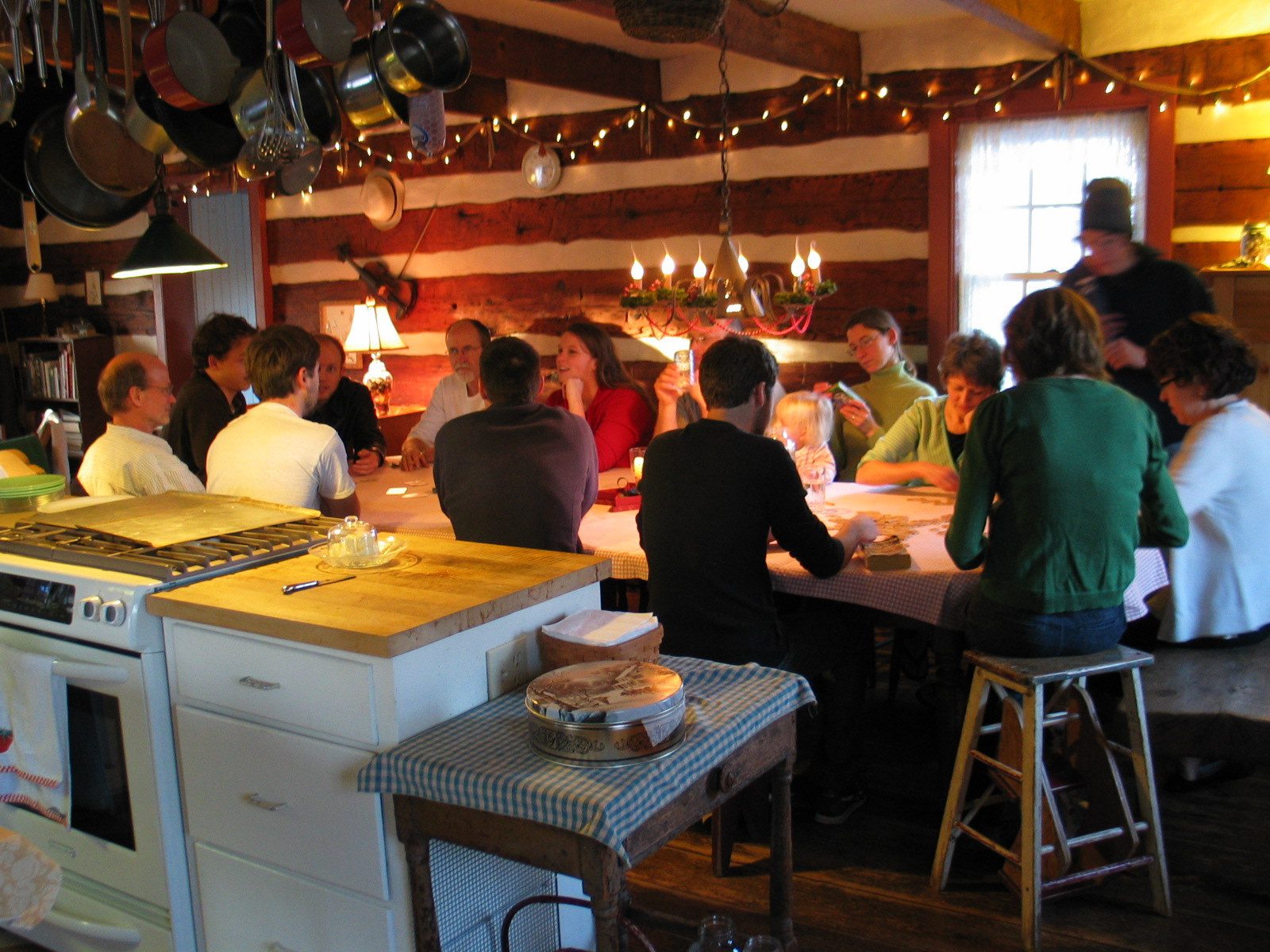 At one point in all the hoopla, when I was sitting around the impossibly long dinning table at my Aunt Valerie's, sipping coffee and sampling all of my cousin Zoe's pies, I happened to mention to Zoe about my latest food crush, which turned out to be pretty smart of me because she immediately said, "Oh my goodness gracious, I have loads of rosemary at home! You want me to bring you some when I come back over for supper?"
Um … yes? Absolutely and positively, YES! Please.
And that's just what she did. When she blew in the door that evening, she was carrying, along with the big baby on one hip and the little baby on the other hip (maybe I'm not remembering exactly right—her husband probably had one of the babies), several generous sprigs of rosemary, the pungent stems wrapped in dampened newspaper and nestled in a plastic bag.

When we got home Sunday night, and as soon as we started the fire, unpacked, and got the kids tucked into bed, I scurried out to the kitchen to make my popcorn supper. I figure that it's pretty darn close to a well-balanced meal that covers all the major food groups, what with the corn (carbohydrate), butter (protein), and cayenne and rosemary (vegetable).

The popcorn with the rosemary? Complete deliciousness. Mark my words. Mr. Handsome even said that of the two ways I had made it so far, he preferred it with the rosemary. And he's not an herby kind of guy. Mark his words.
I made it again yesterday afternoon, for photography purposes and to satisfy the craving that won't quit. The kids tried it, fussed about the heat, and then kept coming back for more, thus proving that it really does have addictive properties.
Consider that fair warning. I am hitherto and forthwith absolved of any and all consequences that may occur upon the making of this popcorn, such as visions, obsessions, and tingly lips.

Sweet and Spicy Popcorn
Adapted from Tara's blog Seven Spoons
The original recipe called for more cayenne, an entire half teaspoon. I dialed it back to a generous fourth teaspoon, but for you heat-loving people, feel free to crank it back up to full, lip-blistering power. Tara also said to sprinkle it with red pepper flakes, something I haven't done yet, but you may want to give that a shot, too.
Also, I made my popcorn in the air popper—stove top and microwave popcorn may not need quite so much butter. Then again, depending on your relationship with butter, you may want even more.
If you try other variations on this theme, please let me know. I'm kind of ga-ga over the stuff.
½ cup unpopped popcorn, popped
2-3 tablespoons butter, melted
2 teaspoons Demerara sugar
1 teaspoon finely chopped fresh rosemary
½ teaspoon salt
1/4-1/3 teaspoon cayenne pepper
In a small bowl, mix together the sugar, rosemary, salt, and cayenne pepper.
Drizzle the butter over the hot, freshly popped popcorn, tossing frequently. Sprinkle the spices over the popcorn and toss another time. Promptly devour.
About One Year Ago: In which I use a lot of words to make a fake confession.