The following post was written on the
evening of December 29, 2009.
This afternoon my mother sent me a quote from the Writer's Almanac…
[Paul Rudnick] said: "As a writer, I need an enormous amount of time alone. Writing is 90 percent procrastination: reading magazines, eating cereal out of the box, watching infomercials. It's a matter of doing everything you can to avoid writing, until it is about four in the morning and you reach the point where you have to write. Having anybody watching that or attempting to share it with me would be grisly."
Now I don't feel so bad about leaving my whole family—the house a mess, stacks of dirty dishes, tired and filthy kids, and with orders to pack for our big trip—under the pretext of needing some writing time and then coming to Panera and instead of writing, I'm sipping coffee, listening to some girls chattering away in French beside me, reading blogs, and staring blankly at the people who walk in and out the heavy, swinging doors. I won't be here at four, though; Panera closes at nine. Besides, I'm exhausted and I want to go to bed soon. But before I do that, I want to make popcorn when I get home. So I can't stay here too long.
And besides, I'm typing now, in case you didn't catch that one small fact.
Moving on to other things, this afternoon I did something I have never done before: I THREW A LOAF OF BREAD ON THE FLOOR AND THEN JUMPED ON IT.
I'm not joking! It was a revolutionary experience—cathartic, hilarious, stress-relieving, and anger-dissipating. I may make it a habit of stomping on a loaf of bread at least once a month. It would probably do wonders for my mental health.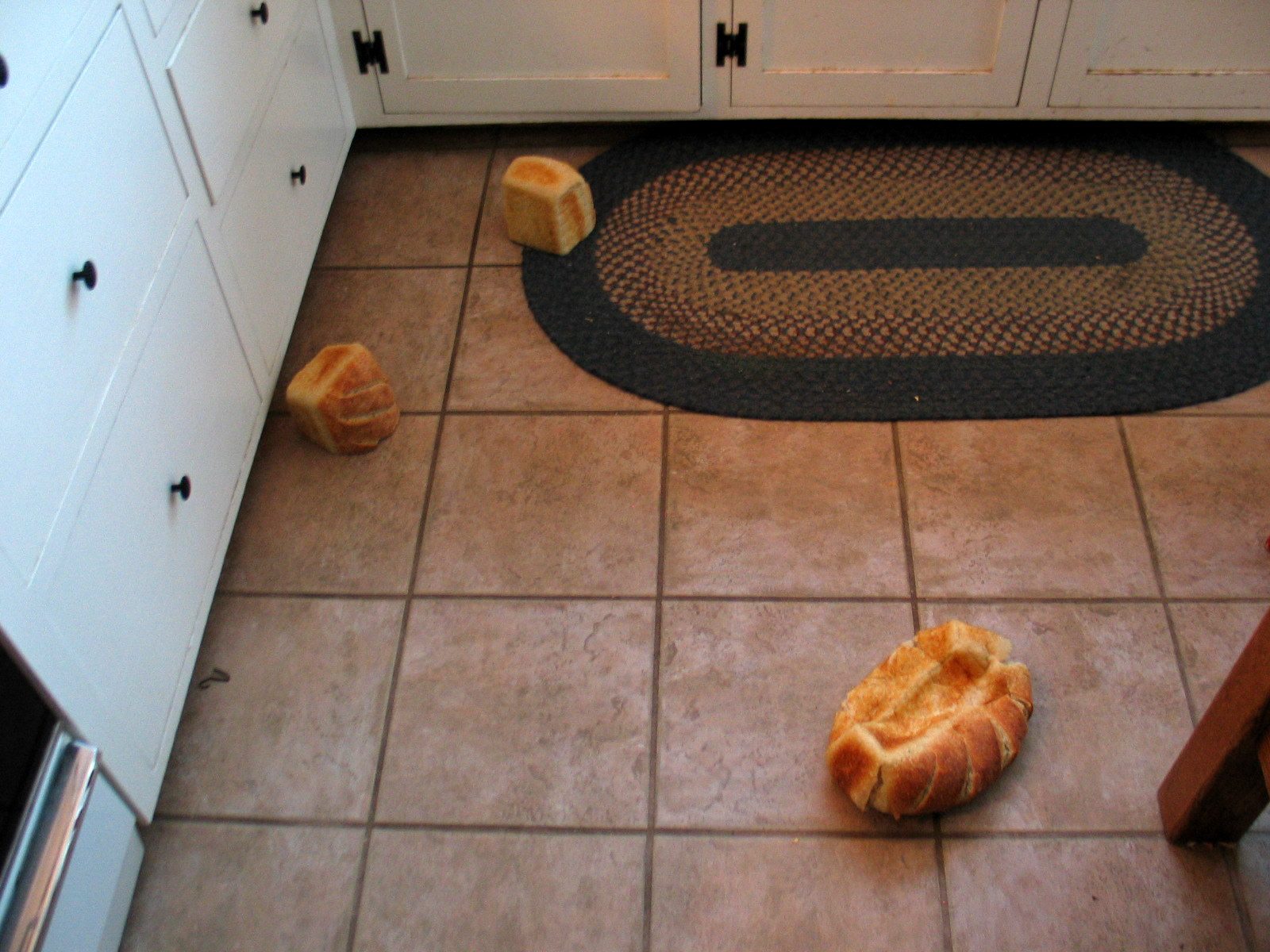 But let me back up and tell you the whole story; it's really not all that complicated. It started when I put two loaves of bread in the oven, set the timer for 25 minutes, and then told Mr. Handsome to turn the bread around when the timer went off and then bake it for another 5-10 minutes.
I said it twice. We made eye contact.
He does not remember that.
An hour later when I came downstairs, the bread was cooling on the table. It was pale. "What was I suppose to do when the timer went off?" Mr. Handsome queried anxiously. I told him, again.
"I knew I should've come up and asked you! I wasn't sure so I just took it out. I'm sorry."
It was just flour, salt, water, and wheat germ, but still.
The offending bread sat on the table for the rest of the afternoon till just before supper when I was cleaning up. I cut one of the loaves in two, and as I expected, the middle was doughy. "Alright, go feed them to the chickens," I said glumly to the hovering Mr. Handsome.
"It can't be that bad," he said. "It will be good toasted, I bet."
So he made toast. I took a bite. "Compost," I declared with finality.
"We can't just throw it away," he protested. "What's wrong with it, huh?"
"Are you crazy? You know what's wrong with it! What a stupid question."
And that's when I picked up the uncut loaf of bread and threw it on the floor with all my might. And then I jumped into the air and landed on it with both feet. I shrieked wildly, half shocked, half thrilled by my marvelously outrageous behavior. Then I picked up the remaining two halves and slammed them on the ground.
That settled it. The bread was officially compost.
About One Year Ago: Worthy nuggets from my therapist friend.