We have now endured three days of cloudy, rainy weather. Three looooong days. Tomorrow is supposed to be partly sunny, so despite the pitter-patter of rain on the tin roof, I'm doing laundry. I know I can't make it through another day of no sun. I'll get SAD. (I'm already going mad.)
The saving grace in all this is that my mother came yesterday morning and stayed through this afternoon. She shot me a note at the beginning of the week saying that she needed to do some rugging, so could she please come see us? My answer was, of course, yes. (I may be crazy, but I'm not stupid.)
See, my mother created this little arrangement: she comes to our house to do her rugging. She could do the rugging at her house easily enough, but this way she gets to help me out and spend time with the grandkids and get socialized, something she doesn't get that much of, squirreled up in her next in the West Virginia woods, perched on the edge of her seat at her desk in the study, writing day in and day out. She needs us, she really does. And we need her.
The maiden voyage of this cohabitation and rugging experiment took place a couple weeks ago. Mom showed up in her little white car (leaving dad to get to work and back via bike), her arms filled with bags and baskets. She had her pillow, a potted plant, a string of red globe lights to warm the room, and a lace cloth to spread over the top of our hideous (and extremely useful) industrial-sized filing cabinet. She brought library books, a tin of sugar cookies and blueberry bars, glass mugs for tea, and a plastic storage container filled with her rugging materials. When she left, after a couple days, the lights, plant, and doily stayed behind.

This week when she comes, there is a basket filled with new library books, really gross donut holes (by mom's admission), a jug of cider, material scraps for the beginnings of a crazy quilt, a wooden box of homegrown popcorn needing to be shelled, her laptop, and even a framed photo of my dad. Maybe she is afraid she will forget what he looks like in the thirty-odd hours she'll be at our place?
Our system is simple: Mom stays in her room and works on her rug, and the kids take turns going in to be with her, have their cider and donuts, and work on their sewing. She is instructing the older kids in the art of hand sewing, and the younger two get to poke pins into cloth and help roll up her strips of rugging wool.

It's really good my mother is teaching my children to sew because I abhor sewing; I always say that it makes me want to curl up in a fetal position and suck my thumb. This is rather sad, considering that my kids desperately want to learn and that they are good with their hands and probably have all the ability necessary to master the skill. Mom is doing her best to see that my kids turn out somewhat well-rounded. (My way of making them well-rounded isn't quite as noble—I just feed them lots of butter and cream.)

So in this way, the mornings pass, and then the afternoons and evenings (though this time we only had one of those). The days are filled with books and sewing and de-cobbing corn and learning poetry (she taught The Baby Nickel this one: Fishy, fishy in a brook / Papa caught him with a hook / Mama fried him in the pan / Baby ate him like a man) and all is well. My sister-in-law and I get to go on walks (Mom eagerly and graciously welcomes her fifth grandchild into her private quarters and grants us permission to disappear), and I cook and do the homeschooling thing and see that chores get done. It's a pretty sweet arrangement.

But then my mom does this really mean thing. She leaves.
And then it hits us: It's Friday afternoon, it's been raining for three days, we are sick of being cooped up, and we can't stand the sight of each other.
Almost before my mother's car disappears down the road, my life falls apart, and by the time Mr. Handsome comes home, I'm screaming and the kids are screaming and there are messes in all corners of the house but the biggest mess, by far, is me. And there is no supper in sight.
There is a salad though, a mixture of cabbage and apples and walnuts that I pieced together in my non-yelling moments. Because I can't take any more noise or the prospect of making supper, I do the smartest thing one can do in the circumstances—I eat a bowl of the salad.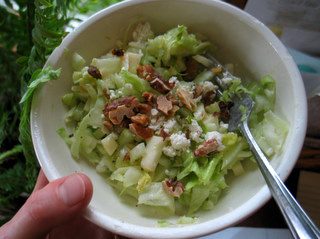 Then I eat another bowl. And then I eat another bowl. Then, and only then, am I ready to think about feeding anyone else. For them, I pull out leftover green beans, baked squash, and cornmeal whole wheat waffles. I fix a few quesadillas to bulk out the meal, and then we feast on butternut squash pie and whipped cream. Hallelujah and amen.
Mom, can you come back on Monday?

Chinese Cabbage and Apple Salad
Adapted from Deb at Smitten Kitchen
Deb's recipe calls for savoy cabbage, but Mom brought down one of Dad's Chinese cabbages, so I used that. It was perfect: crunchy, slightly peppery, and juicy-sweet.
I was doubtful that the dressing would be any good (it seemed like too much olive oil), but it was absolutely fabulous.
I used feta cheese, but I think some matchsticks of sharp white cheddar would be even better.
1 head of Chinese cabbage
2 apples
2 tablespoons cider vinegar
1 tablespoon lemon juice
½ cup olive oil
2 tablespoons sour cream
½ – 1 teaspoon salt
1/8 – 1/4 teaspoon black pepper
½ cup English walnuts
½ cup feta cheese
Separate the stalks of cabbage, wash them and pat dry, and slice them thinly (but roughly). Place cut cabbage in a mixing bowl.
Peel and core the apples, and cut them into matchsticks. (Put apple halves on a cutting board, cut side down, and slice thinly. Then slice thinly in the other direction. Voila, you have matchsticks.) Add the apples to the cabbage.
Toast the walnuts in a 350 degree oven for about ten minutes, stirring frequently, or until golden brown. Chop and set aside.
To make the dressing: measure the vinegar, lemon, salt, and pepper into a blender and give it a whirl. Add the olive oil, a little at a time, blending after each addition. Add the sour cream and blend briefly. Taste and adjust seasonings.
Pour the dressing over the cabbage and apples and toss to coat. Add more salt if needed.
Sprinkle the salad with the feta and walnuts, and grind some more black pepper over top. Serve immediately.
About One Year Ago: Why I Homeschool.