Last week Mr. Handsome finished up a remodeling job over in West Virginia. This is nothing new (though the distance was unusual); he does work like this all the time—roofing, repair work, renovations—but this job stood out above the others because of David and Jody, the homeowners.
David and Jody treated my husband and his co-workers like royalty, visiting with them, feeding them homemade pastries, keeping a pot of coffee always at the ready, and even cooking them the occasional mid-day feast complete with multiple side dishes and a dessert.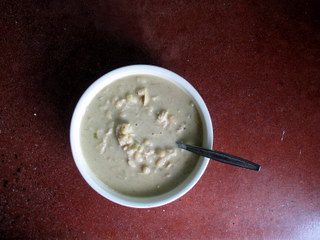 Not only did David and Jody think of their workers, they thought about their workers' families. One day Mr. Handsome came home with a plate of brownies "for the children," and just this last week there was a half-dozen freshly made lemon-poppy seed muffins. That bottle of homemade elderberry wine that I mentioned? From David and Jody. And on his last day of work there, Mr. Handsome handed me a white business envelope, a check for a generous amount stuck inside, "so you can take your wife out for dinner," David had explained. It was the second time that Mr. Handsome has been tipped since I've known him.
On the days when they got fed a hot lunch, Mr. Handsome came home chattering about what Jody had cooked for them. He actually waxed poetic over some of her dinners, his fingers grasping the air as he tried to conjure up the appropriate description, and he flat-out raved over a chicken chili she made them. I listened politely, not sure if he was thrilled over the chili itself, or if it was just that he was blown away because a customer was thoughtful enough to prepare them a meal (I didn't care if they fed him scrambled eggs and toast—I was just happy that someone was taking care of my man). But the next day when Mr. Handsome came home and handed me the recipe for the chili, I decided I'd better listen up. Raving about something is one thing; following through and coming home with the recipe is another thing altogether.

I made the soup and it was delicious indeed—rich, creamy, satisfying, and fancy enough to be a company soup. I'll tell you about it in a minute, but I first want to say a couple other things about these special customers.
Maybe it seems like a normal, common sense thing for homeowners to offer their contractors some hospitality—these men are stomping around your house with nail guns and circular saws after all—but it isn't. Many places where Mr. Handsome and his co-workers are employed, the homeowners don't even offer them the use of their bathroom, and in the really bad cases the customers lock the doors to their houses when they leave for work in the morning (in those situations, obviously, the guys are doing roofing work or building outside additions)—if the guys are lucky, there are some trees nearby where they can pee, but sometimes they have to drive to find a public restroom.
Needless to say, David and Jody's hospitality was refreshing, encouraging, and flattering. Mr. Handsome said that when the remodel was finished, Jody had tears in her eyes, so excited was she over her new sewing room.
Now, for the soup.

Chicken and White Bean Chili
Adapted from Jody's recipe; she, in turn, got it from Epicurious
The original recipe calls for about five times as much heat as I have in here. Crazy hot, if you ask me. (Which I would probably enjoy, given the opportunity, but I have to think of other people besides myself sometimes.) Play with the spices and chilis and do what works for your family.
This soup doesn't have much color—it is a "white" soup, after all—but if you want to increase the eye appeal, add some minced green and red pepper when you sauté the onion. Some diced carrot would be nice, too, I think. The original recipe also calls for a green chili (or tomatillo) sauce to be drizzled on top; cilantro (or parsley) pesto might be another option.
1 pound dried small white beans
4 tablespoons butter
2 large onions, diced
1/3 cup flour
4 cups chicken broth
3 cups half and half
4 cups cooked chicken, shredded
1 tablespoon chili powder
1 canned jalapeño, minced
½ teaspoon hot pepper sauce
1 tablespoon cumin
2 teaspoons salt
½ teaspoon white pepper
1 ½ cups grated white cheese such as Monterey Jack or medium cheddar
1 cup sour cream
fresh cilantro, chopped
Soak the beans overnight. The next day, drain them, put them back in the soup pot, cover with water and simmer till almost tender—about an hour. Drain.
Melt the butter in a large kettle. Add the onions and sauté till tender. Add the flour and stir well. Whisk in the chicken broth and half and half and simmer for about ten minutes. Add the beans, chili peppers, chili powder, cumin, hot sauce, salt, and white pepper and simmer for another twenty minutes. Add the chicken, grated cheese and sour cream and heat through, but do not boil. Season to taste.
Ladle the soup into bowls and garnish with cilantro.
Yield: Quite a bit.
Updated November 27, 2010: Made it with less chicken and half-and-half, no peppers, half the sour cream, and a bit of heavy cream. Added chopped spinach, a cube of cilantro (or else a cube of plain, pureed cilantro—not sure which, thanks to unclear labeling), and smoked salt. Served with skillet cornbread. Delicious.
One Year Ago: Peanut Butter Cream Pie.