A couple weeks ago when we were sick, going through a hard time, or getting back from a trip—I can't remember which—my brother's family brought us supper and ate it with us. The meal consisted of green beans fresh from the garden, coleslaw, sweet onion corn bake, and chocolate cake with strawberry sauce. Of all that delicious food, I was most excited over the corn bake. I couldn't quite tell what it was. Cornbread? Creamed onions? Baked corn? It was all those things but in one dish, the flavors and textures perfectly melded into a new concoction. I demanded the recipe.

I made the corn bake two different times with drastic alterations. My goal was to figure out how to make it without using the called-for Jiffy Cornbread Mix and can of creamed corn while still tasting as delicious as what my sis made for us.
The third time around I made it for a Sunday potluck. We were getting kind of sick of eating pans of not-quite-perfect corn bake, and the kids didn't really like it anyway, so I figured I would make it one last time, take it to the potluck, and then be done with the whole thing (for the present; not forever). Except that at the potluck it all got eaten before I even got through the line.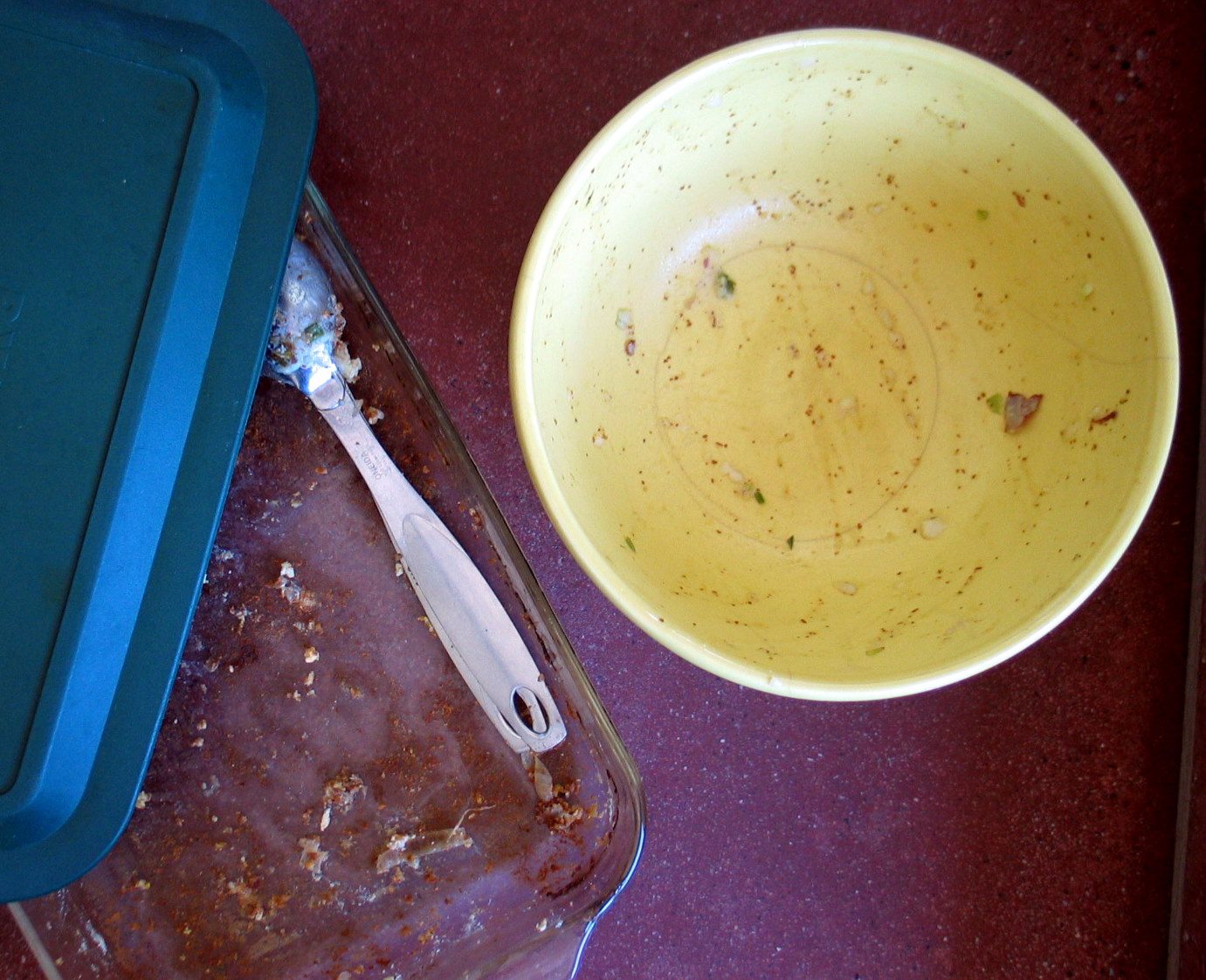 Potluck remains. The bowl contained a potato salad that I intend to tell you about soon.

I felt like crying, and I did do a little dramatic whimpering, but then I sucked it up and made it for the fourth time.

Here you go. I hope you appreciate my efforts. (And even if you don't, I do because from now on I will be able to make this corn bake whenever I want to, no experimentation necessary.)

Sweet Onion Corn Bake
The original recipe is quite different from what I make, so I'm calling the recipe My Own Creation, though the recipe can be traced from my sister-in-law, and from her to my mother, and from my mother to I have no clue who.
The recipe called for Vidalia onions, hence the reason it is called a "sweet onion" bake. I use regular onions, and I think any kind would be just fine, though Vidalia onions will make the final product a bit sweeter, I guess. (Not that the dish needs to be any sweeter. I think caramelized onions of any ilk are totally sweet.)
It is very important to fully bake this casserole—if it is at all under-baked, the center tastes "wet." If your oven tends to burn things, it might be wise to reduce the oven temperature to 325 degrees after the first twenty minutes of baking time and keep the casserole in the oven longer.
2 giant onions, or 3 large
3 tablespoons butter
1 cup sour cream
½ cup fresh parsley, chopped
1 cup grated sharp cheddar cheese
1/3 cup milk
½ cup yellow cornmeal
½ cup flour
2 tablespoons sugar
3/4 teaspoon salt, divided
2 teaspoons baking powder
2 tablespoons oil
1 egg, beaten
2 tablespoons canned green chilis (or 1/8 teaspoon cayenne pepper)
1 ½ cups corn, fresh, frozen, or canned
2 tablespoons heavy cream
½ cup, packed, grated Gruyère
For the sweet onion part:
Thinly slice the onions and then quarter the slices. Saute them in the 3 tablespoons butter until softened and translucent, about 15 minutes, taking care not to brown them. Set aside to cool.
In a medium-sized bowl, stir together the sour cream, cheddar cheese, 1/4 teaspoon salt, parsley, and milk. Add the cooled onions and stir well. Set aside.
For the cornbread part:
In a small bowl stir together the corn, chilis, and 2 tablespoons cream. Set aside.
In a medium-sized mixing bowl, stir together the cornmeal, flour, sugar, baking powder, and ½ teaspoon salt. Partially stir in the beaten egg and 2 tablespoons oil; the mixture will be very dry. Add the creamed corn; the mixture will no longer be very dry. Spread the corny cornbread in a greased 9 x 13 pan.
Top the cornbread with the sweet onion mixture and spread it with a spoon so that the cornbread layer is completely covered with the onion-cheese layer. Sprinkle the Gruyère over all.
Bake the casserole at 350 degrees for at least 45 minutes, and more like 60, if you can pull it off without burning the whole thing. When done, the casserole should be quite brown and very well set.
Serve warm.
About One Year Ago: Fort Construction. It's still not done. Apparently that's not the point.