After my chard spell this spring when I ate it till it was coming out my ears, I pretty much went cold turkey on the stuff. I totally ignored it for the months of July, August, and September and let it do its own thing out there in the garden, which entailed growing small, fresh leaves in the stalk centers while the large outside leaves turned brown and developed holes. It's not very exciting, the life of chard.
I don't know what happened last week, but all of a sudden it hit me: I needed to eat chard, lots and lots of chard. I had it for supper one night, a big ol' pile of it stirred around in a kettle with a bit of butter and some tempero and then topped with grated Gruyère. Food for the gods, that's what it was; it made my heart sing. I had the same thing again for lunch the next day, but for supper I got creative and put it into a soup with fresh ginger.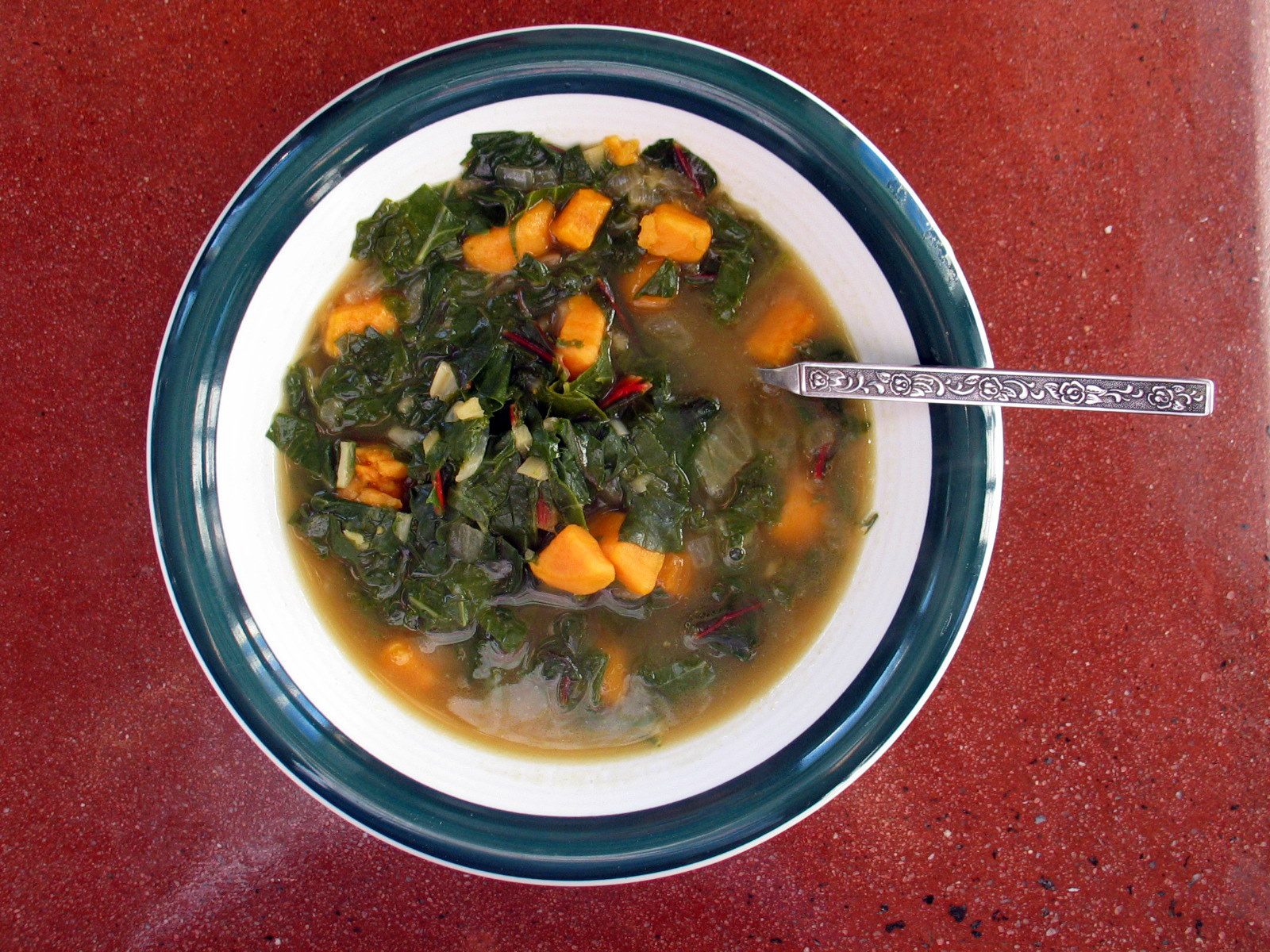 I wasn't actually planning on making that soup, at least not right then. I had my heart set on a big pot of lentil sausage soup, but when I added the package of bulk sausage to the kettle of chopped onions and garlic, I discovered the meat was bad, so sad. After chucking the pot's contents and taking a couple minutes to adjust to the idea of supper without lentil sausage soup, I recalled the green soup recipe I had read about on Heidi's blog. I had already bought the ingredients for it when I went to town earlier that week, so it would be only a simple matter of thawing the chicken broth, chopping the veggies, and simmering the soup. Simple enough, I figured.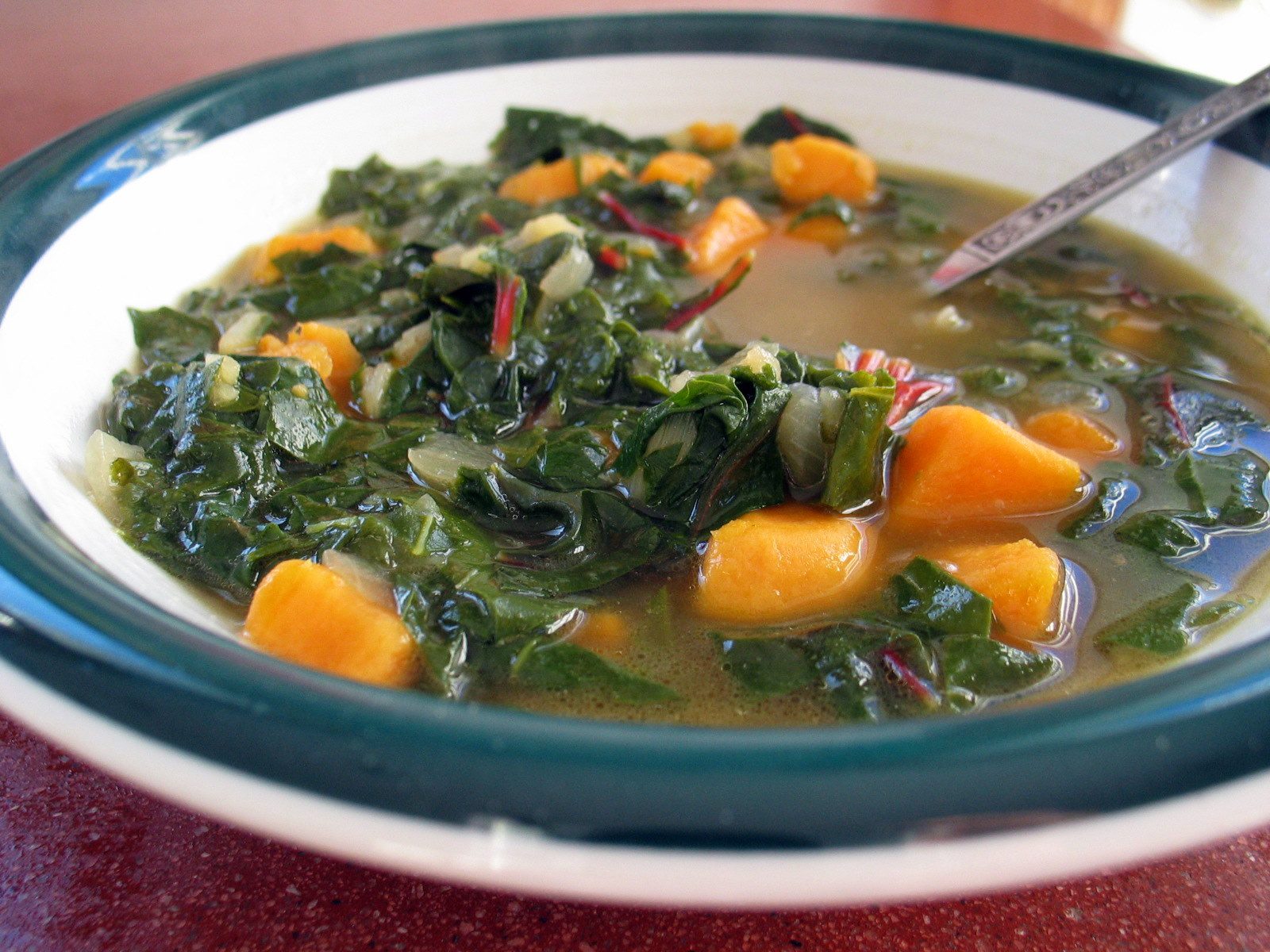 I could not have been more thrilled with the results. The greens were tender-soft, the ginger gave the soup a sweet bite, the soft chunks of sweet potato added color and heft, and the broth whispered soothing, calming words to the low-grade cold I had been battling. I hoarded the leftovers, not wanting to share a drop with anyone else, which was a relief on their part, I might add, seeing as no one else in the house cared for the soup. Even so, I still felt possessive.
Green Soup with Ginger
Adapted from 101 Cookbooks
Heidi said that pureeing the soup was an option, so I tried it with a small portion. Mr. Handsome and the kids liked it better that way, but I much preferred it in its un-blended form, the veggies floating free, the textures and colors all distinguishable and, in my opinion, the better to be savored. However, if you don't care for the texture of cooked greens, then I suggest you puree it. But taste it before you blend it up—you may be surprised.
Replace the chicken broth with vegetable for a vegetarian soup.
1 large onion, minced fine
2 tablespoons olive oil
1 large bunch of chard, chopped (leaves washed and the bigger stalks removed)
8 ounces spinach, fresh or frozen, roughly chopped
3 tablespoons of minced fresh ginger
4 cups chicken broth
2 medium-sized sweet potatoes, peeled and cubed (fairly small)
1 teaspoon salt
black pepper
2 teaspoons fresh lemon juice
Caramelize the onion in the olive oil—this will take about thirty minutes.
While the onion is caramelizing, put the broth, greens, ginger, potato chunks, and salt in a soup pot, bring it to a boil and then reduce the heat. Allow the soup to simmer, covered, for about 30 minutes, until the vegetables are quite tender. If desired, thin the soup with some water. Add the caramelized onion, and black pepper and, if needed, more salt (I used another half teaspoon). Stir in the lemon juice and serve.
About One Year Ago: A little story involving both cornbread and money.