So I get this email from my girlfriend asking if I use the hot-water-bath method or the pressure canner method to can my tomatoes and I tell her that I use the hot water bath.
And then a couple days later I get another email from her, this time asking if I do them raw pack or stewed.

I haven't a clue, to be honest, but I don't tell her that. In fact, I don't tell her anything at all, preferring instead to let her think the reason I haven't gotten around to answering her email is because I'm too busy, rather than the cold, hard truth which is that I'm avoiding the question since I don't have a quick answer. I'm a good friend like that—skipping out when the going gets tough.
But I will now redeem myself by commencing to give a fully complete, well-rounded, all-encompassing (go redundancy!) answer to the Mater Question, as my girlfriend calls it, in the form of an entire (short) post. Maybe I'm not such a bad friend after all?
One more thing to enhance the confusion factor: I call these tomatoes "stewed" but I don't actually stew them before canning, so maybe they're not stewed. Does that mean I'm lying when I call these "stewed tomatoes?"

In any case, I think it's an easy-peasy way to put up tomatoes.
But then again, maybe the rest of you have easier-peasier ways? If so, please enlighten me (and my girlfriend).
Stewed Tomatoes, Canned
High-acid (red) tomatoes, such as Big Boy, Better Boy, Roma, etc.
Salt
1. Wash the tomatoes.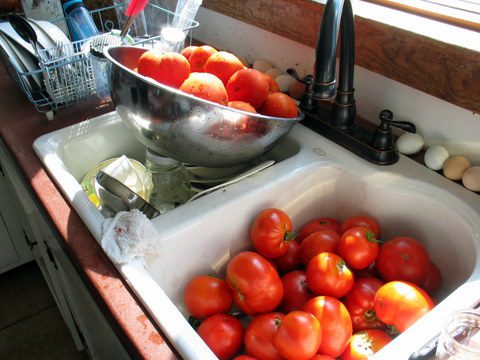 2. Blanch the tomatoes, which means:
Fill a large kettle with four inches of water and bring it to a boil. Drop enough tomatoes into the kettle to cover the bottom of the pan.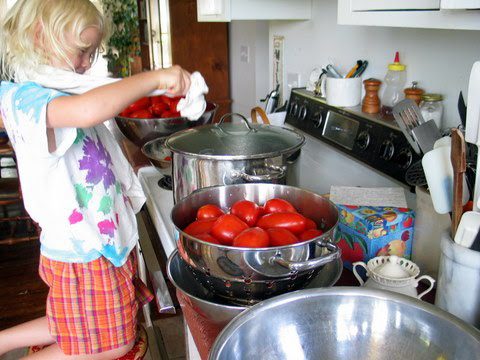 Wait for thirty to sixty seconds, or until you see the tomato skins starting to split. Using a slotted spoon, transfer the tomatoes from the boiling water to a colander.

Repeat the process (bringing the water back up to a boil between batches) until all the tomatoes have been blanched.
3. Remove the skins, which means:
Once the tomatoes are cool enough to touch, cut off their tops and any bad parts (use your sniffer to make sure you sliced all the yuck out—if you slice off a bad spot, make sure to rinse your knife before moving on to another tomato) and slip off the skins.

4. Chop the skinned and scalped tomatoes into the desired size. Some people (like my mother) just chunk in the peeled tomatoes, but I prefer to chop mine up into smaller pieces because they are easier to use this way (just pop the top and dump) and less offensive to children.
5. Fill your jars. At this point you get to decide what juice-tomato ratio you would like to have—for a more tomato-packed jar, leave out much of the tomato juice, and for a more juicy tomato-y jar, add less chunks and more juice. (That was probably way too obvious, but I felt compelled to say it anyway.)
6. Add salt—one teaspoon per quart and one-half teaspoon per pint—wipe the lip of the jar, put the lids on, and screw on the rings.
7. Process the jars of tomatoes in a hot water bath—ten minutes at a gentle boil.
About One Year Ago: So why did I marry him? Thirteen years and counting!