Tomatoes are in season, and so is basil. You know what that means, don't you? That means it's time to make cheese. What? Not what you were thinking? Well, shoot. You better think again.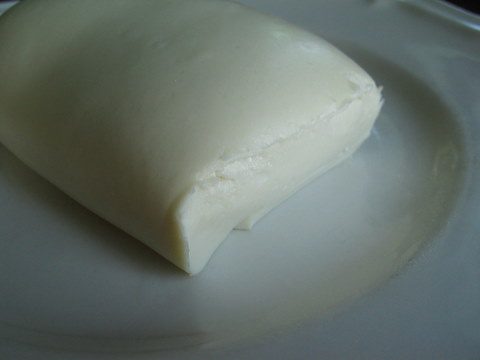 I realize that also in season are corn and beets and green beans and peaches and nectarines and apples and chard and raspberries, but let's forget about those for the time being, okay? When tomatoes and basil are flourishing, no matter what else is flooding your kitchen and no matter how many hours you've been standing over a hot stove, the steam making your hair poof out to China and your feet so sore that you feel like your heels have become imbedded in your knee caps, you simply have to make cheese. It's one of those laws, just like "an object in motion tends to stay in motion," "for every action there's an equal and opposite reaction," "company and fish are alike—after three days they start to stink," and "when it rains it pours." When you have tomatoes and basil you must make cheese. It's a law. Do I make myself clear?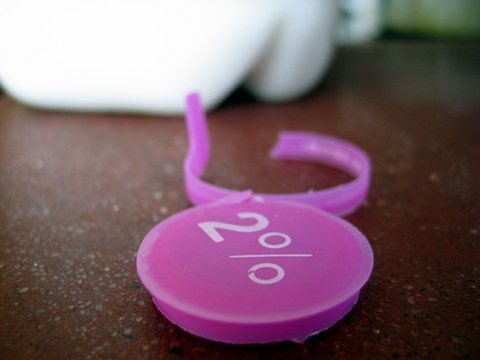 It's really no big deal. I say that—"It's really no big deal"—all the time and it makes Mr. Handsome cringe. For example, take this real-life incident: we're supposed to be getting ready to turn four bushels of apples into applesauce and he comes out to the kitchen and finds me washing a pile of beets and he says, "Wha—?" and I say, "The beets needed to be done, so I thought now would be a fine time—it's really not a big deal." And then he hits the roof and jumps about and rants and raves while I go about finishing what I started and then we get on with the sauce, my "no big deal" project only setting us back about thirty minutes.
And that's all that you'll get set back when you make this cheese—a half an hour to make the cheese and about five more minutes to wash up all the kettles.
What are you waiting for? (If you don't look out the window at your garden, it's not there. That's another one of those laws, you know.)

(Back to that true-life example, I cooked the beets, but didn't get around to pickling and canning them till the next day because if I had done that and 102 quarts of applesauce in one day, it might have become a big deal, and I certainly didn't want to run the risk of not staying true to my word.)
Fresh Mozzarella
I first learned to make this cheese from Barbara Kingsolver's must-read Animal, Vegetable, Miracle, but another good cheese making book that I have referred to with much frequency is Home Cheese Making by Ricki Carroll.
You can make this cheese from any kind of milk—skim, 2%, or whole (do not use ultra-pasteurized)—but I recommend starting out with whole milk as it makes a creamier, tastier cheese.
Also, you need a thermometer for this recipe, but once you make it several times you can abandon all scientific paraphernalia and go by feel.
Note: If you live in the area, I would be glad to sell you some of my rennet. Last spring when I was on a big cheesemaking kick I ordered an entire pint of the stuff from The New England Cheesemaking Supply Company. I don't know what I was thinking.

1 gallon milk, preferably whole
1/4 teaspoon liquid rennet
1 ½ teaspoons citric acid
1 ½ teaspoons cheese salt, or another non-iodine flaky salt
Pour the gallon of milk in a large, thick-bottomed kettle, attach the thermometer to the side of the kettle, and heat the milk on medium-high heat.

While the milk is heating, dissolve the citric acid in 1/4 cup cool water. In another small bowl, dilute the rennet in another 1/4 cup of cool water. Set both bowls aside, taking care to remember which is which.
When the milk reaches 55 degrees, slowly stir in the dissolved citric acid, then leave the milk alone till it reaches 88 degrees (the milk should be curdling) at which point you can slowly stir in the diluted rennet. Put the stirring spoon down and watch the kettle closely. Within a couple minutes you will see the milk solidify—the curd pull away from the edges of the pot and a yellowish whey will form, surrounding the curd. It is like magic; gently touch the top of the silky smooth curd and give a little whoop of joy.
See the curd ringed by the whey?

When the temperature reaches 100 degrees (I move the thermometer around, alternating between inserting it in the center of the curd and then in the surrounding whey, since the kettle's contents don't all heat up at the same rate), take the kettle off the heat. Allow the curds and whey to sit undisturbed for another ten minutes.
Now comes the fun (and messy) part: getting all the whey out of the curd. Ladle the soft, jiggly curd into a large glass (microwave-safe) bowl.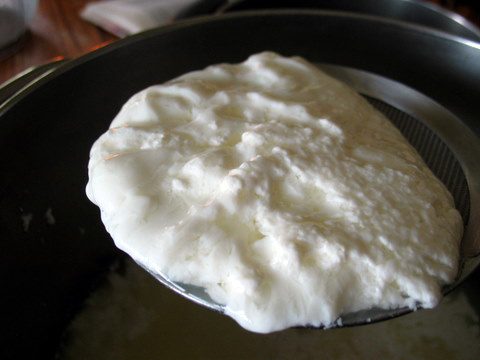 Once you have all the curd in the bowl,
The bowl of wet curds and the kettle of whey
carefully tilt the bowl, using one hand to gently press on the curd while the whey trickles away (hey-hey).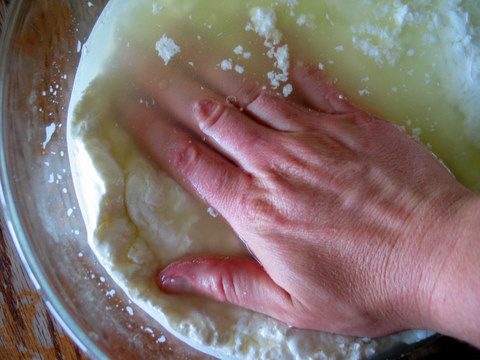 Put the bowl of curd in the microwave and heat it on high for one minute. Using your hands (or a spoon, if your hands are sensitive to heat), press on the curd to release more whey. Repeat the heating, pressing, pouring-off process one more time.
Note my red hand, and yes, I scald it every time I make cheese. It makes the cheese taste better.
Just kidding (about the tasting-better part—the scalding part is absolute fact).
Is there still more whey? Then heat up the curd again, this time for only 30 seconds.

Once all the whey has been extracted, add the salt and begin to knead the cheese until it is smooth and shiny and elastic.

If it gets too hard, reheat it for 20 seconds at a time. Stretch the cheese into a rope to see if it has reached the proper stretch-ability-factor—once it can form a rope (one to two feet long) without breaking, the cheese is done.

Form the cheese into a ball and set it on a plate. Now you can slice it and eat it, cook with it, or wrap it in plastic wrap and store it in the refrigerator.
Yield: A ball of gorgeous mozzarella, weighing in at a little less than one pound.

About One Year Ago: Dehydrating Food.