A couple nights ago I went shopping, just for a little bit, and guess what I found? A tart pan, yes! Of course I had to break it in right away, so the next morning I quick whipped up a nectarine tart (it helped that I had two disks of butter pastry chilling in the fridge). Pretty, no?

It's actually not exactly what I was looking for. I was wanting a springform tart pan, but I think that for now this will do quite well, especially seeing as it only cost five dollars.

It's a good thing I had that dough chilling in the fridge because I don't think I would've had a chance to make that tart otherwise—that same morning I needed to make salsa, and do it real quick 'cause I was leaving in the afternoon for another one of Yo-Yo's doctor appointments and would be gone for the rest of the day. But by getting up early and chopping veggies while the sky was still dark, I managed to get both the tart and two batches of salsa made in one morning. Whoo-hoo!

We go through a lot of salsa. Two years ago we all met at my parents' house for a salsa-making party (I bulked up our paltry few tomatoes with some cases of Romas from a local farmer) and turned out a whopping 51 quarts of the bright red, sweet-and-mildly-spicy condiment. I didn't need to make any salsa last year, but we've been out for a little while now and we're missing it, so I want to make plenty this year.
Mr. Handsome blanching the tomatoes. I chopped, I mean
cropped
, his head off since he had a slightly addled expression plastered all over his face…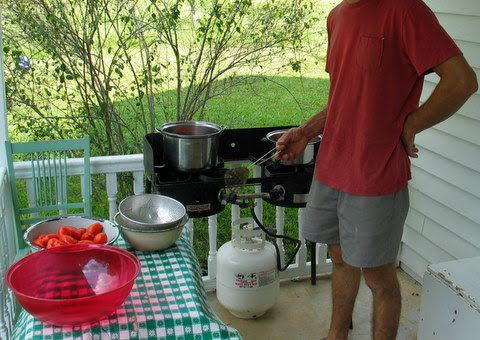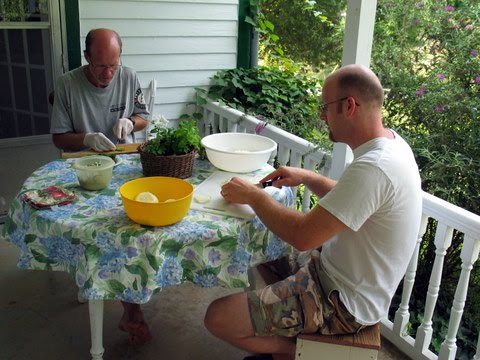 It's my style to go whole hog when undertaking a project (Four bushels of apples to turn into sauce? Okay, let's do it ALL today and knock ourselves out—what fun!), but I have to put the tomatoes up as they come in, so it's a little bit here and a little bit there. It wears on me, the tomatoes day in and day out, but it all adds up. I'm not complaining (too much).

Valerie's Salsa
This recipe comes from my—you guessed it!—Aunt Valerie.
Because the vegetables aren't cooked prior to canning them, this is a very fresh-tasting salsa. Even after the hot water bath, the salsa is crunchy and light, mildly spicy with a touch of sweet. (If you prefer a hotter salsa, simply add more jalapenos or some cayenne pepper.)
One-half bushel of tomatoes is enough for a double recipe.
14 cups peeled (see note below) and chopped Roma tomatoes, or another paste tomato
3 cups diced onions
1 ½ cups diced green peppers
1/4 cup minced jalapenos (about three peppers)
1/4 cup minced garlic cloves
3/4 cup Therm Flo (or Clear Jel)
3/4 cup sugar
1 cup cider vinegar
2 cups tomato sauce
4 teaspoons chili powder
1 ½ teaspoons garlic powder
1 ½ teaspoons cumin
3 tablespoons salt
Combine the tomatoes, onions, peppers, and garlic in a large mixing bowl. Set aside.

In a heavy-bottomed saucepan, stir together the sugar, Therm Flo, and spices. Add the vinegar and tomato sauce. Bring the mixture to a boil, stirring constantly. When it is very thick and bubbly, add it to the chopped veggies and stir to combine. Ladle the salsa into jars, wipe the rims, screw on the lids and process in a hot water bath—15 minutes for pints, and 18 minutes for quarts—at a gentle boil.
Yield: 5 quarts
Note on how to peel tomatoes:
Wash the tomatoes.
Fill a large kettle with four inches of water and bring it to a boil. Drop enough tomatoes into the kettle to cover the bottom of the pan. Wait for thirty to sixty seconds, until you see the tomato skins starting to split. Using a slotted spoon, transfer the tomatoes from the boiling water to a colander. Repeat the process (bringing the water back to a boil between batches) until all the tomatoes have been blanched.
Once the tomatoes are cool enough to touch, cut off their tops and any bad parts (use your sniffer to make sure you sliced all the yuck out) and slip off the skins.
About One Year Ago: Cold Curried Corn Soup. The soiree is coming up in just several weeks (!); I wonder what perfectly doctored foods we'll get served this time around…