So, how about another chard recipe?

The thing about chard is that it keeps growing and growing and growing. Barbara Kingsolver said (in her book Animal, Vegetable, Miracle) that if she had to move to a retirement village and could only grow one vegetable (or maybe it was only one plant), she would choose Rainbow Swiss Chard. I think she might be on to something (actually, I think she's on to a lot of things, but I won't go into that right now): it's pretty in a leafy, green way, it produces excessively and continuously, and it is downright infested with nutrients.
The other day (there's that phrase again) I clicked on Epicurious and skimmed through the chard recipes, searching for new flavor combinations. It appeared that golden raisins and chard are a standard configuration, and nuts—pine nuts and almonds, especially—are often in attendance.
First, I attempted a pie with chard, pine nuts, golden raisins, and orange zest, and, right before serving, a dusting of confectioner's sugar. It was good (Mr. Handsome said he though I was on to something) but seemed lacking—I think it might be improved by some ricotta and caramelized onions. Maybe I'll try it again later.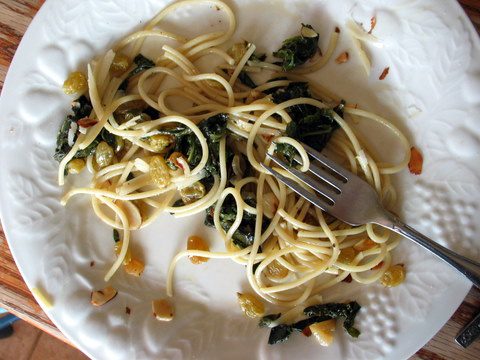 The second recipe I made was much better, I thought. It was a spin on the chard-golden raisin-nut trio, with some caramelized onions and Parmesan cheese thrown in for excitement. I served it over spaghetti, and the following day the leftovers were eaten atop soba noodles, but it would be equally great over brown rice.
Spaghetti with Swiss Chard, Raisins, and Almonds
Adapted from a recipe on Epicurious that originally came from the February 2008 issue of Gourmet.
The original recipe called for a quarter teaspoon of Spanish smoked paprika. I didn't have any, so I left it out (and sprinkled in a little regular paprika which did pretty much nothing). If you have the smoked paprika and give it a try, let me know how it turns out. If it's good, I might have to go out and buy some.
I never weigh my chard; I simply fix a large bowl of the chopped leaves and call it good. If I were forced to measure, I would guess I used about a heaping gallon of leaves, loosely packed.
1 onion, peeled and sliced into thin rings
2 tablespoons olive oil
2 pounds Swiss chard, center ribs discarded and leaves roughly chopped
½ cup golden raisins
½ cup water
1/4 cup chopped raw almonds
1 teaspoon butter
½ cup freshly grated Parmesan cheese
salt and pepper, to taste
1 pound spaghetti
Melt the butter in a small skillet and add the almonds. Stir them around until they are golden brown—it should only take a couple minutes. Set them aside.
In a large soup pot, saute the onions in the olive oil for about ten minutes, or until they are starting to brown. Add the chard and toss gently until it has wilted. Add the raisins and the water, put the lid on the kettle, and cook for 7 to 10 minutes over medium heat, stirring occasionally. Season with the salt and pepper.
While the chard is simmering, cook the spaghetti according to package instructions.
To serve, pile a scoop of chard on top of some spaghetti and sprinkle it with cheese and nuts.
Variation: In place of the spaghetti, use cooked brown rice.
About one year ago: Homemade Yogurt.