Every year I plant a few cabbage plants, just because that's what you do when you have a garden. I don't do anything with my cabbage, no freezing or canning or sauerkraut-making, but I like to have it on hand to eat, though I usually don't end up really eating all that much of it. No one else in my family is crazy about dishes that star the bald-headed veggie, and most days I'm not one to cook extra food just for myself, but for some odd reason I persist in the belief that cabbage must be planted every year, picky eaters or no.
This year my cabbages are looking rather pathetic even though Mr. Handsome sprayed them a couple times—they are riddled with worms, the outer leaves falling away, the bugs spilling out. They look more like something that belongs in the compost pile than something that I would want to bring into the house.
But the other day I went out and chopped off the biggest head. I cut away the outer leaves, and then I cut away some more outer leaves, and soon enough I had a fairly decent firm head of worm-less cabbage. I sliced it up, added some onion and a carrot, chicken broth, olive oil, red pepper flakes, and salt, and then I braised it for two hours, at the end of which my oven element caught on fire so I missed out on the final fifteen minutes of high temperature braising time. But that was okay, since the bottom of the cabbage had already turned all caramel-y sweet.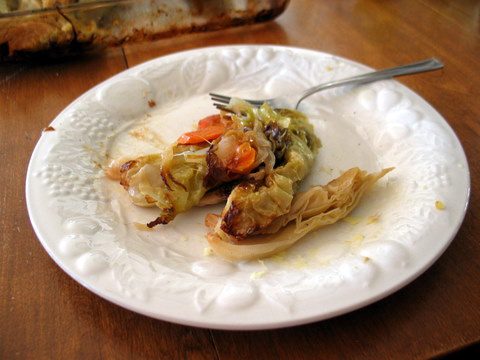 I know it doesn't make much sense to braise a cabbage in an oven for a couple hours in July, but the cool weather we've been having doesn't make much sense either. If it's hot where you're at, wait a few more months before making this dish, but if you're having some cool dreary weather like we are, then I strongly urge you to go lop off a head of cabbage, hack it into wedges, cover it with foil, and give it a long, slow bake in the oven. It is so worth it.
As for me, my old oven has a brand-spanking-new heating element and four more mangy heads of cabbage are still residing in my garden. I think I know what I'm going to do.
Braised Cabbage
A Hardly-At-All Adapted recipe from Molly's blog.
This cabbage would be a great accompaniment for any pork or beef dish, but I like it on its own or with potatoes (in any form) on the side. The first night I made this we ate it with mashed potatoes and fresh green beans, and since then I've been eating the leftovers with whatever else I'm pulling out of the garden—once with buttered beets and another time with potato salad.
1 green cabbage, outer leaves discarded
1 onion
1 carrot
1/4 cup chicken broth
1/4 cup olive oil
coarse sea salt
black pepper
1/8 teaspoon red pepper flakes
Slice the cabbage into 8-10 wedges, leaving enough of the woody stem to help keep the pieces mostly intact. Lay the wedges on their sides, in a single layer, in a 9 x 13 baking pan.
Slice the onion in half from top to bottom and then into thin wedges; sprinkle the onion over the cabbage.
Peel the carrot and slice into 1/4-inch thick pieces; arrange the pieces over the cabbage.
Pour the broth and oil over the cabbage, sprinkle the whole mess with salt and both peppers, cover the dish with foil, and bake at 325 degrees for one hour. Remove the pan from the oven, carefully turn over each piece of cabbage, replace the foil, and bake for another hour, at which point, if your oven element hasn't burned up, you can remove the foil from the pan, turn the oven up to 400 degrees, and bake it for another fifteen minutes, or until the cabbage begins to blacken in places.
Serve hot.
One Year Ago: Mowing the lawn.