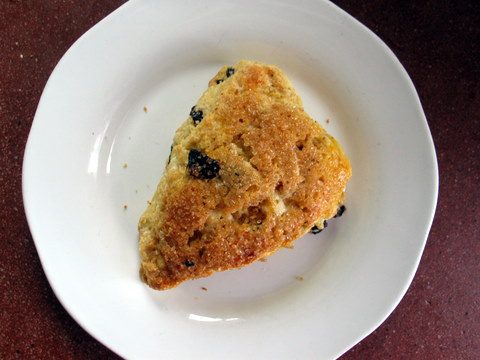 I really must tell you about these scones I've been eating day in and day out, around the clock, and all the time. I made them once, and then I made them twice. I'm planning on making them thrice, four-ice, and five-ice, too.

I've always liked scones, but sadly enough the idea of the scone is often better than the actual product … until now.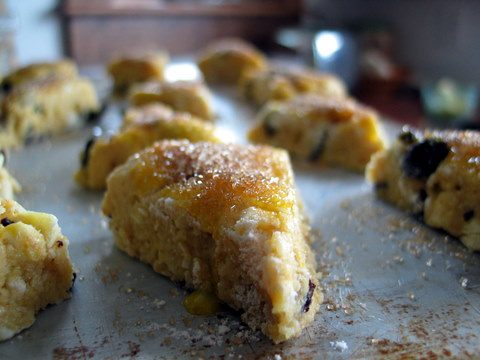 These scones have a bit of a crumbly, sandy texture (that does not sound appealing, I realize, but it ends up being perfect), thanks to the cornmeal. The dough is hefty and rich, but only mildly sweet—it's the add-ins that turn it into a decadent treat.

White Chocolate and Dried Cherry Scones
Adapted from David Lebovitz's blog
David's original recipe called for dried sour cherries, but I didn't have any so I used regular dried sweet cherries instead. I hope to try dried strawberries next.
Instead of using the buckwheat flour that David called for, I used whole wheat.
David's recipe yields eight scones, but I found they were a bit large for me; in my instructions I have you making sixteen scones instead of eight. However, if you prefer big scones, then simply shape the dough into one large disk (instead of two) and cut it into eight wedges.
Some other potentially helpful hints:
*After sprinkling the tops of the un-baked scones with the Demerara sugar, gently press on the sugar with your fingers to help it stick to the scones, and then sprinkle on some more. Not only does the sparkly sugary top make the scones pretty, it adds a delicious crunch.
*Make sure you don't have any chunks of white chocolate that are bigger than a chocolate chip—big lumps of chocolate are a deterrent, not an enhancement, I've learned.
1 egg, beaten
½ cup cream (or milk)
1 ½ cup flour
1/3 cup whole wheat flour
1/3 cup cornmeal
1/3 cup sugar
2 ½ teaspoons baking powder
½ teaspoon salt
6 tablespoons butter, cold
1 cup (about 5 ounces) white chocolate chunks
½ cup dried cherries, chopped
1 egg yolk mixed with 1 t. milk for glazing
Demerara sugar (or another coarse sugar)
Measure the flours, cornmeal, sugar, baking powder, and salt into a mixing bowl. Add the cold butter and mix it in using your fingers. Add the egg and cream and stir to combine. Add the chocolate and fruit and mix briefly.
Turn the dough out onto a well-floured counter, divide it in half, and shape the halves into two disks, about six inches in diameter. Using a table knife or a pizza cutter, cut each disk into eight wedges.
Place the wedges on a greased baking sheet. Brush the tops of the scones with the egg-milk mixture, and sprinkle them generously with sugar.
Bake the scones in a 400 degree oven for 15-20 minutes. Serve warm.
Note: These freeze well. To serve them after freezing, thaw them, uncovered, at room temperature and briefly reheat them in the microwave.