I'm shot. I worked in the garden all morning and before that I made refried beans, baked the Dutch Puff, started mixing up an oatmeal cake, and made granola. Once out in the garden I planted almost a pound of green beans (Empress), some sweet corn, leeks, the last of the peas, two packets of flowers, and sunflowers. There's a lot more to do that I'd rather not get into now.
Planting a garden is exhausting and overwhelming. We are already running out of garden space (I feel slightly crazy when I think of all the food we'll be pulling out of the garden in a couple months) and we haven't even planted the three kinds of dried beans, the main crop of sweet corn, tomatoes, peppers, butternuts, zucchinis, and cucumbers.
There. I just went and told you all the other things I have to do. So much for not going into the details.
After feeding the kids lunch and getting Nickel down for his nap, I inhaled a piece and a half (and then some more snitches) of oatmeal cake, still warm from the oven, and my coffee. That brings me up to the present moment. I'm still tired. I have lots of brain energy, but my body is crying out for a break.
Right around now is when Mr. Handsome starts snorting and guffawing at my royal wimpiness. He is Mr. Superman—hauling bundles of shingles up onto roofs (I don't let him tell me how high they are), carrying sheets of plywood on his head, framing up houses, slinking around in filthy crawl spaces, stuffing insulation in sweltering attics—all the live-long day. And then he comes home and mows and tills and takes care of the chickens and digs holes for my plants (if I beg loud enough) and organizes his barn and, and, and… So when I work outside for a couple hours and then moan about my aching body parts, he has absolutely no sympathy.
But hey, I pushed out some whomping huge babies, so really, he's got nothin' on me.
Anyway, I made some raspberry-mint tea the other day and it might be just the thing I need now to help me get my energy back. It's clean, sweet, and fruity-minty, and it's red. Red equals energy and fire and power and passion, right? In that case, I think this drink ought to have a corner on the kick-in-the-pants market.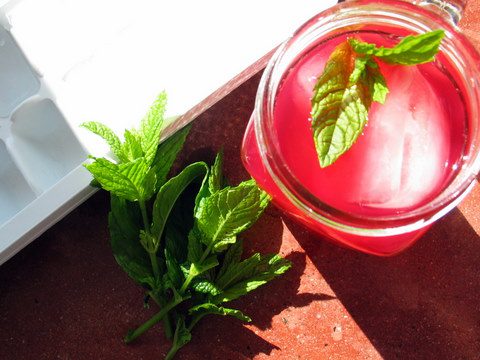 Ah, that's better. Now I'm off to plant the squashes.
Raspberry-Mint Tea
I threw these ingredients together willy-nilly, but I will try my best to give you some measurements to go on. That means, of course, that I'm totally bluffing, acting like there is a formula to this tea, so I suggest you take a brief gander at the ingredient list and then go create your own butt-kicking drink.
1 cup mint leaves, or 2 cups mint sprigs
8 cups water, divided
the juice of one lemon
½ -1 cup sugar
1-2 cups red raspberries
In a small saucepan, simmer the raspberries in two cups of water. Pour the mixture through a fine-mesh sieve, reserving the juice and discarding the seedy pulp.
Put four cups of water in a different saucepan and bring to a boil. Add the tea leaves, turn off the heat, clap on the lid, and let the tea steep for half an hour. Strain, reserving the liquid and discarding the leaves.
Combine the raspberry juice and the mint tea, the lemon juice, and the sugar. Add another couple cups of water—or ice, if you want to cool the tea faster—and chill.
To serve, pour over ice and garnish with a sprig of mint.