The following was mostly written on Friday the 22nd.
I've been feeling busy. My days are filled with homeschooling and overseeing of the kids' chores, as well as cooking and my own chores, plus there's the garden to tend to (I've neglected it since we planted it and the weeds are starting to show their ornery little heads) and church meetings to attend. And now the big chicken slaughtering day is almost upon us…
Unceasingly, I crave breaks. And driving to town for a church meeting and groceries does not meet my need. I want time away from everyone; time when I am responsible for no one. I'm getting crabby; I must put myself on time-out.
So I did! We all cleaned up the house after supper tonight and then Mr. Handsome took the royal scepter out of my hand and I grabbed my laptop and fled to my chambers. I have a whole half hour, and it feels fine.
If my Aunt Valerie were reading this she would most likely snort and roll her eyes. If she could muster up the energy for extra loud nasal exhalations and optical gymnastics, let alone a couple free minutes to read this post. So I doubt she's doing either.
Her son is getting married next weekend so last week (to be clear, my phone call took place fourteen days pre-wedding) I called her up to see how she was doing. The fact is, I was curious as to how far under she was. Also, I was kind of hoping that her pre-wedding tizzy might serve to jumpstart me into action.
Valerie cheerfully answered the phone and we chatted about the soon-to-be-joined-together-in-a-state-of-perpetual-bliss couple (ha!) and then I asked her how she was doing.
"Oh, well. Let's see," she said breezily. "I'm spending a lot of time in the sewing room. I have four more bridesmaid's dresses to make, but one I can't make until the Thursday before the wedding because I don't have her measurements. And I have to make seven ties, as well as pants for my boys" — she has four boys, so I'm not sure how many she was referring to — "and I need to make myself a dress because the first one I made didn't turn out."
She sucked in a big breath of air and continued her spiel, the words rushing out on the exhale like it was the words themselves sucking the air right out of her. "And then I'm in charge of the rehearsal dinner so I'm making food for that, and I need to make twenty pies for the wedding, and tomorrow is my shopping day and I need to buy a suit for my husband. And I think that's about it."
Oh. Um. Right.
"It will all get done," she assured me. I think she was a little worried, afraid that I had maybe gone into shock or something. "I have it mapped out, so it feels manageable. I'll be fine."
I gulped. "You probably haven't even gotten a chance to get your garden in…"
"No, I got the early stuff in already, but it's all weedy now. It will just have to wait."
I guess so.
Gaining new perspectives can be so refreshing … or deeply disturbing. Take your pick.
In honor of Aunt Valerie, I'm posting her blueberry bar recipe. If I lived any closer, I would make her a pan of these bars and take them over to her. I imagine that I might have to pry her clenched hands from the sewing machine and pluck the pins from her puckered lips, but that would be okay. I would fix her a cup of coffee, prop her feet up on a chair, and then say gently, as though to a person possessed, "Eat."

After the first bite, her shoulders would relax and she would smile. But, as soon as she popped the last bite of blueberry bar into her mouth, her eyes would glaze over, and she would absentmindedly set her coffee cup down and swivel around to face the sewing machine, the Force of Productivity once again taking over.
And I would pick-up the coffee cup and empty plate and tip-toe out, satisfied that she had at least had a few minutes of reprieve.
Aunt Valerie's Blueberry Bars
These are no-nonsense bars, nourishing and tasty. They are delicious for breakfast with a glass of milk, or for an afternoon snack with a cup of coffee. You could, of course, dress them up with whipped cream or vanilla ice cream for a dessert, but I prefer to keep them in the realm of hearty snacks and breakfast food.
Do not feel at all limited by the word "blueberry" in the title. These bars can be made with almost any fruit filling. My mother has made them with black raspberry filling and apricot filling, and this last time I used a pint of my rhubarb jam. (My mother and I both agree that the darker fruits seem to have the most flavor and visual appeal.)
These bars keep well. I store them, uncovered even, in my jelly cupboard. They make excellent gifts, cut into squares and places in a pretty wax paper-lined tin.
Notes:
*This recipe calls for an unusual size pan, a 7 x 11. If you do not have that size, you may want to double the recipe and use two pans, a 9 x 13 and an 8 x 8.
*Therm Flo is just like cornstarch except that recipes using Therm Flo do not get watery like foods that are prepared with cornstarch. I buy my Therm Flo at a bulk food grocery in Pennsylvania, but you could also order it here.
*Oddly enough, the recipe calls for 1 ½ eggs. I usually beat two eggs together and then pour off a little of the mixture. Or, you could use one whole egg and another egg yolk, or just two small eggs. You'll figure it out.
*You can make your own oat flour by whirling some oats in the blender. You'll need to blend a heaping half cup of oats to get the called-for half-cup of oat flour.
½ cup butter
3/4 cup brown sugar, packed
1/4 cup white sugar
1 ½ eggs
1 cup whole wheat pastry flour
½ cup all-purpose flour
½ cup oat flour
½ teaspoon salt
½ teaspoon soda
1/4 teaspoon cinnamon
2-3 cups fruit filling (recipes and suggestions to follow)
For the dough:
Cream together the butter and sugars. Add the egg and beat some more. Add the dry ingredients and mix thoroughly. (At this point, you may chill the dough if you need to take a break or want it to lose some of its stickiness.)
For the blueberry filling:
3 cups blueberries (if frozen, thaw them first)
½ tablespoon lemon juice
pinch of salt
½ cup sugar
3 tablespoons Therm Flo (or 3 rounded tablespoons of cornstarch)
In a small bowl combine the sugar and Therm Flo. (Stirring the Therm Flo into the sugar helps to prevent lumps from forming.)
Place the blueberries, lemon juice, and salt in a saucepan. Add the sugar to the blueberries and bring the mixture to a boil, keeping a close eye on it, stirring frequently. As it gets hot, you'll need to stir it constantly. Once the sauce is thick and bubbly, remove it from the heat.
To assemble the bars:
Divide the dough in two sections, one section being a little bigger than the other. Grease a 7 x 11 pan. Using your fingers, press the larger portion of dough into the bottom of the pan. The dough should be level all the way around—do not push the dough up the sides of the pan.
Spread the fruit filling evenly over the dough and all the way to the edges.
Place the second, smaller piece of dough on a sheet of floured wax paper. Dust the top of the dough with more flour before laying a second piece of wax paper on top. Roll the dough out so that it is the dimensions of your pan (check to see if it is the right size by setting your pan on top of the rolled dough). Peel off the top layer of wax paper to loosen it and gently set it back down on the dough. Flip over the whole wax paper sandwich and peel off the bottom-now-top sheet of wax paper and discard it. Slip your hand under the bottom piece of wax paper and flip it over onto the pan of fruit-covered dough. Remove the wax paper. Tuck in any uneven bits of dough.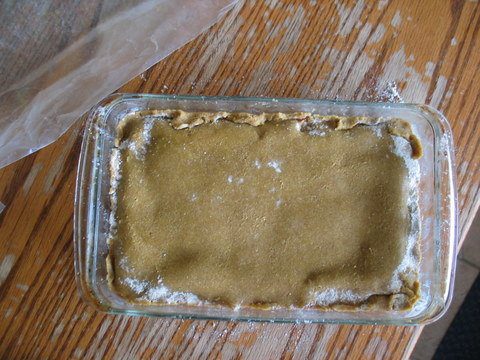 When you are finished you should see three layers through the side of the glass pan: dough, fruit, dough. It should be pretty and make you feel proud.
Bake the bars in a 350 degree oven for 30 to 40 minutes.