It is spring, Easter was on Sunday, and I want creamy sauces over my sprightly greens. Let's rephrase that: I want creamy lemony sauces over my sprightly green asparagus. The urge for creamy foods came on gradually, intensifying with each new shade of green that appeared outside my kitchen window. And then the asparagus poked its comical head up through the ground and I could wait no longer. I had to do something, and quick.

So one evening last week I heated a quart of cream to 88 degrees (actually, I accidentally heated it higher than that, so I had to wait while it cooled down again), sprinkled in a packet of crème fraîche culture, stirred it well, slapped the lid back on the kettle, and went to bed. In the morning a splendid quart of crème fraîche was waiting for me. I drained it through a cheesecloth (not necessary, but I like my crème fraîche to be on the thick side), poured/scooped it into a quart jar and slipped it into the fridge.
I hear that crème fraîche is considered rather gourmet; if so, it's certainly not because it's tricky to make. If you have access to raw cream (you may also use half and half or whipping cream from the store), it is quite simple to make. You can make it using buttermilk as the culture, but I prefer to use the powdered culture from the New England Cheesemaking Supply Company. It's not dirt cheap (you pay about six dollars for five packets—which equals five quarts of crème fraîche—not to mention the cost of the cream) but the benefit is that the packets of starter keep in the freezer indefinitely (or at least for a couple years), so it's on hand for whenever you get the urge.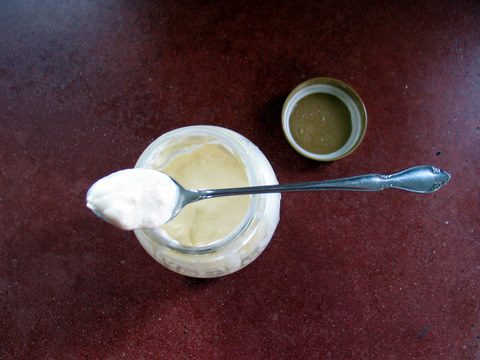 While I'm on the subject of crème fraîche, I should point out a couple other things about it:
1. It can be whipped like heavy cream.
2. It can be used, unwhipped, as you would whipped cream, to accompany a slice of pie or cake or some fresh fruit.
3. It will not curdle when boiled, making it an excellent ingredient for soups and sauces.
4. It can be used in all sorts of baking in place of sour cream or heavy cream. (We love it in quiche.)
5. Spring is an excellent time to have some crème fraîche on hand, ready to dollop over some fresh peas or strawberries, add to smoothies, or use as the base for creamy dressings.
6. It can be drained and turned into Mascarpone cheese.
7. It stays good in the fridge for at least a week, but maybe even two or three.
Asparagus with Lemony Crème Fraîche and Boiled Egg

several handfuls of fresh asparagus, washed, trimmed, and chopped into one-inch pieces
butter
1/3-1/2 cup crème fraîche
1 teaspoon lemon zest
salt
black pepper
1 boiled egg, peeled and chopped
Saute the prepared asparagus with the butter in a saucepan. (I use my stainless steel kettle for this instead of my usual cast-iron skillet. I don't want the asparagus to get quite as black as it does in the skillet because then the lovely white crème fraîche gets tainted with black smears. This is just a visual issue and has no bearing on the flavor at all, so if you don't mind black splotches and swirls in your creme fraiche, then go ahead and use your cast-iron skillet—it certainly won't hurt you.)
In a small saucepan, warm the crème fraîche with the lemon zest.
Plate the asparagus, pour over the crème fraîche, top with the chopped egg, and sprinkle with salt and black pepper.
Optional: When plating the dish, begin with a mound of hot pasta and increase the amount of crème fraîche by a couple tablespoons (to keep the dish saucy) and serve immediately (since the pasta is inclined to absorb the crème fraîche).