I don't really like food blogs. They are kind of one-dimensional, know what I mean? The writers seem to all be grasping for nirvana, via the tastebuds.
Then again, those food writers might be the smarter members of the human race. We humans have gotta eat so we might as well pour our heart and soul into the never-ending task.
What's that you say? This is a food blog? Oh. Well, right.
Right! Then that means I am one of the more intelligent people on our planet since I think it jolly good fun to whisk flour into melted butter, add tomato juice and milk, and then talk about it.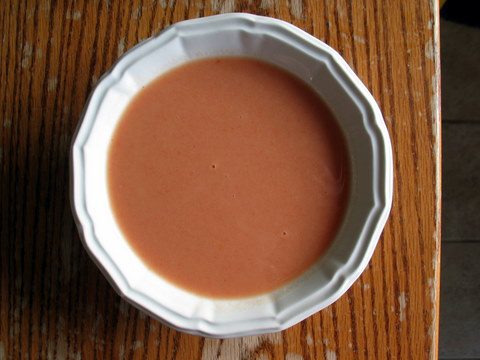 (Question: Can you call cooking an "art" if it's something that you have to do anyway?)
Cream of Tomato Soup
Adapted from More-With-Less Cookbook by Doris Janzen Longacre
I didn't can any tomato juice last year (and have regretted it many times over), so when I found a jar of juice hidden in the back corner of the hutch, I was delighted. I blanched at the date—'04, so it was probably canned the summer after Sweetsie was born when the cousins from Oregon were visiting—but the seal was good, so I went ahead and made a pot of soup for dinner. There were no leftovers.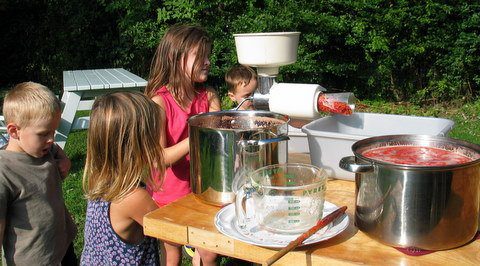 This is one of the kids favorite soups. It is smoothly creamy, making it the ideal soup to drink with a straw (when I'm feeling benevolent).
If you want to gussy it up a bit, you can saute some minced onion and garlic in the melted butter before adding the flour. And you can add other seasonings, too—basil, oregano, thyme, marjoram, etc.
4 tablespoons butter
5 tablespoons flour
2 teaspoons sugar
1-2 teaspoons salt
4 cups tomato juice
4 cups milk
Melt the butter in a medium-sized saucepan. After the butter has melted, add the flour, sugar, and salt, and stir to combine. Pour in the tomato juice—add the first cup of juice slowly, stirring steadily to mix it well with the roux. Bring the tomato juice to a boil, stirring constantly. Let it boil briefly, and then whisk in the milk. Heat through, taste to check seasonings, and serve.