Sweetsie requested a chocolate cake with mint icing for her birthday.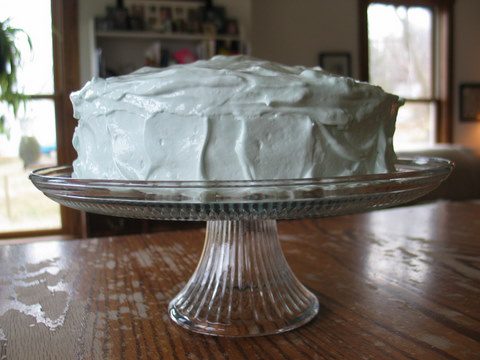 Even though she was having mint chocolate chip ice cream cones with the cake, I went ahead and made the cake dairy-free since I knew that the next day she would be going totally dairy-free, and I wanted her to be able to enjoy the leftover cake.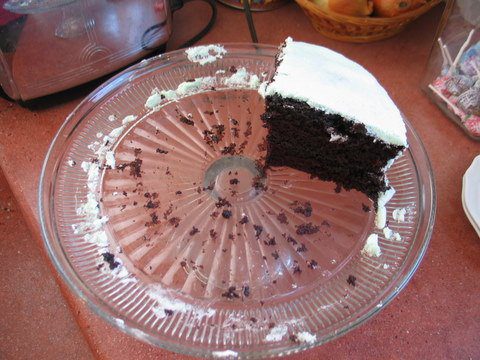 I made a seven-minute icing, and while it was fine for that first evening, it went downhill after that, turning all grainy and soaking into the cake. Not that the kids minded, of course.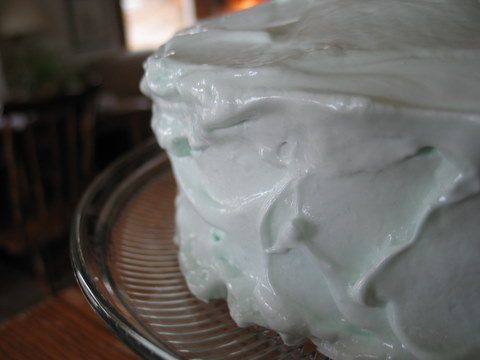 But the cake, well, it done did start all my happy bells a-ringing. Dark, moist, provocative—it was a head-turner, making me sit up straight and look smart.

I used coconut milk in place of regular milk, and I declare, I am never going to make a chocolate cake with regular milk again. (Actually, if you didn't know there was coconut milk in the cake, it probably wouldn't even occur to you to think of coconut, though I thought I could detect a faint, pleasant tropical taste.)
Sitting here, pondering that cake, I'm starting to conjure up a new creation … dark chocolate cake (with coconut milk, naturally) … almond cream/custard/icing sandwiched between the cake layers … the sides and top iced with buttercream frosting (sorry, Sweetsie) … the entire confection sprinkled with toasted coconut … maybe some rum somewhere … mmmm. Yes? (Just the thought of that cake is almost enough to start me to send me scampering out to the kitchen to start banging together my cups and bowls. If only I didn't have to leave in a couple hours to go pick up kids….)

Back when I made the earthquake cake, I confessed that the chocolate cake part of the recipe wasn't my favorite. This is the cake I had in mind, and now I give it to you, a new and improved creation. It just may become your favorite.
Dark Chocolate Cake with Coconut Milk (Dairy-free)
Adapted from a recipe that I got from my mother who in turn got it from my little brother's roommate Arthur.
2 cups flour
2 cups sugar
½ teaspoon salt
1 teaspoon baking powder
2 teaspoons baking soda
2/3 cup cocoa
2/3 cup oil
2 eggs, lightly beaten
1 cup coconut milk (or regular milk)
1 teaspoon vanilla
1 cup strong coffee (I used decaffeinated)
Grease two round cake pans with coconut oil. Line the bottoms with wax paper.
Sift together the dry ingredients. Whisk together the oil, eggs, coconut milk, and vanilla. Mix the wet ingredients into the dry ingredients. Add the coffee and stir to incorporate.
Pour the batter into the prepared pans and bake at 350 degrees for 30 minutes, or until the cake tester (a toothpick in my case) comes out clean.
Allow the cakes to cool in the pans for ten minutes, then run a knife around the edges and turn the cakes out onto a cooling rack. Peel off the wax paper from the bottom of the cakes and let the cakes sit until they have cooled completely. Frost with your favorite icing.