I never baked a Brie until this past Sunday. I had eaten baked Brie at Christmas parties and on other special occasions, but I had never done one myself. I assumed they cost an outrageous amount of money, and baking one just to learn how seemed rather excessive, like stuffing and roasting a whole turkey just for me.
But then, just a couple weeks ago, I went to my girlfriend Kris's birthday potluck. As one of her contributions to the meal she had made a baked Brie topped with her homemade pear chutney and some almonds. Once I ate that, I couldn't stop thinking about Brie.
A few days after the party while on my last spend-what-I-want shopping trip, I took my traditional trek through the deli section where I spied some little rounds of Brie nestled cutely on one of the shelves of the little cheese island. The half-pound rounds were small, perfect for just a couple people, and cost four-and-a-half dollars. Hmmm, I thought. Why not? The expiration date wasn't till spring—it would be the perfect specialty item to hoard, awaiting the time when I could bear it no long and simply had to consume something exotic.
My plan would've worked just fine except that it's hard to ignore Brie when it's sitting on the shelf in your refrigerator, because despite the fact that it's small and dainty and unobtrusive, it has a commanding presence. Come to think of it, anything with a high concentration of cream is virtually impossible to ignore, no matter where you hide it in the fridge.

That's how I found myself, just a week into our spending freeze (if I can't make it more than a week without special eats, I'm going to be a basket case after the next couple months) calling up my brother and his wife and inviting them over for a Sunday evening dinner of snacky foods. There would be bean dip and tortilla chips, I promised, as well as fresh bread and Brie. They said they would come.
So on Sunday afternoon I began the ceremonial act of preparing a Brie. I'm not joking when I say it's a ceremonial act. It is. Try it for yourself if you don't believe me. There is something pure about a Brie—all that soft white creaminess, molded into a chaste little round, encased in its exquisite downy-soft paper. So unassuming, but yet so complex. Handling such a delicate cheese, I discovered, makes you feel kind of elevated and clean; therefore, it is an appropriate activity for a Sunday afternoon.
First, I removed the cheese from its box and set it in the pie plate. I had to pause in my cheese prepping ritual to call up Kris. "What do I do with this paper stuff that's all over the cheese? Do I cut it off?" I asked.
"Oh no! It's all good," she said. "You can eat the whole thing."
"Oh. Okay. Well, that's good," I said. It certainly couldn't get much easier, I thought as I hung up the phone.
Second, third, and fourth, I caramelized an onion and mounded it over the cheese, drizzled apricot preserves over the onion, and then baked the Brie. I also toasted a few slivered almonds and sprinkled those over the cheese immediately before serving.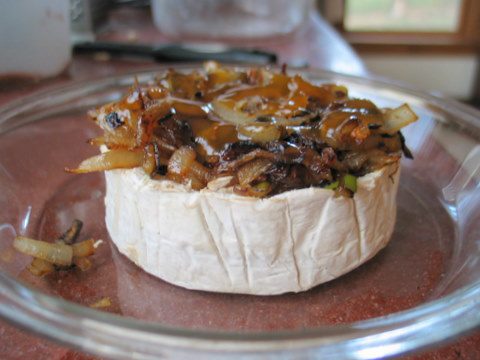 I do not have a picture of the finished Brie in all it's gooey glory because it was already dark when the cheese was finally ready to eat and I'm afraid of taking pictures at night—that's something I do not know how to do. Besides, I was stuck with a kind of single-mindedness once the cheese came out of the oven: Cheese is ready; eat cheese now.
I ignored the other foods that we had for supper, opting instead to feast on the ethereal blobs of creamy cheese. I slathered it on my bread, delightedly snatching the bread crusts that my kids rejected (they were shocked, accustomed as they are to the standard rule of You Must Eat Your Crusts Period), using them to scoop up more of the onion-y, nutty cheese. Oh, it was divine! Food for the gods. Blissssss.
The Brie served it's purpose, albeit a bit prematurely, of numbing the slight sense of deprivation I had been experiencing. For the entire course of that meal and several hours afterwards, I felt spoiled, contented, and filthy rich. A little sad, too, because the cheese was gone. But mostly I felt smug—I had learned that I can, in a snap, turn out something that is simultaneously wickedly delicious and simply divine. And that, my dears, is quite comforting.
Baked Brie
Adapted from recipes I read on Epicurious, as well as from talking with my girlfriend Kris
A small round of Brie, about 8 ounces
one medium onion, quartered and thinly sliced
1 tablespoon butter
salt
2 tablespoons apricot preserves
2 tablespoons slivered almonds, toasted
Remove the Brie from its box and wrapper and set it in a pie plate, indented side up.
In a medium-sized skillet on medium heat, fry the onion with the butter and a sprinkling of salt until the onion is dark golden brown, about 30 minutes. Pile the onions on top of the cheese.
Drizzle the apricot preserves over the onions. (To make thick preserves more drizzle-able, heat them in the microwave for a few seconds.)
Bake the Brie at 350 degrees for 20-30 minutes, or until it looks relaxed and a little bubbly. Don't be alarmed if the cheese oozes out and puddles on the plate—it will all taste good.
Before serving, sprinkle the almonds on top. Eat while still warm.