Okay, here's another Way-To-Use-Sourdough recipe: Baked French Toast. Of course it wouldn't have to be made with sourdough bread (it would be really good with a cinnamon-raisin bread), but since I make it with sourdough, it belongs here, on this blog.

Baked French Toast is kind of like a bread pudding, but much better—more eggy and breadier (I'm afraid that didn't make much sense since bread pudding is made of eggs and breads, but, oh well), and the top gets crunchy and crusty from the cinnamon-sugar that you sprinkle over it before baking. It's another one of my favorite breakfast recipes because it requires a soaking period, making it perfect for assembling the night before and then popping it into the oven after you blearily scuffle your way downstairs in the morning. And it's fancy enough for company. The leftovers are delicious, too, only requiring a brief re-heating in the microwave.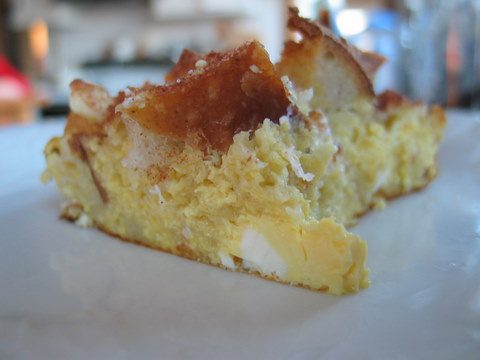 I have found that it is important not to use more bread than the one pound that the recipe calls for. I have often made the mistake of trying to add extra bread to the recipe, thinking more is better, but in this case it is not. A surplus of bread makes the dish too dry, so don't do it.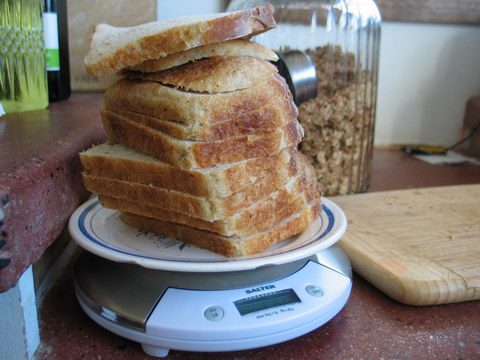 The original recipe called for an entire eight ounces of cream cheese, but it works fine with just four to six ounces of the cheese. Also, if you want to gussy it up, you can experiment by adding different fruits: fresh cranberries (first simmered in a sugar-water solution) with some orange zest are tasty, as are frozen blueberries (this last time I made three-quarters of the pan with blueberries and one-quarter without, for Yo-Yo). I suspect it would also be good with chopped apples (first sauteed in some butter and sugar), raspberries, dried dates, cherries, or raisins. And you could sprinkle some toasted pecans or walnuts over the top…
Baked French Toast
Adapted from The Grand Matriarch
1 pound stale bread, cubed
4 ounces cream cheese, in small cubes
12 eggs, beaten
1 ½ cups milk
1/3 cup pure maple syrup
3 teaspoons sugar
½ teaspoons cinnamon
Mix the sugar and cinnamon and set aside.
Grease a 9 x 13 pan and place half of the cubed bread on the bottom. Sprinkle half of the cubed cream cheese over the bread. (If the cream cheese is too mushy to chop, set it in the freezer for about fifteen minutes to harden prior to cutting.) Repeat.
In a separate bowl whisk together the eggs, milk, and maple syrup. Pour over the bread. Tightly cover the casserole and put it in the fridge to soak for 8-24 hours (and I think you could get away with letting it there even longer).
Right before baking, sprinkle the reserved cinnamon sugar over the casserole. Bake at 350 degrees for 30-40 minutes, until puffy, golden brown, and set (poke it in the middle with a knife to make sure it is no longer runny).
Serve with maple syrup.